House of the Dragon Episode 5 introduces Daemon's wife, Lady Rhea
house of the dragon Episode 5 introduces Daemon's first wife, Lady Rhea Royce. So far, Rhea has only been mentioned in the series, although it's clear that she and Daemon have no love for each other. Rhea's appearance in episode 5 will also be her last on the series. Here's what you need to know about the Heir of Runestone.
[Spoiler Alert: This article contains spoilers for House of the Dragon Episode 5.]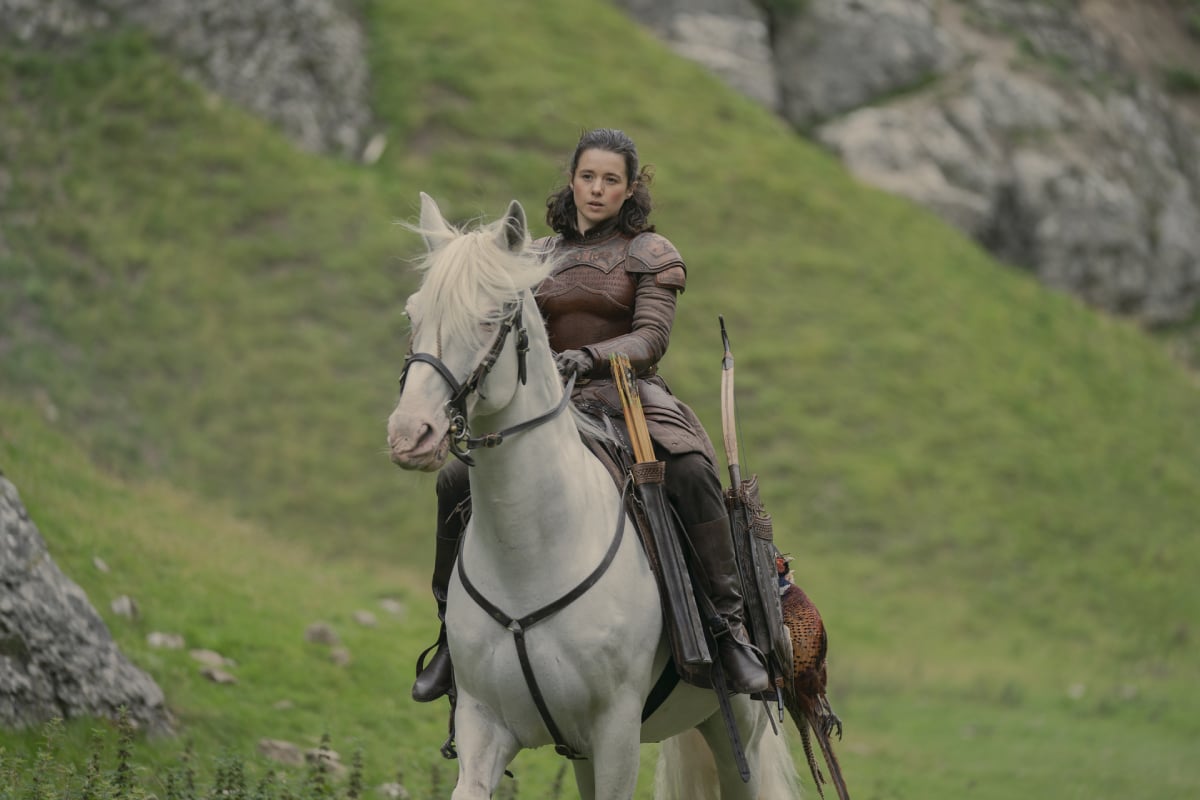 Daemon is estranged from his first wife, Lady Rhea
house of the dragon previously mentioned Daemon's wife, Lady Rhea, although she doesn't appear until Episode 5. Daemon and Rhea married for political reasons, but quickly made known their dislike for each other. Their relationship grew estranged, with Daemon even referring to his wife as a "bronze b****." Daemon also took Lady Mysaria as his mistress while married to Lady Rhea.
In the series, Daemon tries to take Mysaria for his second wife, stating that he couldn't choose his first. When this fails, he later tries to marry Rhaenyra, but she is married to Laenor Valaryon.
In Episode 5 of House of the Dragon, Lady Rhea of ​​Runestone was introduced
house of the dragon Episode 5 begins with Lady Rhea riding her horse through the valley. She encounters Daemon, who approaches her threateningly and drops her horse on her. After a final insult to Rhea, he crushes her skull with a rock.
"We're alluding to Lady Rhea throughout the season," co-showrunner Miguel Sapochnik said in a featurette. "And so it felt like a good way to meet her was literally right before we kill her."
"There was this line in the book that always intrigued me," added co-showrunner Ryan Condal. "'Daemon's wife, the Lady Rhea Royce of Runestone, fell from her horse and her skull was crushed in the fall.' I read that and I thought, 'This is such an odd detail to put in out of context.'"
"So I just stared at it and I was like, 'Well, obviously Daemon went home and murdered his wife,' and we did a whole little short story about it." Condal continued, "We like the idea that she's actually a tough woman, factual, who wasn't what Daemon described, but probably someone who just didn't really like Daemon."
Was Daemon planning to kill his wife?
Enter the scene with Lady Rhea house of the dragon Episode 5 was meant to be ambiguous regarding Daemon's plan. "We never know if Daemon went there to kill his wife or not and that's what Matt does [Smith] plays so interesting," said director Clare Kilner in a featurette.
"You never know what's going through Daemon's head, but you believe him when he makes split-second decisions and aspires to something," she continued. Though Daemon may not have planned to kill Rhea, he is quick to try to capitalize on her death.
He tells Rhea's cousin, Ser Gerald Royce, that since she had no children, he plans to take possession of Lady Rhea's inheritance. Daemon also makes one final move on Rhaenyra, but ultimately fails.
house of the dragon airs Sunday nights at 9 p.m. ET on HBO.
RELATED: "House of Dragons": Who Is Aegon the Conqueror?
https://www.cheatsheet.com/entertainment/house-of-the-dragon-episode-5-introduces-daemons-wife-lady-rhea.html/ House of the Dragon Episode 5 introduces Daemon's wife, Lady Rhea