House of the Dragon star Milly Alcock opens up about misogyny on the HBO show
house of the dragon may place women at the forefront of its story, but that doesn't mean it shies away from how patriarchy, misogyny, and violence can affect them.
Author George RR Martin has previously defended the show against accusations of sexism, pointing out that "history" tends to be "misogynist," and because it references historical events, his work may appear sexist to some.
House of the Dragon star Milly Alcock opens up about misogyny on the HBO show
Milly Alcock, who portrays Rhaenyra Targaryen in her younger years, also addressed the portrayal of misogyny house of the dragon in an interview with news week.
Regarding the friendship between her character and Alicent Hightower (Emily Carey, later Olivia Cooke) and the way her downfall leads to Martin's books on the Dance of the Dragons, Alcock said the themes of misogyny and patriarchy needed to be explored .
"I find [their friendship is] really central to the main themes of the show, which are patriarchy and misogyny," Alcock said news week. "Because ultimately we're exploring this very nuanced relationship [and the] internalized misogyny these two women are forced to contend with, but ultimately the downfall of their friendship is caused by choices made by men.
"And because they're not in the modern world that we live in, they don't have a word for it, they don't have an understanding of what [the] The struggle they face is that ultimately it's everything in the show."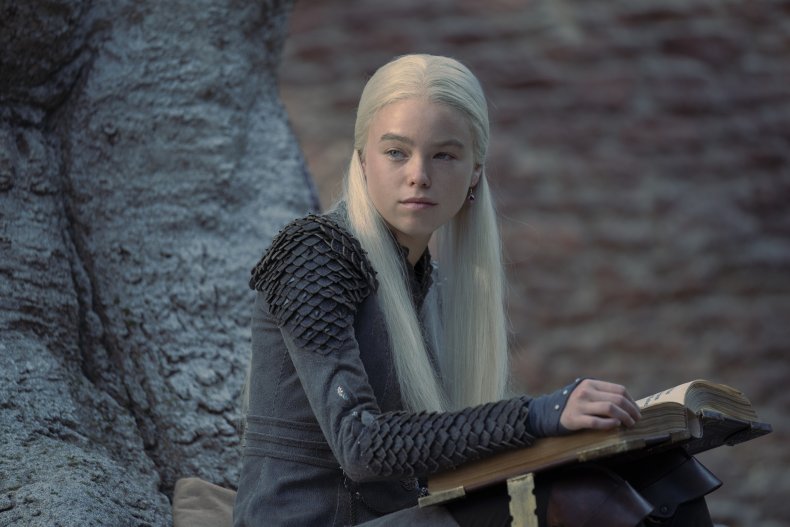 Once good friends, Rhaenyra and Alicent's bond becomes strained when Rhaenyra's father decides to make Alicent his second wife, and in Martin's books the two later become rivals after the death of King Viserys I when Alicent attempts to Challenge Rhaenyra's right to the Iron Throne, feeling that her eldest son should rule instead.
house of the dragon also depicts violence against women in a variety of ways, but it's particularly noticeable in the show's premiere episode when King Viserys I (Paddy Considine) forces his wife Aemma Arryn (Sian Brooke) to have a cesarean section without her consent, an act fatal to her leads to death.
In a less overtly violent way, the show also addresses the lack of trust in women as leaders, with Princess Rhaenys (Eve Best) being passed over for the throne in favor of her male cousin, and later having Rhaenyra navigate her feelings as the people of Westeros believe that she will not be an able ruler.
"I think the show isn't trying to recontextualize Westeros into this suddenly very feminine landscape, because that's not and won't be the case," Alcock said in response to the treatment of female characters and violence against women in the show series was asked .
"I think it did a wonderful job of being honest about the pain these women went through and it ultimately makes the audience feel sympathetic," Alcock added. "And I think that's a stronger narrative as opposed to disrespecting the amount of pain [they've gone through] and ignoring that somehow these women were positioned and had to deal with it [that pain]."
Being "captivated" by Rhaenyra but disliking her dragon riding scenes
Alcock portrays Rhaenyra for the first half of the season, with Emma D'Arcy taking over the role once the character is grown.
Sharing how much she enjoyed playing the dragon rider, she said: "She's an incredible character, she's very endearing in the way she moves around the world and I think we'll see how." she ultimately morphs fully into this adult throughout the series.
"I was captivated, captivated by her, her guts and her intelligence, and honestly I was a little bit intimidated to play someone like that because I don't want to screw it up."
While Alcock enjoyed playing Targaryen, he disliked the scenes where she would be doing what they do best: dragon riding.
"Honestly it wasn't my favorite because you're alone, you're alone on a sound stage kind of lifted up in the air and bouncing around trying to figure out what to do with your face," Alcock admitted when discussing filming spoke scenes in which Rhaenyra rides her dragon Syrax.
"It was a strange experience [I'm] will never do it again. It was like a ride, like a kid's ride," Alcock said. "Not even a ride, you know, those little machines in front of some malls that you put coins in? It was like this."
Alcock was more comfortable speaking High Valyrian, one of the languages ​​spoken in Martin's books and which is the preferred language of the Targaryens.
"I always describe it as trying to learn a song in another language, ultimately you just want to know it without thinking about what you're saying and learn what to say in English. It was a lot of fun, I enjoyed that a lot more than the kites," she said.
About creating her own narrative for Rhaenyra and Emma D'Arcy's takeover
Alcock plays Rhaenyra while she is a teenager, at the time when her father, King Viserys I, chooses her as his heir over his brother Prince Daemon (Matt Smith).
The show charts for several years over the course of the season before later time skipping when Emma D'Arcy takes on the role of Alcock.
During the show's production, Alcock had her own way of referencing the episodes to depict how Rhaenyra felt during her youth.
"I've titled every episode and I think it's spot on with a youthful hormone landscape that's happening," Alcock said. "First was tragedy, then betrayal, anger, lust and acceptance. So I sort of put myself back into every episode and [thought] What was your core emotional state in it?
"In the [episode] first her life is falling apart because she's part of a massive tragedy and third she's just scared as shit and fourth she's kind of rebelling, four was rebelling [not lust]and five she's kind of learning how to play the game, but by her own rules."
Alcock went on to admit that "no conversations took place" between her and her successor, D'Arcy, because the showrunners didn't want the actors, including Carey and Cooke, to influence how each other approached their characters.
"[We] just had to trust that it was the right decision […] I saw Emma and Olivia's performance and think they are phenomenal and bring such nuance and maturity that I couldn't have translated to screen," said Alcock. "So I feel like it kind of benefited us in such a way that we didn't have to think about anything that was coming [after]it was pure accomplishment because the casting was just amazing."
Although D'Arcy is taking over the character, it doesn't necessarily mean the end for Alcock, at least she would be open to returning to the show in her opinion.
"I adore Rhaenyra and I adore the cast and I adore the way they told this story, so, you know, if they had me, I'd love to come back," Alcock said when asking about the possibility of one Repeat asked the role in the future. "But I know Emma Rhaenyra's journey will continue for next season or whatever.
"So I don't really want to take away from that performance or anything, you know what I mean? I have to give them up in a way."
house of the dragon airs Sundays at 9 p.m. ET on HBO and HBO Max.
https://www.newsweek.com/house-dragon-milly-alcock-interview-rhaenyra-targaryen-hbo-show-misogyny-1739443 House of the Dragon star Milly Alcock opens up about misogyny on the HBO show