House Republicans' IRS cuts would add over $100 billion to deficit: Budget Office
The House GOP's new proposal to cut significant funding for the Internal Revenue Service (IRS) would add to the federal deficit, according to the Congressional Budget Office (CBO).
After Kevin McCarthy was finally elected Speaker of the House after 15 contentious rounds of voting, House Republicans are finally beginning to table new proposals. The first out the gate is a budget bill due to appear on the House floor Monday night that aims to cut federal funding to the IRS by $71 billion over the next decade, it said The hill.
The bill could cut most of the $80 billion in IRS funding from the bipartisan Inflation Reduction Act that President Joe Biden signed into law last year. The bulk of that amount, $46 billion over the next decade, is intended to bolster the service's enforcement efforts and help ensure wealthy individuals and businesses pay no less than they owe.
In an estimate released Monday, the CBO said the proposed cuts would ultimately have the opposite of their intent. Despite cutting spending by $71 billion, it would also result in a loss of $185 billion in tax revenue, adding a net $114 billion to the country over the next 10 years.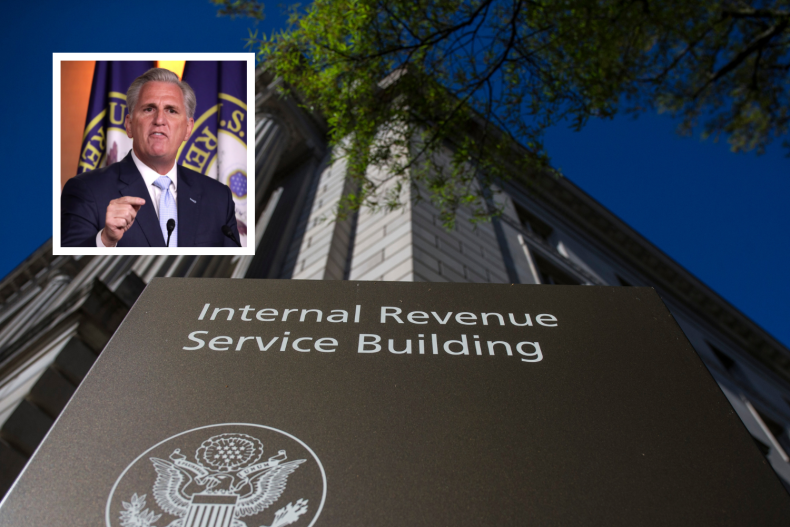 The IRS funding package was among the most heavily criticized aspects of the Inflation Reduction Act by Republicans, with lawmakers often mischaracterizing the enforcement effort as a target for America's middle class. Treasury Secretary Janet Yellen contradicted these claims, stating that the IRS would not increase audit rates for anyone earning less than $400,000 a year. The service also fought back claims that it would use the funding to hire 87,000 more accountants over the next decade. This number represents the total number of all types of employees to be hired.
"When we come back, our very first bill will remove funding from 87,000 IRS agents," McCarthy said last year, echoing the inaccurate statistic. "We believe the government should help you, not come after you."
In a series of tweets In response to the CBO's estimate, White House Chief of Staff Ronald Klain called the House GOP's proposed legislation "good for tax evaders, bad for the economy."
"It's a huge tax cut for rich tax dodgers," Klain wrote. "Bill #1 from new house GOP. Contributes to deficit."
The White House Office of Budget and Management also criticized the GOP bill, criticizing Republicans for prioritizing corporations and the wealthy.
"With their first economic legislation of the new Congress, House Republicans are making it clear that their number one economic priority is to allow the rich and billionaire corporations to forego their taxes while making life harder for ordinary middle-class families who die pay taxes they owe," the statement said.
news week has asked the Treasury for comment.
https://www.newsweek.com/house-republicans-irs-cuts-would-add-over-100b-deficit-budget-office-1772485 House Republicans' IRS cuts would add over $100 billion to deficit: Budget Office