House with escape hatch in bedroom floor shakes Internet – "prepared"
A social media video that gives TikTok users a sneak peek into an escape hatch in an otherwise ordinary home has stunned thousands of viewers online. The viral clip, which has been liked over 50,000 times since it was first posted on the platform on July 24, introduced audiences to an everyday St. Louis property and then surprised them with its unconventional bonus feature.
First of all, the bedroom door to the master bedroom of the house had been protected with three deadbolt locks and a peephole. In the bedroom there was a hatch hidden in the wooden floorboards of the room. The hatch can be raised with a small handle to provide access via a folding ladder into the basement of the property. The discreet hatch was covered by a thick carpet.
While the video's creator, a resale expert who goes by @piyp.estatesales on TikTok, did not give viewers any further update or explanation as to why such a hatch might have been installed in the home, @piyp.estatesales hinted that it was the previous resident of the property. He may have used the hatch either as a means of exiting the house or as a long-term means of staying in the basement.
"Dude was prepared," was all the resale expert wrote under the post.
If there are alternative routes in and out of the basement, then it likely wasn't used as an emergency escape hatch or as a secret hiding place, but that wasn't made clear in the TikTok video.
However, since the well-lit basement appeared to be well-maintained and stocked with a variety of tools and other home improvement equipment, it is possible that food was also stored in the spacious hideout below.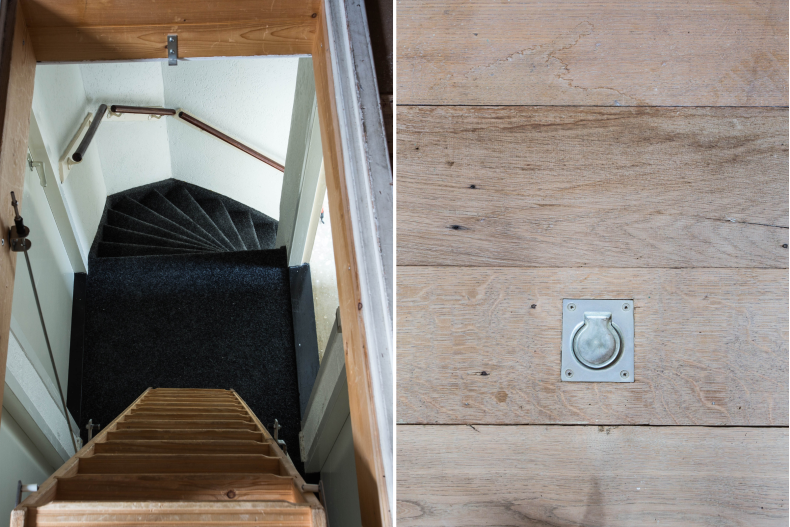 What do the comments say?
While the video's creator didn't provide an explanation as to why the outwardly ordinary house has such a bizarre interior, many TikTok users have tried to include an explanation for the former resident's need for the hatch. Since being posted on the social media platform, the TikTok post has received over 1,000 comments from curious viewers.
One user asked: "Who used to live in this house?"
Another user added: "Any criminal activity with the previous owner?"
"Bro was prepared for the police," a third commenter shared.
"I hate to think about why someone needed this to feel safe," another user said.
Another TikTok user suggested in the comments section that the reason for the escape hatch and locks could be because the previous occupant was in witness protection.
The TikTok post can be seen here.
Newsweek asked @piyp.estatesales for comment via TikTok.
Are you having a dispute with your neighbor? Let us know at life@newsweek.com. We can ask experts for advice and your story could be featured on Newsweek.