Houston crime: man shoots, kills robber in taqueria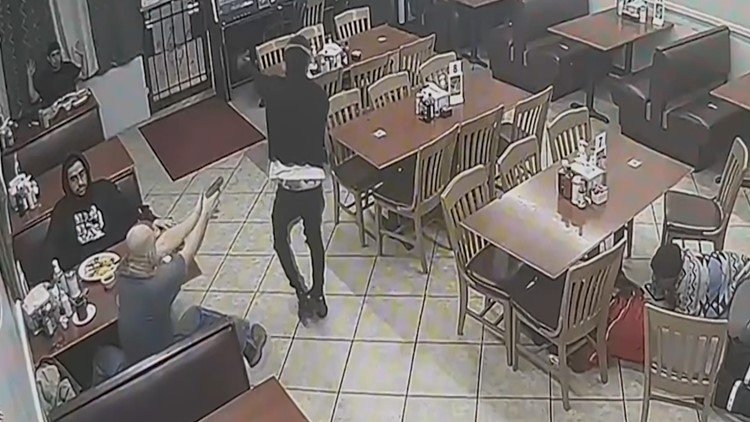 Police said the customer who shot the robber was wanted for questioning. He wasn't charged.
It happened just before 11:30 p.m. Thursday at the S. Gessner restaurant near Bellaire Boulevard.
Houston police said the gunman wearing a mask entered the restaurant and demanded money and wallets from customers. However, as he left, one of those customers shot the suspect.
Also the Houston Police Department published surveillance photos of the customer who shot the robber in the video. Investigators said he was being questioned about his role in the shooting. He has not been identified and will not be charged at this time.
A photo of his pickup truck model from the 1970s or 80s without a bed was also released
The gunman collected the stolen money from the robber and returned it to the other guests, police said. Then the rest of the people in the restaurant left the scene before the police arrived.
Nobody was injured in the restaurant. Investigators said the suspect ended up not having an actual weapon.
"The alleged robbery entered the store wearing masks and gloves," HPD Lt. Wilkens. "He had a plastic gun, possibly an Aero-Soft or possibly a small BB gun."
Surveillance video shows the shooting. It shows customers, witnesses and the shooter leaving the scene immediately after the shooting.
Investigators are asking the shooter and victims who left the scene to contact HPD Homicide at 713-308-3600 for testimony about the incident.
Was this shooting justified?
"I can show you exactly where it is in the law, 9.31 and 9.32 of the Criminal Code," said Nathan Beedle of the Harris County District Attorney's Office.
Beedle says that Texas law outlines specific cases regarding robbery by threat or aggravated robbery where deadly force is considered justified.
"Whether someone uses deadly force in the situation is considered correct under Texas law," Beedle said.
https://www.kvue.com/article/news/crime/taqueria-robbery-shooting-houston/285-5dceec19-9c07-444c-b211-4c584738e0fa Houston crime: man shoots, kills robber in taqueria