How House of the Dragon changed Laenor's fate from the book Fire and Blood
house of the dragon has not shied away from adding or changing certain things from George RR Martin's books.
Martin is a co-creator of the show and the HBO hit is based on his novel fire and blood, chronicling the history of the Targaryen dynasty as told by a maester or scholar from Westeros.
Episode 7 of the show made some surprising changes to the story, particularly when it came to one character: Ser Laenor Velaryon, played by John Macmillan.
Warning: This article contains spoilers for House of the Dragon
How House of the Dragon changed Laenor's fate from the book Fire and Blood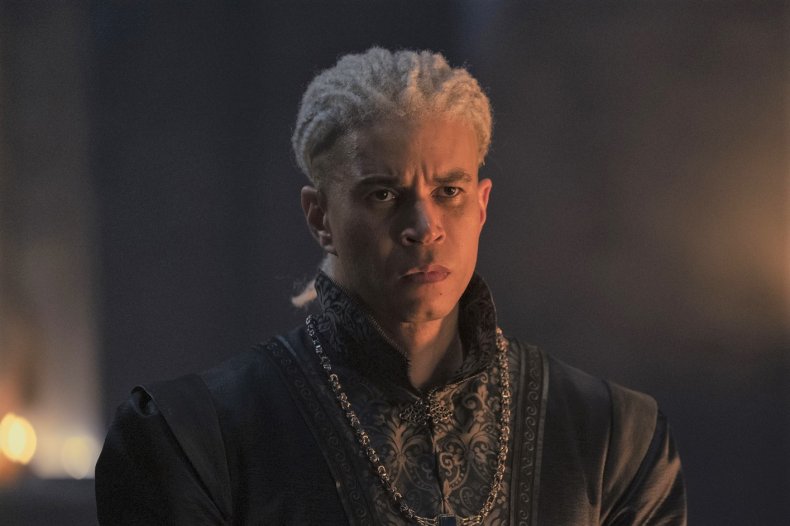 Laenor is the husband of Princess Rhaenyra Targaryen (Emma D'Arcy), although they are husband and wife in name only, as they were engaged to each other despite the fact that Laenor is gay.
Princess Rhaenyra agreed with Laenor that if they were to marry, she wouldn't mind if he continued to have a lover, as long as she could have her own as well. However, this calls into question the legitimacy of their children.
After the death of his sister Laena in house of the dragonLaenor tried to be there for his wife and their children and said that he wants to be a supportive husband.
However, in episode 7, Rhaenyra looked elsewhere and confessed to her uncle Prince Daemon Targaryen (Matt Smith) that she wanted to be married to him. That way, her legitimacy for the throne would be harder to question.
Daemon tells Rhaenyra that the only way for her to get married is if her husband were dead. The pair appear to hatch a plan with Laenor's lover, Ser Qarl Correy (Arty Froushan), to kill him and flee to the Free Cities, where no one will know him.
In the show, Qarl confronts Laenor at his home in Driftmark. They fight alone with the sword, with Laenor seemingly defeated and left burning in the fireplace. Aside from his clothing, his body is singed beyond recognition.
However, it is later revealed that Laenor and Qarl had faked the former's death and decided to run away together. Laenor shaves his head to remove his distinctive silver hair so they can spend their days together in the Free Cities and give Rhaenyra the chance she needed to marry Daemon.
in the fire and blood, Laenor's story ends differently. The novel shows him being killed during a sword fight with Qarl at a Spicetown carnival, where there are many witnesses to the murder.
Laenor's father, Ser Corlys Velaryon (Steve Toussaint), collects his son's body, and it is said that Qarl killed his lover because he was jealous that Laenor had become interested in another, younger male suitor .
However, one theory suggested in the book was that Prince Daemon paid Qarl to kill Laenor, so Rhaenyra was free to marry him, and it is this plot that has been tweaked for the show's purpose.
house of the dragon has come under fire for the violent killing of one of its gay characters. So, by allowing Laenor to live by faking his own death, it may well allow viewers to see the show differently.
In a previous interview, co-showrunner shared the story with Miguel Sapochnik news week that he and the creative team were keen to do something different with the show and that it's "really important that the franchise evolves."
Toussaint, who plays Corlys, also told news week about the events of his character's life, particularly how he feels when his two children die for his ambitions – not knowing that Laenor is really alive.
"I think his over-ambition is one of his mistakes and leads to terrible things that happen later in the season," said Toussaint, 57.
"And actually, there's a point in an episode where he's actually like, 'Yeah, it was me. I shouldn't have done that. Let's just go home and enjoy our grandkids.' But you know, that is Game of Thrones, and that won't happen!
"So, yeah, I think sometimes, maybe in life, you have your eye on the prize, and sometimes you don't see the little things, because you're so fixated on that one goal, you don't see the things you're tramping under." and I have a feeling that's what's happening to him with his kids."
house of the dragon airs Sundays at 9 p.m. ET on HBO and HBO Max.
https://www.newsweek.com/how-house-dragon-changes-laenor-velaryon-fate-george-r-r-martin-book-fire-blood-1747798 How House of the Dragon changed Laenor's fate from the book Fire and Blood