How the IKEA shark became a trans icon
"Blåhaj makes my worries go away when I cuddle him," said Victor, owner of one of the internet's most famous stuffed animals.
Blåhaj – pronounced blah-hah – was launched by Swedish furniture store IKEA in 2014 and simply means "blue shark" in English.
The friendly face toy is growing in popularity as thousands of people share their adventures with their own Blåhaj on social media. But for many owners, it's about more than just a cute face. The toy has unexpectedly become a trans icon – found online in posts alongside pride flags, trans memes and LGBTQ+ positive messages.
A way to connect
Fiadh Schmackpfeffer already shared a video with the shark on TikTok in 2021. She told news week: "It's a weird sense of trans solidarity. The fact that it's become a huge internet sensation for trans people gives us something to connect with others through. Things that help us connect with other trans people online are so important because for a lot of trans people, the only way we can connect with people like us is through the internet."
"I really bought Bahaj for fun, but there's a deeper meaning to the joke," said Nebraska-based TikToker Theodora Undergrove news week. "I've never really been into stuffed animals, but I'm trans and Blahaj, who I knew was a trans icon, I had to get myself."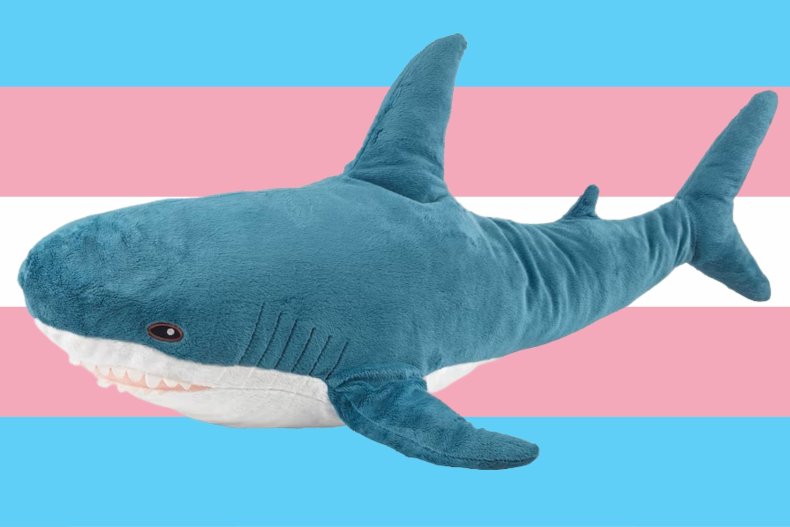 The toy first became popular on Tumblr in 2014 when it was released in IKEA stores. By 2018, Blåhaj achieved viral status in Russia when owners shared pictures of their sharks in various real-world scenarios, from cooking in the kitchen to riding on the train.
Blåhaj's first connections to the trans community can be traced back to 2020, when a Reddit post shared a cartoon featuring the shark with the caption, "Blåhaj is an ally." Other netizens joked, "The B in LGBT stands for Blåhaj." Many people have since shared how the plush has become the perfect gift for loved ones. A Twitter user wrote: "I just bought 4 mini blåhaj for all the trans women in my life."
Others say his popularity in the trans community really gained momentum in 2021, when the Swiss government held a referendum on same-sex marriage to amend the country's civil code to legalize same-sex marriage and update adoption rights for same-sex couples, and give lesbian couples access to assisted reproductive technology.
Before the Swiss population went to the polls, IKEA launched an advertising campaign for the legalization of same-sex marriage. In a series of pictures, the household trader posed with various stuffed animals in bed with the message "Marriage for all".
One of these plush couples was beloved shark Blåhaj and polar bear Snuttig – an image that seems to have stuck in many people's minds. The amendment to same-sex marriage in Switzerland passed with a 64 percent yes vote and came into effect in July 2022.
While it may be unclear exactly when Blåhaj became an unofficial mascot of the LGBTQ+ community, the growing popularity of this plush sea creature among trans people is best observed in online communities.
Emi, a transgender woman, recently shared on Twitter that she bought a Blåhaj plush for her transgender nephew. she said news week that she attributes the shark's rise in popularity as an LGBTQ+ icon to several factors, including IKEA's promotion of same-sex marriages and the shark's online popularity in the mid-2010s.
"It makes perfect sense to me because there was an incredible queer and trans scene on Tumblr at the time," says Emi. "In fact, Tumblr has played a huge role in meeting queer and trans people, learning about my own gender and sexuality, and even buying my first breast forms and officially starting my transition."
"I think there was a give and take between queer and trans content creators, the broader queer and trans community, and IKEA itself that made Blåhaj iconic," Emi said. "When I saw that Blåhaj was back in stock near me I grabbed one straight away. I didn't need it for myself but I wanted to make my nephew feel special and I think it worked like a charm."
An IKEA spokesman said news week: "​​BLÅHAJ is one of our popular stuffed animals and we're excited to hear that people around the world, no matter who they are or how they choose to live their lives, continue to celebrate and embrace the stuffed animal."
Queer Legislative Researcher and Trans Activist Erin Reed narrates news week: "It's kind of cute and has the colors of the trans flag – bluish body, white underbelly, pink mouth. That being said, I suspect it's like any meme — it's something that trans people have latched on to and claimed for trans culture because there are so few things that are actually explicitly designed and marketed for us."
The trans flag was created in 1999 by transgender Marine veteran Monica Helms. It was first flown at a Pride parade in Phoenix in 2000 and consists of the colors blue, pink and white. The light blue represents boys and the pink represents girls, while the white is used to symbolize those in transition or feeling neutral or of no gender. It is designed so that no matter how the flag is raised, it is always correct.
Of course, the color similarities between the flag and the IKEA plush are coincidental, but that doesn't mean members of the LGBTQ+ community weren't excited about the connection.
"Help! Where did Blåhaj go?"
In 2021, social media users were thrown into a meltdown when it was announced that Blåhaj was to be discontinued by the Swedish retailer. On September 26, the IKEA UK Twitter account announced that the Shark would be temporarily unavailable due to "supply issues".
"Help! Where did Blåhaj go from the website?" said a concerned Twitter user.
When the shark ran out of stock in IKEA stores in Singapore and Hong Kong, and was no longer listed on the Chinese website, Blåhaj fans panicked and tweeted the company begging them not to stop producing the toy. At the same time, an online petition asking the dealer to resell the shark got thousands of signatures and even created a subreddit called r/savetheBlåhaj.
Thankfully, the panic was calmed when IKEA USA tweeted that it had no plans to discontinue the beloved toy and that people are still picking up their own shark buddies around the world today.
Despite an ongoing supply of Blåhaj, many people around the world are still struggling to get one, and Twitter users are sharing that they aren't available in their area or that they don't live close enough to an IKEA store.
"Actually, there is no IKEA in New Zealand," said Reddit user and Blåhaj fan Penguin. "So it's quite difficult to get a Blåhaj. The ones available here are quite expensive and not something I could just buy on a whim, but I'm saving up to buy a Blåhaj when I can." Elsewhere, a market for copies of the shark has sprung up on Amazon and eBay .
"Blåhaj is an ally"
On its website, IKEA says that Blåhaj: "Big and safe to have by your side when you want to explore the world beneath the sea."
The toys are available from IKEA and come in two sizes, a roughly 39-inch one for $29.99 and a new smaller 21-inch version for $7.99.
"I follow a lot of trans people on Twitter and that was the first place I saw Blåhaj," said Emi, who wowed her nephew with his own shark plush. "I've seen trans people with Blåhaj, and I've heard trans people joke about Blåhaj being the transhai. I love internet jokes like this — especially at a time when transphobia is so rampant in politics and pop culture — so I ate it up."
Blåhaj isn't the first trans icon to emerge from pop culture. In 2019, Donkey Kong made headlines after YouTuber hbomberguy live streamed himself Donkey Kong 64 in support of the UK charity Mermaids, which supports trans children and their families. Guests on the stream included Chelsea Manning, John Romero and Alexandria Ocasio-Cortez.
Other animated characters that the trans community has found kinship with include, among others Pokemon's Team Rocket, Hercules from the Disney classic of the same name, Sombra over watchand Dipper Pines gravity falls.
"I bought my Blåhaj because it's cute and topical and I can put it in some of my pictures and share in some trans joy," Reed said. "And when the excitement dies down, I'm left with a cute, soft stuffed animal by the side of a body pillow, so that's no big deal either."
"It's funny for me to be openly trans at times as it's kind of a 'f*** you' to those who want me to be less visible," Undergrove said. "I feel like there's a lot of safety that trans and queer in general can come from in an internet realm. I'm generally happier knowing that people like me live every day. It's also nice to know that my internet sphere itself won't comment on why we don't belong in bathrooms and sports, and give us ugly names."
"Never underestimate the abilities of a stuffed animal," said Victor, a member of the subreddit r/Blåhaj. "It would be better if I could carry him around outside where my problems are, but people here don't see that as normal because Blåhaj is a stuffed animal and his colors are similar to the trans flag."
Reddit user Ron is from the United States and is the parent of a transgender teenager. He stumbled across the Blåhaj subreddit online a few months ago and shortly thereafter bought his own cuddly friend. told Ron news week: "Blåhaj is huggable joy and love. It has become an unofficial flag or mascot. There's an ongoing meme some trans teens get before they come out to their own family. For some I feel like it's a badge and you show your membership with your collection."
https://www.newsweek.com/how-ikea-shark-became-trans-icon-1753400 How the IKEA shark became a trans icon