How The Rings of Power's Celeborn Twist subverts Galadriel's story
The Lord of the Rings: The Rings of Power didn't shy away from changing JRR Tolkien's story, and Episode 7 did just that.
In the new episode titled The Eye, Galadriel (Morfydd Clark) reveals a shocking twist regarding her husband Celeborn that will influence her storyline and other characters' storylines in future episodes.
Warning: This article contains spoilers for The Rings of Power
How The Rings of Power's Celeborn Twist subverts Galadriel's story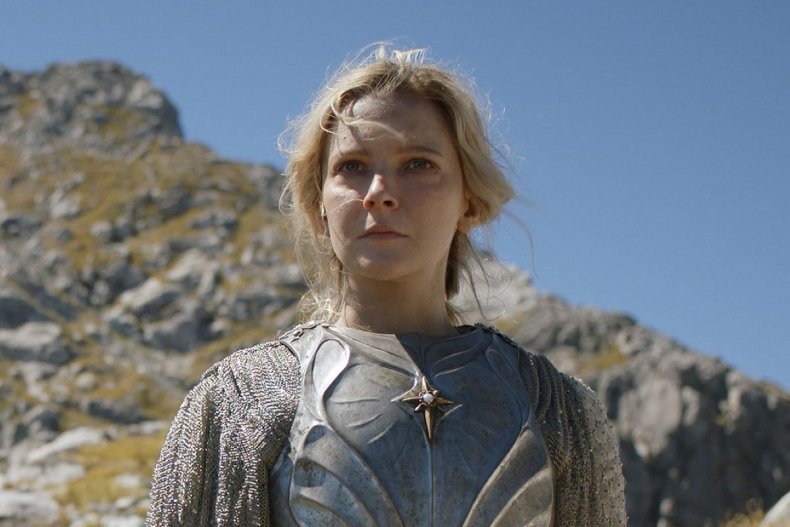 After the attack by Adar and his Orc army and the explosion of Mount Doom in Episode 6, Galadriel, the Southrons and the Númenoreans retreat, hoping to find their way back to a camp safe from their enemies.
The characters are separated as a result of the explosion and Galadriel is joined by Theo (Tyroe Muhafidin) for part of the episode.
During their time together, Theo asks the elf leader if she lost someone important to her. First Galadriel talks about her brother Finrod (Will Fletcher), who viewers saw dead in the first episode, and then she reveals that she also lost her husband Celeborn during the war against Morgoth.
As Galadriel reflected on their time together, she recalled how they first met when she was dancing in a field of flowers, and how she teased her husband about his armor when he first set out to war. But in the end she never saw him again.
This plot goes against what is expected of the characters in Tolkien's books, since Galadriel and Celeborn were married from the first age of Middle-earth to the end of the third age, when Galadriel left for the Gray Havens and Celeborn joined her there at a later date.
The Rings of Power is set during the second age of Middle-earth, so Galadriel and Celeborn are said to be happily married by this point, with Tolkien's work explaining that Galadriel went in search of Sauron during this time, as shown on the Prime Video show.
The cast of The Rings of Power previously told news week that showrunners JD Payne and Patrick McKay had an "encyclopedic" knowledge of Tolkien's books, meaning any edits they made should respect, not undermine, the fantasy author's stories.
But by taking Galadriel's husband away, the show seems to be doing just that, because it's removing an important part of the character's story, and while it's probably being used as a means of explaining Galadriel's hatred of Sauron, it seems unnecessary if she already had motivation after her brother's death.
Galadriel is a fierce warrior in the rings of power, There's no doubt about that, but just because she's a strong female character doesn't mean romance will diminish her power. A woman can be a fighter and also have love.
This revelation also seems to be a way in which Galadriel can be open to romance with Semirim (Charlie Vickers), a character she has been attached to since they first met in the Sundering Seas.
While it is narratively possible that the couple could have a romance together, it just doesn't fit into the lore of Tolkien's world and it undermines not only Galadriel's journey, but also the long story the author tells about the character and her husband has built .
Tobias Wilson-Bates, assistant professor of English at Georgia Gwinnett College, spoke news week on the importance of the relationship between Galadriel and Celeborn in Tolkien's work: "Their marriage is quite important, not necessarily because they play a large role in the plot, but because they create a center of gravity for other characters in the text.
"Gimli's fascination with Galadriel [in The Lord of the Rings] can function as a kind of sanitized Lancelot and Guinevere situation, in which romantic love is subordinated to a kind of transcendent idolization of greatness.
"In the books that [Galadriel and Celeborn] are little more than figures to provide the main characters with an in-depth exposition and plot synopsis, but as anchors of the moral universe they serve an important purpose, especially when married, although I can't even find a case where the two exchanged words in the text at all."
Reflecting on the way the show can approach Galadriel and Celeborn's marriage and adjust Tolkien's work in the future, Wilson-Bates added, "I think they're in a bit of a bind Lord of the ringsthe relationship is expressly unproblematic.
"They are a kind of puppets to create the medieval aura of the fantasy world for Tolkien, an extremely important project for him as a scholar of the time.
"Much of the baseline of world-building Lord of the rings comes from Tolkien's research and interest in the complex myth-making of ancient writings, but here we have a modern television property that, for better or for worse, relies on melodrama to create serialized content (think all that sexy stuff in game of Thrones), and I suspect they need to flesh out characters that were made explicitly not to be fleshed out. Making them too human essentially eliminates their most useful trait as elves."
Why Celeborn can't be dead in The Rings of Power
In Tolkien's work, Galadriel and Celeborn married in the First Age of Middle-earth and they shared a daughter, Celebrían, who later married Elrond (played by Robert Aramayo).
Celebrían and Elrond had three children together, Elladan, Elrohir and Arwen. Fans of Tolkien's work will know that Arwen falls in love with Aragorn and vice versa. Arwen and Aragorn later marry after he takes his rightful place as King of the West Lord of the Rings after the War of the Ring.
During the Second Age of Middle-earth, Tolkien wrote that Galadriel and Celeborn lived in the elven kingdom of Lindon before later moving to Eregion. When the city is attacked by Sauron, the elves successfully escape alongside Elrond.
Elrond established the elven sanctuary of Rivendell, while Galadriel and Celeborn founded Lothlórien, a place Frodo Baggins and the companions visit during their journey Lord of the Rings.
As such, Celeborn is an enormously important character for Middle-earth, so killing him off-screen seems like a missed opportunity.
However, JRR Tolkien's son Christopher has previously been in the note unfinished stories, a collection of stories published after his father's death that the story of Galadriel and Celeborn was "riddled with trouble" because of its contradictory nature.
"It must be admitted that there are grave contradictions 'embedded in the traditions'; or, to look at the matter from another point of view, that the role and importance of Galadriel was slow to emerge and that her history is constantly being reshaped became." Christopher Tolkien wrote.
Given these contradictions, McKay and Payne may only change the history of Galadriel and Celeborn slightly by having Galadriel believe Celeborn is dead, and perhaps later she will find out that her husband is alive.
For her part, Clark, speaking to TheOneRing.net, said she "may not be able to tell" if Celeborn would show up The Rings of Powerbut added that "there are five seasons of the show."
The Lord of the Rings: The Rings of Power airs on Prime Video on Fridays.
https://www.newsweek.com/how-lord-rings-rings-power-celeborn-death-twist-impact-galadriel-story-1749201 How The Rings of Power's Celeborn Twist subverts Galadriel's story