How to get baby food when the first shipment from overseas arrives in the US
A shipment of enough special baby formula for more than half a million bottles arrived in Indiana on Sunday — the first of several shipments aimed at alleviating the nationwide shortage.
In all, about 1.5 million 8-ounce bottles of three hypoallergenic formulas for children with cow's milk protein allergies are expected to arrive in the United States
The shipment, which arrived Sunday, contained 132 pallets of Nestle Health Science Alfamino Infant and Alfamino Junior formula weighing 78,000 pounds, White House Press Secretary Karine Jean-Pierre told reporters aboard Air Force One.
The effort was dubbed "Operation Fly Formula" by President Joe Biden's administration. It aims to tackle a nationwide baby food shortage sparked by the closure of the country's largest domestic manufacturing facility due to safety concerns earlier this year.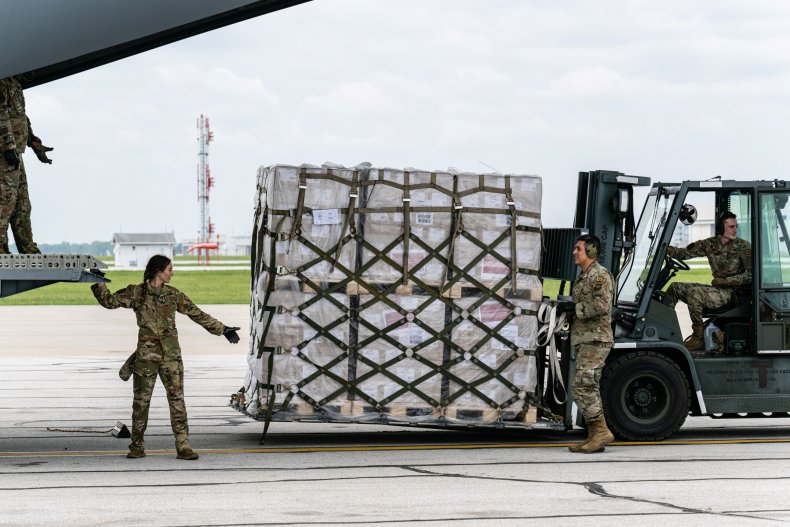 The government prioritized the special formula because it "serves a critical medical purpose and is in short supply in the United States," Jean-Pierre said.
She added that the White House is working with the US Department of Agriculture (USDA) and Department of Health and Human Services (HHS) to ensure it "gets to those who need it most."
The White House, USDA and HHS have been contacted for further comment.
The formula was offloaded and taken to a Nestlé distribution center. Standard quality control is carried out there before shipments are sent to hospitals, pharmacies and doctor's offices, The Associated Press reported, citing a local administrator.
The White House said another 114 pallets of Gerber Good Start Extensive HA formula would be flown from Ramstein Air Base in Germany to Washington DC in the coming days before being transported to a Nestlé facility in Pennsylvania.
"At Nestle, we are absolutely committed to doing whatever we can to give parents and carers the formula they need to help their children thrive," Nestlé said in a statement Sunday.
The company said it has been working "around the clock" for the past few months to fix the formula shortage and meet demand.
"We have significantly increased the amount of our formulas available to consumers by ramping up production and accelerating overall product availability to retailers and online, as well as through hospitals and home healthcare for those most at risk," it added added.
Alfaamino is mainly available through hospitals and home care companies. Parents and carers can visit alfamino.com for information on Nestle Health Science Alfamino products, while the Gerber Parent Resource Center is available 24/7 for parents with questions – including help finding formulas – at 1- 800-4-GERBER or chat at Gerber .com.
How to get baby food
The HHS website advises parents and caregivers who are having trouble finding formula to find their nearest Community Action Agency who can give them formula or recommend local agencies that stock formula. They can also call 211 and a specialist can help them locate pantries or other charitable sources for local baby food.
Participants in the Special Supplemental Nutrition Program for Women, Infants, and Children (WIC) are urged to contact their local office for assistance.
The food shortages stem from the closure of Abbott Nutrition's manufacturing facility in Sturgis, Michigan, after four babies were hospitalized with a rare bacterial infection and two died.
The company's recall of several products compounded supply chain disruptions, leaving shelves empty and retailers rationing supply while parents struggled to find enough infant formula to feed their children.
The formula, coming from overseas, will "bring some relief in the coming days," Brian Deese, director of the White House National Economic Council, told CNN state of the nation On Sunday.
Americans should "see more formulas in stores starting as early as this week," following various government actions, he added.
Abbott hopes to reopen its Michigan facility as soon as next week after signing a consent form with the Food and Drug Administration (FDA).
But it will take another six to eight weeks for formula products to hit store shelves, Abbott CEO Robert Ford wrote in an op-ed The Washington Post over the weekend, he outlines several steps the company is taking to address the shortage.
Last week, the FDA eased some restrictions to make it easier for foreign manufacturers to ship more baby formula to the United States, while Biden invoked the Defense Production Act to increase formula production.
https://www.newsweek.com/how-get-baby-formula-first-overseas-shipment-arrives-u-s-1709031 How to get baby food when the first shipment from overseas arrives in the US