How to tell the difference between COVID-19, RSV and the flu symptoms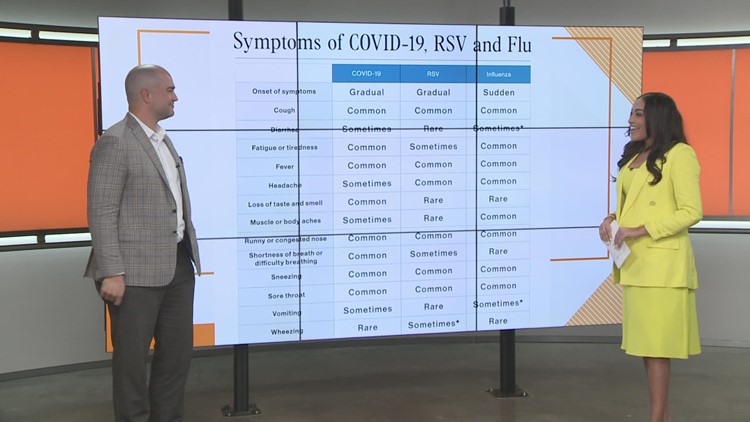 Public health officials have warned of a "triple pandemic" due to the surge in flu, COVID-19 and RSV cases. A local doctor will share the symptoms to look out for.
AUSTIN, Texas — As students and adults in central Texas return to classrooms and offices, they could catch a cold for a variety of reasons.
According to the Centers for Disease Control and Prevention (CDC), respiratory diseases are occurring earlier and in more people than in recent years. Health experts have used the term "triple disease" to explain the overlapping rise in flu, COVID and RSV cases.
All three viruses share similar symptoms, which can make it difficult to tell them apart. dr Mason MileurInternal Medicine Physician and Head Austin Medical Associatessays losing your sense of smell and taste will be a key indicator that you likely have COVID-19.
When it comes to checking if a child has RSV, watch out for wheezing. When a child begins to wheeze, this is a key indicator that they may have RSV, and that should be of a little more concern.
"For RSV, always worry about children younger than six months or having some kind of preterm birth or other medical condition. But as adults, we get RSV all the time. Well, as an adult, if you're under 65 and healthy, frankly, you really shouldn't be concerned about mortality, but when you start to surpass the age of 65 and accumulate a bit more disease, most often your lungs and your heart, then you're a little more worried about COVID-19," Mileur said.
Other bothersome symptoms that have come into play more recently include loss of smell, stuffy nose and itchy throat. These symptoms could indicate COVID-19 or RSV, but it could also simply be from cedar fever, which is an allergic reaction to the high cedar density in central Texas.
"It's difficult to tell if you have cedar fever or not because sometimes you can get a little low-grade fever, runny nose and itchy eyes. But the big difference is that you know that COVID-19 can take your life sense of smell, certainly if you have severe allergies, your sense of smell can decrease, so it's quite difficult, but COVID-19 has an abrupt kind of losses , as it's often associated with it," Mileur said.
In his work area, Mileur receives many calls from patients saying they are sick and not doing what they need to worry about when it comes to the symptoms they are experiencing.
"The best thing you can do is just call your doctor, talk to them about it, to determine if you need to stay home or go to the hospital. They can certainly help you with that decision," Mileur said.
https://www.kvue.com/article/news/health/covid-19-rsv-or-the-flu/269-6dee5798-b887-43b1-8339-1934663ca524 How to tell the difference between COVID-19, RSV and the flu symptoms