How to watch the Bears vs. Chiefs Week 3 game: TV, betting information
In the modern NFL, the best teams have a star quarterback under center. The Kansas City Chiefs currently have one; The Chicago Bears don't, no matter how hard they try. Patrick Mahomes has proven to be an all-around talent, and Justin Fields has shown potential without putting it all together.
On Sunday, these two men will compete against each other. And while it may seem like a mismatch, both the Bears and Chiefs will be looking to make a statement this weekend. It's easy to dismiss Week 3 as a meaningless early-season meeting, but that's the NFL. Every game has meaningful stakes.
With that in mind, here's your guide for Chicago's trip west to Kansas City.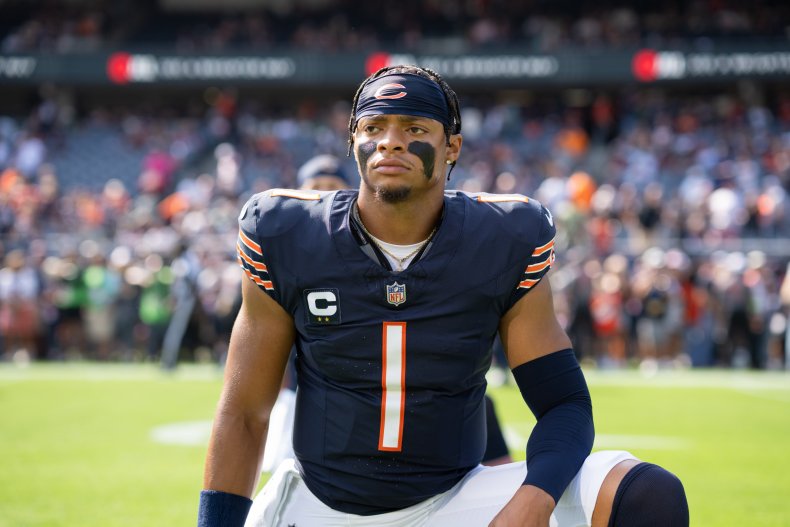 How to watch Bears vs. Chiefs
In recent years, Kansas City has become a fixture in NFL prime time. And even if their Week 3 meeting with Chicago doesn't happen at night, it will still draw a sizable crowd.
When the two teams take the field in Arrowhead (Sunday, September 24 at 4:25 p.m. ET), Fox's Kevin Burkhardt and Greg Olsen will be in action. The game will be broadcast across most of the country, with only the South and a few scattered areas broadcasting the Cowboys vs. Cardinals game instead.
However, if you're outside the Chiefs vs. Bears window and want to catch the action, you can always resort to streaming. A variety of services, including NFL+ and YouTube TV's NFL Sunday Ticket, are available for out-of-market viewing.
Can Justin Fields handle the heat?
While the Bears quarterback has shown potential, particularly with his legs, he still needs to really find his feet at the NFL level. That would already put him in the spotlight – a signal caller can only fight for so long before the pressure mounts – but Fields has added some fuel to the fire.
After the Bears fell in Tampa in Week 2, the QB hinted that he wasn't playing like himself.
"You know, that could be coaching, I think," Fields said ESPN's Courtney Cronin. "At the end of the day they're doing their job in showing me what to look at, but at the end of the day I'm not allowed to think about it when the game comes. I'm preparing all week." And then when the game comes, at that point it's time to play freely. Think less and play more."
The QB later clarified those comments by taking responsibility for his play and saying that he had been taken out of context.
Whether you agree with Fields or not, these comments have put him in the spotlight. It's also worth noting that the Chiefs defense won't make it easy for him. While KC's offense usually steals the show, Steve Spagnuolo's unit has allowed just 30 points in two games (third fewest in the league). Chris Jones also made an impact in Week 2 and the defensive tackle should only be in better shape this weekend.
This all adds up to pressure on Fields both on and off the field. Can he handle it and prove he can handle the NFL heat? Or will he collapse and give his doubters more ammunition?
The Chiefs' offense has the best chance to get rolling
While the KC offense has been largely overshadowed by its defensive counterparts this season. However, a visit from the Bears could be just what they need to turn things around.
While two games represent a small sample, Chicago gave up the second-most points (65) and the fourth-most yards (766). Their pass defense was porous, and that's exactly what Patrick Mahomes will want to hear.
The Chiefs' QB hasn't been the problem, but his receiving corps has yet to really take off. Distributing the ball isn't inherently bad, but there's something to be said for creating a reliable second target behind Travis Kelce. A comfortable match in Week 3 could be the perfect opportunity to get everyone into the rhythm and feeling positive before the tougher tests.
It will also be interesting to see how far KC can push its ground game; They're a throw-first team, but every offense needs a bit of thunder to offset the lightning.
Overall, this is a game the Chiefs will feel comfortable going into. It won't be satisfying just to win; A win ideally comes with some noticeable improvements.
Bears vs. Chiefs Betting Line, Over/Under
Given the two teams' respective quarterback situations, one would probably expect this game to be a bit one-sided. The oddsmakers agree, at least as of Thursday, September 21st.
FanDuel Sports Betting lists the Chiefs as clear 12.5-point favorites. The over/under is also 48.5 points.