How Trump changed language that could be crucial to law enforcement
On the morning of January 6, 2021, former President Donald Trump's staff had done everything they could to prepare him for the most important day of his presidency.
Trump was scheduled to address thousands of his most loyal supporters and had been warned of the potential for violence and the weapons some might be carrying.
He remained convinced of a conspiracy to rig the election against him, even if some in his inner circle confided there was little evidence to back it up. Nor was there anything that could be done to reverse the election he lost, something his Attorney General William Barr had told him ahead of the day the vote was due to be confirmed.
However, Trump was undeterred.
As he took the stage, Trump was handed a carefully crafted script to vent his grievances and speak to a crowd of protesters who believed his claims, the election – and his presidency – had been stolen from them.
His script urged protesters to demonstrate peacefully, with confirmation that they had already planned to march on the US Capitol. He should ask her to be nice. And he should avoid criticizing certain officials; thanks to those named only for standing up for him.
But documents released this week show Trump paid little heed to those words.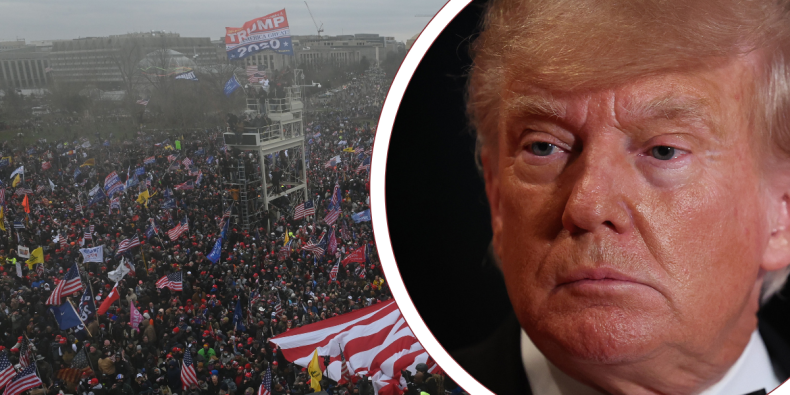 According to transcripts released over the weekend by the Jan. 6 House Select Committee, Trump deviated significantly from that script, adding thousands of words in an address to the masses.
He railed against his enemies. He escalated readymade, misleading arguments about the validity of the election to outright untruths. And in unwelcome comments, he urged his supporters to "fight like hell" to prevent a vital function of American democracy from taking place.
The transcript of his speech and the changes he made to the remarks prepared for him have since become a central aspect of the case against Trump, raising new questions about whether he deliberately attempted to launch a mob against the United States government to incite states.
Although Trump and his attorneys have said his remarks that day were merely a metaphor, evidence of what Trump knew prior to his speech coupled with his unwritten remarks could help build a case in which Trump is not only of aware of the potential for violence but actively pursued it.
"Outrageous political speech is an American tradition that is fully protected by the First Amendment," said Ken Paulson, director of the Free Speech Center at Middle Tennessee State University and former editor-in-chief of United States todaytold news week in an email.
"The key to prosecution is whether Trump directed the crowd to engage in imminent violent behavior. The Jan. 6 committee findings provide significant evidence of this," Paulson wrote.
Namely, in the reveal, Trump's urging of the crowd to "fight like hell" was spontaneous and not part of the original script — and that it came after Trump was initially alerted to the likelihood of violence.
"It came after the Secret Service informed him that many in the crowd were armed and unwilling to go through the magnetometers," Paulson added. "He knew he was telling an angry and armed audience that they had to go to the Capitol to join them there, and when that didn't happen, he refused for hours to do anything to stem the violence.
"This is far from a fiery speech. Words are not protected as freedom of expression if they are part of a criminal offense."
Prior to the script's release, some have argued that prosecuting Trump for what he may have meant by his remarks could set a problematic precedent for protecting Americans under the First Amendment.
Attorney Jonathan Turley – who had served as a witness in two separate impeachment trials – warned shortly after the events of June 6 The hill in February 2021 that Trump's remarks failed to meet the test set in the landmark free speech case Brandenburg versus Ohiowhen the Supreme Court has declared that "advocating the use of force or breaking a law" is protected unless it is imminent.
"Trump has not called for the use of force," Turley wrote. "He urged supporters to 'go peacefully' and 'cheer on' for his allies in Congress.
His own words – and not those written for him by his aides – speak against it. Transcripts released over the weekend, Paulson argued, showed that Trump put aside most of his prepared remarks and largely improvised, seemingly scoffing at his own aides' advice to remain peaceful.
"We want to be so nice," Trump said at the time. "We want to be so respectful to everyone, including bad people. And we will have to fight much harder."
"We fight like hell," he concluded. "And if you don't fight like hell, you won't have a country."
The case may still not be open and closed. But given the evidence presented by the Jan. 6 committee, a prosecution now seems more realistic — should the Biden administration's Justice Department be able to pursue them under a Republican congress.
"Yes, Trump has made prepared remarks urging the crowd to march 'peacefully and patriotically,' but that's literally not a ticket to get out of jail when the elements are proven for a prosecution," Paulson wrote. "Where prosecution once seemed impractical, if not impossible, the January 6 revelations have now at least made it plausible."
https://www.newsweek.com/how-donald-trump-changed-january-6-speech-that-could-critical-prosecution-1770739 How Trump changed language that could be crucial to law enforcement