Hurricane Fiona Path, tracker as a Category 1 storm, is moving west toward the United States
Hurricane Fiona battered Puerto Rico on Sunday with flooding and island-wide power outages, and the Category 1 storm moved west towards Hispaniola on Monday as it is expected to drop more rain.
The National Hurricane Center (NHC) issued a statement late Sunday night saying, "Tropical conditions will continue to spread across parts of the Dominican Republic within the area through Monday."
The weather service continues to warn that flooding over the islands could be "catastrophic" and that mudslides are possible in the mountainous areas.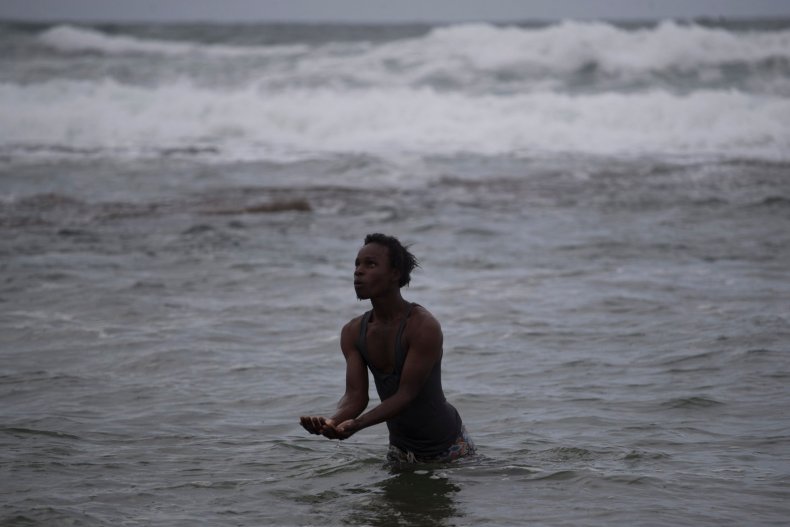 What's next for Fiona?
NHC is still forecasting that Monday afternoon's Hurricane Fiona will turn north and then northeast into the Atlantic, leaving the mainland United States clear of direct hits or external winds or heavy rainfall that could cause dangerous flooding.
The islands, on the other hand, are still in danger.
"These levels of rainfall are expected to cause life-threatening flash floods and urban flooding, as well as mudslides on higher ground, particularly in parts of Puerto Rico and parts of the eastern Dominican Republic," the NHC said.
On Sunday morning, Fiona went from tropical storm to hurricane. At the same time, Puerto Rico lost power to every home and most businesses, reminiscent of what happened with Hurricane Maria nearly five years ago.
"Puerto Rico is 100% without power due to a transmission grid outage from Hurricane Fiona," according to PowerOutage.us.
Puerto Rico is still trying to physically and mentally recover from Hurricane Maria, which devastated the island in 2017 as a Category 5 storm. Most of the island lost power, wiping out most of the power grids and causing physical erosion on the country's coastline.
Maria's damage was estimated at $91.6 billion, making it the third costliest hurricane of all time.
The National Oceanic and Atmospheric Administration (NOAA) released Fiona's likely cone path late Sunday. The trail shows Hurricane Fiona entering the Dominican Republic, pouring rain across the country and Haiti, but then moving sharply north.
By Tuesday night, Fiona is expected to develop into a major hurricane, meaning sustained winds have risen above 110 mph. The path cone at this point shows Hurricane Fiona, moving north and parallel to the US East Coast, as a major hurricane through Friday, when a downgrade is expected.
The US mainland seems safe for now, but things could change in the short term for tropical systems.
As storms sweep across the warm waters of the Atlantic Ocean, Caribbean Sea, and Gulf of Mexico, they typically intensify. Once they reach wind speeds of 74 miles per hour, it becomes a Category 1 hurricane. It becomes a Category 2 hurricane at 96 miles per hour. At 110 miles per hour it becomes a major hurricane or Category 3.
Even if they don't reach winds strong enough to become hurricanes, these storms can still drop rainfall that can cause life-threatening flooding.
https://www.newsweek.com/hurricane-fiona-path-tracker-category-1-storm-moves-west-toward-us-1744035 Hurricane Fiona Path, tracker as a Category 1 storm, is moving west toward the United States