Hurricane Fiona roars into a Category 2 storm with winds of 100 MPH
Hurricane Fiona is now experiencing sustained winds of 100mph and has been upgraded to a Category 2 storm as it continues to sweep across the Dominican Republic. Fiona only became a Category 1 storm on Sunday when it passed over Puerto Rico.
The National Hurricane Center said during its update as of 5 p.m. Monday afternoon that heavy rains continue to drench the islands as wind speeds have hit triple digits. Fiona is expected to stay on Hispaniola all night and then make a sharp turn north. NHC's next recommendation is Monday at 8:00 p.m. ET.
Fiona is expected to continue gaining wind force as it moves across warm Atlantic waters, perhaps in excess of 110 mph, which would place it in Category 3, or major hurricane status.
The hurricane center said in a statement that flooding in Puerto Rico and the mountainous Dominican Republic could be "life-threatening" and "catastrophic." It also warned of possible "dangerous mudslides".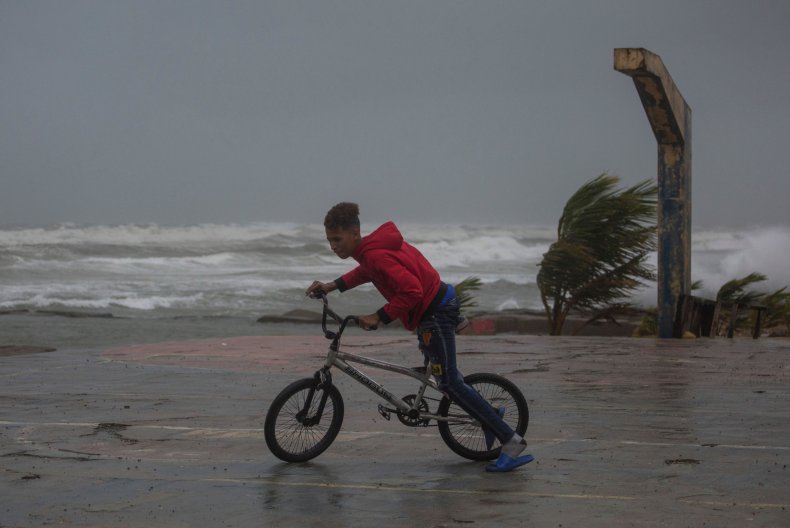 Hurricane Fiona battered Puerto Rico on Sunday with flooding and island-wide power outages, and the Category 1 storm moved west toward Hispaniola on Monday. Every home and most businesses in Puerto Rico were without power after Fiona crossed the island on Sunday.
President Joe Biden tweeted congratulations to Puerto Ricans Monday morning.
"Jill and I will keep the people of Puerto Rico in our prayers as Hurricane Fiona sweeps across your beautiful island. We are here for you and we will get through this together," said the President.
Biden also declared an emergency disaster declaration for Puerto Rico today to ensure the full force of the federal government.
"We have hundreds of employees on site and ask that you heed warnings from state and local officials," Biden tweeted.
What's next for Fiona?
The National Hurricane Center forecasts that Hurricane Fiona will make a sharp right turn and gain strength as it heads north toward Bermuda. The storm has a projected cone path that runs parallel to the US East Coast, with no forecast for landfall on the US mainland. The storm is likely to weaken as it gallops into cooler North Atlantic waters, where it is likely to dissipate at sea.
As storms sweep across the warm waters of the Atlantic Ocean, Caribbean, and Gulf of Mexico, they typically intensify. Once they reach wind speeds of 74 miles per hour, it becomes a Category 1 hurricane. It becomes a Category 2 hurricane at 96 miles per hour. At 110 miles per hour it becomes a major hurricane or Category 3.
Even if they don't reach winds strong enough to become hurricanes, these storms can still drop rainfall that can cause life-threatening flooding.
The 2022 tropical season has been very weak so far, with no hurricanes hitting the US so far. There are two other systems in the Atlantic basin that have the potential to become tropical storms or hurricanes. One is about 1,000 miles east of Florida, and that geographic location has a history of sizzle.
The other system is east of Venezuela and the Lesser Antilles. These systems historically have a better chance of turning into a named storm.
https://www.newsweek.com/hurricane-fiona-roars-category-2-storm-packing-100-mph-winds-1744290 Hurricane Fiona roars into a Category 2 storm with winds of 100 MPH