Hurricane Fiona traps 250 animals in Puerto Rican shelter for days
During its attack on Puerto Rico, Hurricane Fiona trapped about 250 animals at a shelter for three days before workers could reach them.
Fiona landed in Puerto Rico early Sunday morning, engulfing the island in total darkness as the storm cut power to all homes. The storm killed at least four people in Puerto Rico and left many others without running water or electricity.
Flooding from the hurricane trapped hundreds of cats and dogs at a shelter in Hormigueros after a river behind the shelter rose to nearly 30 feet, according to a report by The Weather Channel. The workers could not reach the building for three days. On Tuesday, the National Guard helped workers navigate the flood waters to reach the building and tend to the animals trapped inside.
Upon entering the building, workers found the first floor destroyed by flooding. Video from The Weather Channel showed debris strewn throughout the shelter, standing water and cages smeared with mud. Workers had moved all of the animals to the second floor before the hurricane struck, and all survived the storm. However, flooding damaged the building, which still has no electricity or running water. Shelter was lost in the floods, including items such as refrigerators, pet food and medicines.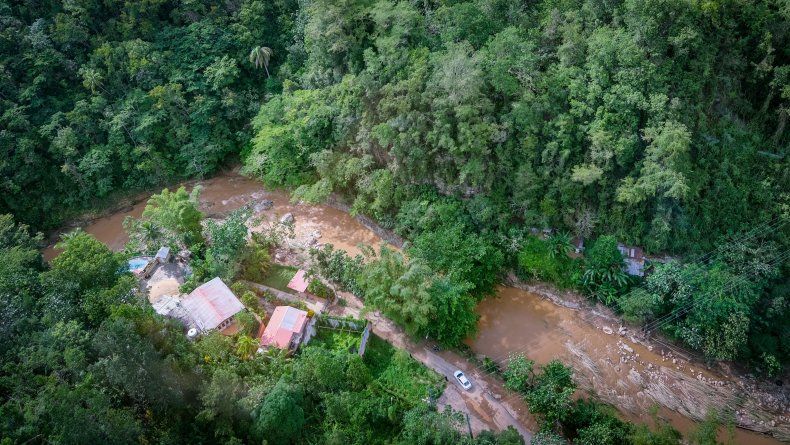 Other Puerto Rican animal shelters took animals to shelters in nearby states like Florida to protect them from the storm. WTVJ in Miami reported that 30 cats and dogs were sent to the Humane Society of Broward County in South Florida. Shelter officials said a San Juan rescue team transported the animals, which arrived at Miami International Airport late Tuesday night.
"By hosting these animals, it helps free up space at the sanctuary for animals that may have been displaced by the hurricane and takes some of the pressure off of the staff and volunteers who care for the animals there," said HSBC senior vice president of Operations Mary Steffen to WTVJ.
Animals from Puerto Rico were due to be examined by a veterinarian on Thursday and put up for adoption soon after.
After reaching Puerto Rico, Fiona hit the Turks and Caicos with torrential rain. Multiple reports indicated that the hurricane has strengthened to Category 4 and is heading for Bermuda. The storm is expected to pass the island on Friday. After Bermuda, Fiona could hit Atlantic Canada and hit Nova Scotia and Newfoundland in the next few days.
news week contacted the National Weather Service for comment.
https://www.newsweek.com/hurricane-fiona-traps-250-animals-puerto-rican-shelter-days-1745399 Hurricane Fiona traps 250 animals in Puerto Rican shelter for days