Hurricane Ian Path Tracker as a Florida-bound storm rapidly strengthening
Florida residents have been told to brace for a "life-threatening storm surge" when Hurricane Ian hits the state on Wednesday.
Ian, upgraded to a Category 3 hurricane with maximum sustained winds of 125 miles per hour, has made landfall in southwestern Cuba, according to the National Hurricane Center (NHC).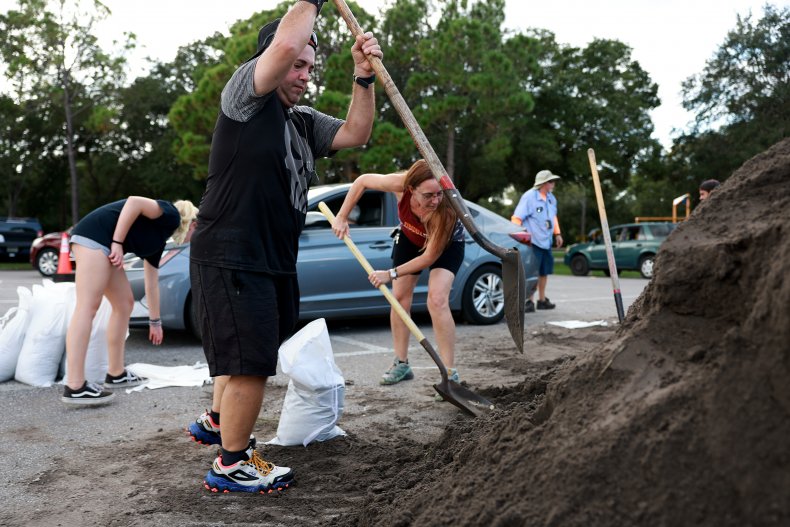 A category three hurricane has winds between 111 and 129 mph and is classified by the NHC as a "large" storm, with "devastating damage" expected.
The NHC says those living in west-central Florida should expect "tropical storm conditions" beginning late Tuesday before "hurricane-force winds" hit Wednesday morning as Ian continues to increase.
Gov. Ron DeSantis has declared a state of emergency across Florida, with 5,000 National Guard soldiers called in to support emergency services.
President Joe Biden issued an emergency declaration for Florida ahead of the hurricane's arrival and organized support from the Department of Homeland Security and the Federal Emergency Management Agency.
In its most recent key summary, released Monday at 11 p.m. ET, the NHC said, "A life-threatening storm surge threat exists along much of Florida's west coast, where a storm surge warning has been issued, with the highest risk from Fort Myers to the Tampa area." bay
"Hurricane force winds are expected in the west-central Florida hurricane warning area beginning Wednesday morning, with tropical storm conditions expected through late Tuesday.
"Heavy rains will increase in the Florida Keys and southern Florida on Tuesday and spread to central and northern Florida on Wednesday and Thursday and the Southeast on Friday and Saturday, potentially causing flooding in cities and small rivers.
"Significant flooding, including significant prolonged river flooding, is likely in central Florida."
On Monday, Gov. DeSantis said Ian is "a really big hurricane at this point" and warned it could bring a "dangerous storm surge, heavy rains, flash flooding, strong winds, dangerous seas and isolated tornadic activity."
If Ian hits Tampa Bay as a Category 3 hurricane as predicted, it will be the first major hurricane to hit the area since 1921.
Speaking to CNN, Rick Davis, a Florida-based meteorologist with the National Weather Service, said, "We tell people, even if they're lifelong Floridans like me, that we've never seen this in our lives. So we absolutely have to do this. Take this seriously."
Evacuation orders have been issued by a number of counties in the Tampa Bay area, covering portions of Hillsborough County, Manatee County, Pinellas County and Sarasota County.
Florida's Department of Emergency Management has warned, "The biggest human fatality during a hurricane is storm surge — the dome of water pushed ashore by strong hurricane winds." Entire buildings can be moved and cause more damage than a hurricane's winds themselves. Florida's coastal and low-lying geography makes it extremely prone to flooding.
"To protect yourself from flooding, if you live in an area that has been ordered to evacuate, get outside. The best way to be prepared for a hurricane-type storm surge is to know your evacuation zone and plan your destination and travel routes ahead of time."
The Tampa Bay Area ZooTampa has announced it will close Tuesday, with higher-risk animals being moved to specially protected zones.
Hundreds of thousands of people in eastern Canada were without power on Saturday as Hurricane Fiona, which devastated Puerto Rico before heading north, made landfall.
https://www.newsweek.com/hurricane-ian-path-tracker-florida-bound-storm-rapidly-strengthening-1746554 Hurricane Ian Path Tracker as a Florida-bound storm rapidly strengthening