"I am mayor of Russian-occupied Melitopol, Putin will never defeat Ukraine"
In recent weeks, the situation has escalated in Zaporizhzhya, a Ukrainian-controlled city where many thousands of displaced people from the temporarily occupied areas of Kherson, Luhansk, Donetsk and the city of Melitopol, of which I am mayor, have found refuge. All this time, the Russians bombed Zaporizhia at night, while people were sleeping, hitting apartment blocks and apartment buildings. Every day we lose our people because of this Russian genocide and it is a tragedy for Ukraine.
For me, Russia has proved once again that it is a terrorist state. For seven months of war, Russian missiles have been falling on Ukraine, killing civilians and destroying energy infrastructure. I see this as yet another example of how this nation can only fight with civilians, children and the elderly. But the Ukrainians are not afraid. What we have is resilience, anger and a strong power to drive Russian occupiers, murderers, rapists and terrorists out of our country.
On February 24, when the war in Ukraine began, I was in Melitopol. At 5:30 a.m., Russia began bombing the city, including the airport and other infrastructure facilities. I didn't think about whether to stay or go. I stayed in town with my team and people. This is where I should be as mayor. My whole team worked in the city on one condition: that the Ukrainian flag stays on the city's main square. That was until my kidnapping on March 11, when I was held by Russian forces for five days before being released. On March 16, thanks to President Volodymyr Zelenskyy and international partners, I was freed from captivity in exchange for nine captured Russian soldiers. Since then I have been working from Zaporizhzhya.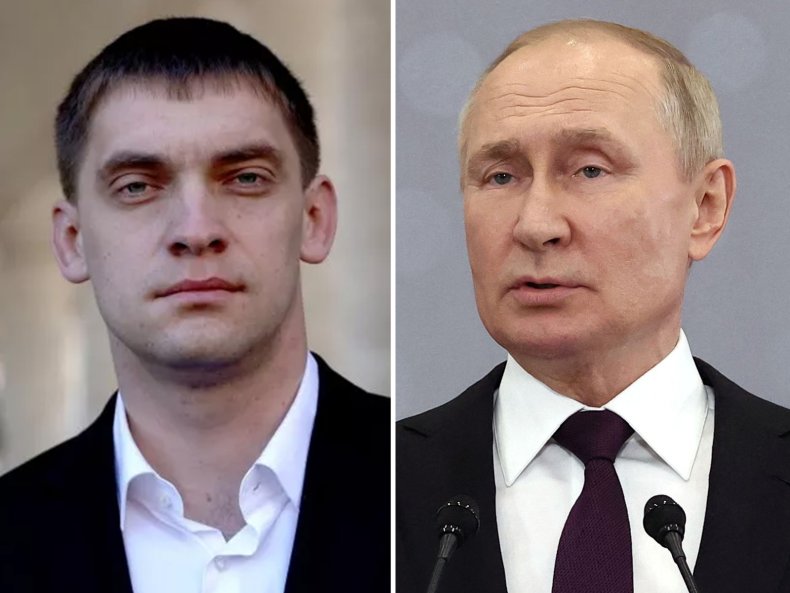 I work 24 hours a day, seven days a week with my team in Zaporizhzhya, where I am based now. I'm worried about my city and my people, but my day-to-day work hasn't changed. We are used to working and helping Melitopol remotely, meeting with temporarily displaced persons, volunteers and the Ukrainian military. Many problems have to be solved every day. We have organized and launched a platform where residents of the municipality of Melitopol who have temporarily left their homes can receive humanitarian aid. We are very grateful to our European partners for supporting space.
During the occupation, Melitopol did not surrender to the occupying forces. Initially, there were rallies of thousands in support of Ukraine: people stopped enemy tanks with their presence right in the central streets of the city. At that time, the majority of Melitopol's citizens categorically refused to cooperate with the occupying forces.
The residents of the temporarily occupied areas in the Zaporizhia region, including Melitopol, do not cooperate with the Russian occupiers. So what do we see in the occupiers? They kidnap and torture people in order to get at least some kind of interaction. Currently, I know of 700 residents of Melitopol who have been kidnapped. The occupiers don't care about age, gender or profession. They bring people "down to earth" and seek cooperation through torture and threats in any way they can. We record all crimes committed by the Russian occupiers so that we can bring them to justice in the future.
Ukrainians adapted to life in war, but we did not accept the war, Ukrainians from all over the country are fighting on the front lines against the Russian invaders, helping the Armed Forces of Ukraine and supporting each other. Melitopol partisans are known outside of Ukraine for constantly destroying Russian logistics, military bases and headquarters and opposing the plans of the Russian occupiers. We lose fear and grow stronger; this is our vibe.
In September, the Russian occupiers held a mock referendum on the temporarily occupied territories of Ukraine. Needless to say, neither Ukraine nor the entire civilized world has acknowledged this, and there have been many reports of voter coercion and intimidation.
Although these mock referendums have no legal consequences as the areas are temporarily occupied, I am concerned that the Russians could intimidate and force people to take part in other illegal activities such as B. the acquisition of Russian citizenship, mobilization into the Russian Armed Forces or expropriation of private property when the owners refuse to re-register it under Russian law. I am sure that further illegal actions will lead to an even worse humanitarian catastrophe, making temporarily occupied areas a gray area.
I keep urging people to leave the city of Melitopol at every opportunity. More than 65 percent of the residents have already left the city. The situation surrounding people leaving the temporarily occupied areas is getting worse every day. We heard that at a checkpoint in Vasylivka, in inhumane conditions, the occupiers detained 6,000 cars with people trying to leave the temporarily occupied area.
However, I am confident that the Armed Forces of Ukraine will liberate all temporarily occupied areas of Zaporizhia and other regions of Ukraine, including Melitopol, which is key to de-occupying southern Ukraine.
Today every Ukrainian is doing everything to lead us to victory. Today, Ukrainians have united to defend their country, their dignity, independence, freedom, democracy, equality and human rights: everything called Western civilizing values. The courage of the Ukrainian defenders, the courage of the people and the unity of the nation in the fight against the enemy amazes the world. My message to the Ukrainians in Melitopol is: "Melitopolans, you are the bravest people in the world. We all stand for freedom and independence. Truth will prevail and Ukraine will prevail!" Putin or Russia or Putin's Russia will never prevail over Ukraine. Never! Glory to Ukraine!
Ivan Fedorov is Mayor of Melitopol, Ukraine. You can follow him on Instagram @ivan_fedorov_melitopol and Twitter @IvanFedorovUA
All views expressed in this article are the author's own.
https://www.newsweek.com/ukraine-mayor-russia-war-putin-never-win-1751715 "I am mayor of Russian-occupied Melitopol, Putin will never defeat Ukraine"