Idaho Police Department Press Conference Ignites Wild New Theory About College Homicides
Police on Wednesday in the early hours of November 13 held a news conference about the murder of four University of Idaho students that has sparked new theories online about the tragic case.
Representatives from the Moscow Police Department, Idaho State Police and civil authorities provided an update on the deaths of Kaylee Goncalves, Madison Mogen, Xana Kernodle and Ethan Chapin. All four were found stabbed to death on student property off campus in Moscow, Idaho.
Police have not yet made any arrests or named a suspect and are asking anyone with information about the case to come forward.
Moscow Police Department Chief James Frye was asked about the similarities between the case and a double stabbing in Salem, Oregon that took place last year.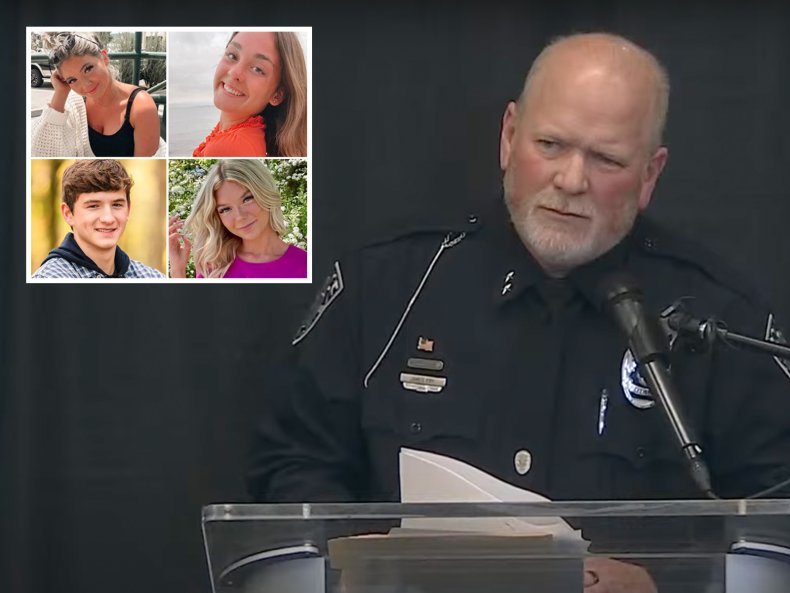 In that incident, Travis and Jamilyn Juetten were awakened at their home in the early hours of the morning by a man attacking them with a knife.
Travis was pronounced dead at the scene, but Jamilyn survived despite receiving 19 stab wounds. Police have not identified a suspect in the attack.
Chief Frye said: "We are looking into every avenue and we have other authorities coming to us with other cases, things that we will follow up."
The chief added that investigators investigating the Idaho killings received a tip related to the Oregon case.
Writing on the subreddit r/idahomurders, where concerned citizens discussed details of the attack, user u/shfh9835 said the police's refusal to rule out links to the Oregon case was "remarkable".
They wrote: "I was surprised that the possible connection to the Oregon stabbings was not immediately dismissed in Marion County. I'm used to seeing press conferences where LEO [Law Enforcement Officers] often simply dismiss links to other cases, especially in other states – they feel like a stretch, they are not seen as serious consideration, etc.
"The fact that they seemed aware and interested in this possible connection struck me."
At the press conference, Moscow Police Department Captain Roger Lanier repeated an earlier claim that the killings were likely a targeted attack.
He said: "We have made it very clear from the start that we believe this was a targeted attack. I mean, to be honest, you have to trust us at this point because we're not going to publicize why we think that."
All three female victims lived in the home while the only male, Ethan Chapin, was staying with his girlfriend. Two other female residents of the house slept through the attack and were unharmed.
On Reddit, user u/shfh9835 questioned whether the "targeted attack" could have been aimed at women rather than a single person.
"Although LEO has not explained the 'targeted' issue, I believe there is likely physical evidence to suggest this crime was directed at women/the women's wounds or placement of the corpse etc. were different than those of ethane.
"I don't think 'targeted' necessarily means one person, and I know there's been a lot of speculation that it's Kaylee. 'Targeted' to me means that there was a specific identifying factor that was a possible motivation for the crime – in my mind and based on patterns of violent murders like this (Ted Bundy, Danny Rolling) I think targeted gender suffices would to justify the use of the term.
The Moscow Police Department has been contacted for comment.
Police investigating the case are looking for a fixed-blade knife they believe was the murder weapon.
Detectives added that a skinned dog reported to the Latah County Sheriff's Office was "unrelated to the case."
https://www.newsweek.com/idaho-police-press-conference-sparks-wild-new-theory-about-college-murders-1762066 Idaho Police Department Press Conference Ignites Wild New Theory About College Homicides