IDF spokesman trains MSNBC host with basic journalism lesson after she allegedly shared 'Hamas-spread' data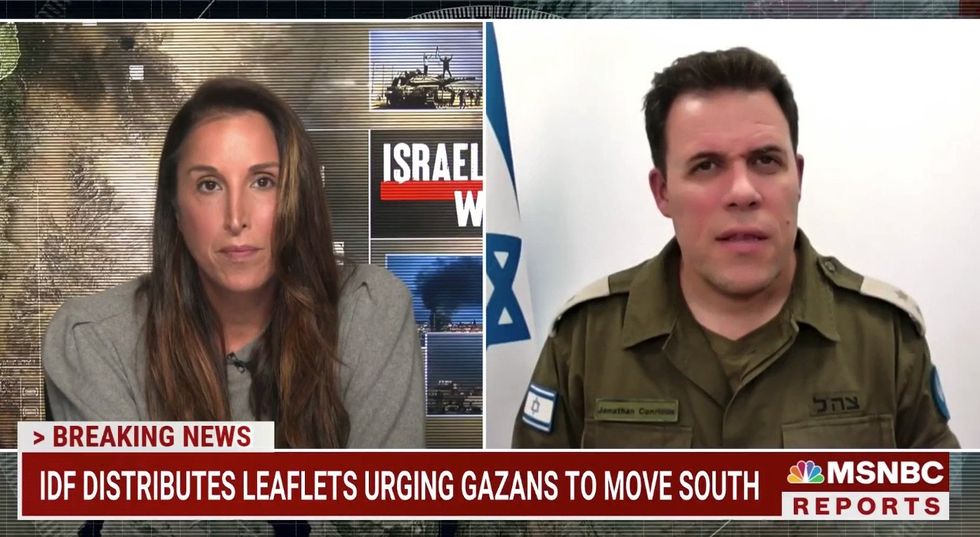 Israel Defense Forces spokesman Jonathan Conricus on MSNBC on Sunday rebuked anyone who believes in Hamas's civilian casualty count.
During an in-depth interview about the ongoing conflict in Gaza, MSNBC host Yasmin Vossoughian asked Conricus to explain the alleged high number of civilian casualties in Gaza. Vossoughian claimed there were "over 4,600, many of them women and children."
But Conricus quickly explained why these numbers can't be trusted.
"When it comes to data from Gaza, please remember that not everything that comes from Gaza is independently verified," he said. "It is information spread by Hamas, and Hamas is the equivalent of ISIS when it comes to truthfulness."
Vossoughian apparently took issue with Conricus' response and asked him to clarify whether he disputed Hamas' claims.
"I certainly question every single piece of information that comes out of the Hamas-controlled so-called 'Ministry of Health' – every single piece of information," Conricus replied.
Vossoughian replied that "independent journalists" had confirmed the death toll, but did not name a single journalist. Conricus then reminded Vossoughian that her network had been involved in spreading Hamas propaganda when MSNBC, like most legacy media companiesclaimed uncritically that Israel destroyed the al-Ahli Baptist Hospital in Gaza last Tuesday.
"The initial reports – also published here on MSNBC but in many other media outlets – quoted the Hamas-run Ministry of Health in Gaza as saying that 500 Palestinians died in the Gaza hospital incident," Conricus said.
"Do you know how many people were actually killed? [European Union] Estimates put the number at between 10 and 50. The 500 said the Hamas-controlled authority, and most international media fell for it and reported it. "It gave credence to a false number spread by a terrorist organization," he said.
"That's why I say that we should all exercise caution and skepticism when we get these numbers, especially when it comes to civilians, women and children," he said. "These are the things they are trying to harvest. That's what they want to achieve."
Unfortunately, Vossoughian did not address Conricus' argument that media organizations are acting irresponsibly. Instead, she sided with Israel on both sides, telling Conricus: "We can both admit that innocent civilians are losing their lives."
However, Conricus began the interview by explaining to Vossoughian why it was dishonest for the media to claim that Israel and Hamas were guilty of the same acts.
"I don't want to create parity," Conricus said. "The only thing I can say is that we are definitely not targeting civilians. We're trying to attack militants, as opposed to these subhuman terrorists, these ISIS monsters that came across our borders. "They are specifically targeting our women and children and the elderly as well as men and soldiers," but especially the civilians."
"You know, of the 1,300, more than 1,300 dead Israelis, more than a thousand were civilians – and that's intentional. So we are not targeting the civilians," he explained.
Do you like Blaze News? Bypass the censorship, sign up for our newsletter and get stories like this delivered straight to your inbox. Login here!