Ilhan Omar names Democrats' price for rescuing Kevin McCarthy from looming shutdown
Rep. Ilhan Omar laid out Friday what Democrats would ask of their Republican counterparts to save Kevin McCarthy's speakership as a government shutdown looms.
Congress is facing a final deadline to pass legislation that would fund the federal government through the next fiscal year, averting a government shutdown that would have widespread implications for millions of Americans, including hundreds of thousands of federal employees who would be furloughed. House Speaker McCarthy has struggled to reach a deal that would appease both the most conservative members of the GOP conference – who have threatened to file a motion to resign his speakership if he reaches a deal with Democrats – , as well as passing the Senate, increasing the likelihood of an agreement.
The Republican legislative showdown has raised questions about whether Democrats might use the shutdown threat to secure concessions from McCarthy on bipartisan budget legislation in return for helping protect the California Republican's position, if conservative hardliners submit a threat against his position as speaker.
Omar, a Minnesota Democrat who serves as vice chairman of the Congressional Progressive Caucus, said Democrats would likely push for a power-sharing agreement with McCarthy in return for bailing him out during an appearance on MSNBC Alex Wagner Tonight on Friday.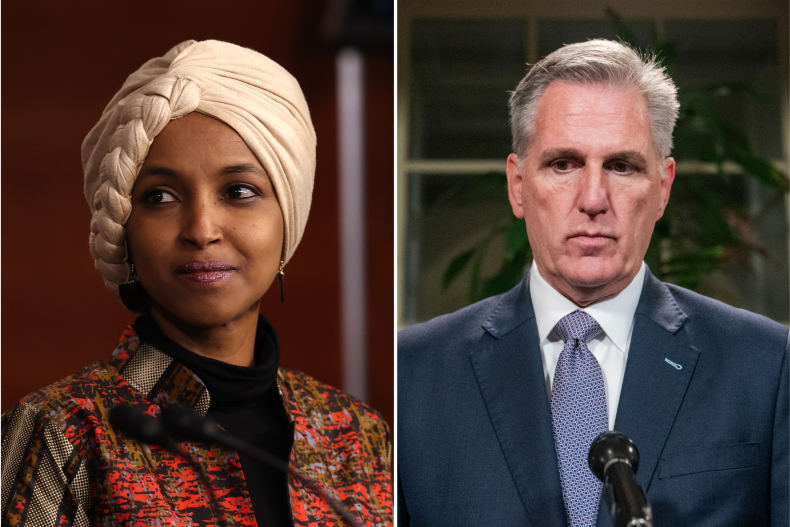 Omar said she has spoken to some Democrats who may be more inclined toward a bipartisan agreement to save McCarthy, but they have indicated they would need a 50-50 power-sharing agreement to reach a deal.
Such an agreement would mean that Democrats hold 50 percent of the House committees and a common agreement is reached on the legislation put to a vote, Omar said.
"They are not interested in saving a speaker who has made it his mission to take away women's autonomy by banning abortion, who has started cutting Social Security, who is so pathetic that he is willing to cut 80 percent to get the heat help." to so many people who rely on [on it]"More than anything, Minnesotans know that winter is coming," the congresswoman said.
She continued: "This is a man who really doesn't care about his constituents. All he cares about is pleasing Marjorie Taylor Greene and the crazies in his caucus, not his voters and the American people. I don't care." I believe there will be a single Democrat unless that man makes an agreement that we know we can fulfill so that we can co-govern with him.
Newsweek I reached out to Omar's office via email for further comment.
Congress works to fund the government
Congress's struggle to pass a bill to fund the government continued into Saturday afternoon, with less than 12 hours left before the shutdown began.
McCarthy announced that he would instead move toward a continuing resolution (CR) that would keep the government open and fund it at similar levels over 45 days. However, it remained unclear whether this bill had enough support to pass, as Democrats expressed concerns about the bill and conservatives opposed a short-term funding bill.
Rep. Katherine Clark, a Democrat from Massachusetts, filed a motion to adjourn Congress, saying Democrats had 90 minutes to read the bill to make sure it was "clean." However, this request was reportedly rejected.
McCarthy wrote on X, the social media platform formerly known as Twitter, said Friday night that a bipartisan Senate bill "has no path forward and is dead on arrival." He told CNN that he would likely be able to pass a clean CR without additional funding for Ukraine, a key sticking point for conservatives who have opposed military aid to the war-torn country in the face of the Russian invasion.
On Friday, 21 Republicans joined Democrats in voting against a short-term funding bill.