"I'm a funeral director, I've had some bizarre requests"
I joined the family business and became a licensed undertaker in 1995. Growing up, there wasn't anything in school that particularly interested me, so I decided to become a funeral director like my father.
Over the years I have come to understand the importance of being a funeral home. It's wonderful to be able to spend my career helping people. But there are some challenges.
The emotional distress we often feel when helping families who have lost loved ones is difficult. We are not desensitized; at least I'm sure not. I find myself sharing the grief of the families I work for as I try to help them plan a funeral.
When I see a family grieving the loss of a child or an unexpected death, it's challenging because it touches me emotionally too. I feel that we have a great responsibility to these families. But on the other hand, the typical gratitude they express to us is the best feeling for me.
I am very detail oriented and my job is to make sure everything runs smoothly for the family I work with. It's incredibly rewarding to see a family feel relaxed after a funeral and know that they don't need to be burdened with planning a funeral alone.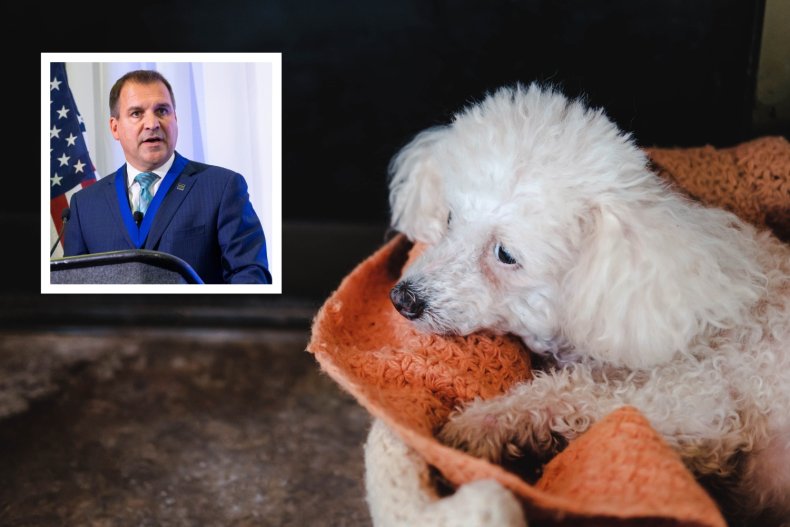 The strange requests I've received over the years
In the many years that I've been a funeral director, I've had some unusual requests.
I once went into a prep room where a woman had been embalmed. Next to her feet was a small box that I had opened. Inside was a little white poodle. I didn't know then that it was her wish to be buried with her dog. But her dog was still alive.
At first I was very surprised. I thought, "Why on earth is there a live dog in this box?" If the dog had recently died or been euthanized, it would have made more sense to keep him in a crate. But there it was, alive.
I found out later that the dog was put down so he could be buried with the woman. As far as I can remember, this dog was very old and slept at the woman's feet for about 15 years, so she also wanted to be buried with the dog at her feet.
Another strange request that had occurred to me at a funeral service. Usually the deceased wears a formal suit. But one family wanted this person to rest forever in the comfortable everyday clothes he likes to wear around the house: soft jeans and a sweater.
So we dressed the deceased in a formal suit for his funeral, but as soon as the minister finished the service and everyone went outside, we closed the doors and very quickly changed this man out of a suit and into a pair of jeans, sweater and comfortable socks. After doing this within a few minutes, we put him in a hearse.
I've also heard about strange requests from other undertakers in the US. There was a gentleman in Pittsburgh who wanted to be embalmed in his recliner while a Steelers game was being televised in front of him. So he was embalmed and placed in his recliner instead of a coffin.
I even heard of a man who somehow got embalmed and put on his motorbike. I don't know how the undertakers managed to get him embalmed to sit on a motorbike, but they did it, which must have made his family very happy.
Protection of families as undertakers
I was recently named President of the National Funeral Directors' Association (NFDA), which has enabled me to connect with funeral homes and grieving families across the United States
As a member of the NFDA, I have access to the largest network of funeral professionals in the world, which has helped me bring calm to families during stressful and turbulent times.
I hear of many tragic deaths from suicide and murder. We don't ask families about their situation, but sometimes we hear second-hand about what's happening.
Some deaths even reach our local Baltimore news. One in particular was about a guy who sadly took his own life after doing some minor things. The family had asked us not to answer questions from the press and it was our job to protect them too. So we declined to answer questions from the press and did our best to include them in planning his funeral.
I've also noticed that funeral homes get busier right after the holidays. I don't think we can control when we die, but there also seems to be a pattern. Older people tend to take one last vacation with their family and then let go.
Our funeral home this year is a perfect example. From December 22nd to December 25th we had one death but the week after Christmas we had 11.
There also tends to be more deaths in colder months than in summer. That's because it's usually easier for younger people to contact a doctor and get medication from a pharmacy when they catch the flu in the winter. But for a very old person, cold weather can lead to a more serious illness like pneumonia since an older person has a weaker immune system.
No funeral request is too strange
Currently, many people are looking for a different approach when it comes to commemorating a loved one. Funerals are not that traditional because there are many ways to celebrate someone's life.
I get the impression that funeral directors only know how to handle traditional funerals, but the truth is that we keep up with the trends and the changes in how families commemorate their loved ones – and we welcome that.
I like being able to say yes to a family, and so do most funeral homes. Sometimes families are reluctant to ask anything of us. You may sometimes ask, "Is that weird?" But I would say don't worry about being weird, do what works for your loved one and a funeral home will certainly help you with that.
Jack Mitchell is a funeral director at the Mitchell-Wiedefeld Funeral Home in Baltimore, Maryland. You can find out more about him here.
All views expressed in this article are the author's own.
As Carine Harb, Associate Editor of Newsweek, said.
Do you have a unique experience or personal story to share? Email the My Turn team at myturn@newsweek.com
https://www.newsweek.com/funeral-director-bizarre-requests-1773575 "I'm a funeral director, I've had some bizarre requests"