"I'm an American in Kyiv, I had a surprising encounter with Zelenskyy"
It's Valentine's Day 2021. I step out of an Uber into the pathetic brown snow, a few days old and pushed onto the curb. The temperature is well below freezing, but a pair of mittens will keep my hands warm. I'm holding my guitar case.
Here I am, on Saksahanskoho Street, a special part of Kiev's cultural landscape. The restaurants are more Eastern, the hipsters are dingier and the snow seems browner. Most importantly, it was in Saksahanskoho that I first made music with my friend Nate, in a dimly lit basement rehearsal space called Checkpoint.
I'm an American singer, songwriter, and guitarist. Nate, also an American, is a damn good drummer. Our first jam went well and was soon joined by our bassist David, a third member from the US, and Alex, a Ukrainian guitarist originally from Donetsk. The four of us had chemistry right away, and I remember those early days in the basement as a magical time of discovery.
The Goshawk name wasn't popular with the rest of the band when I came up with it, but it kind of stuck. We met every weekend and played our own songs – a mixture of different styles like punk, reggae, blues, hip-hop with dancehall elements. We would invite some friends to our rehearsals. Each time they seemed pleasantly surprised that we weren't as amateur as they expected.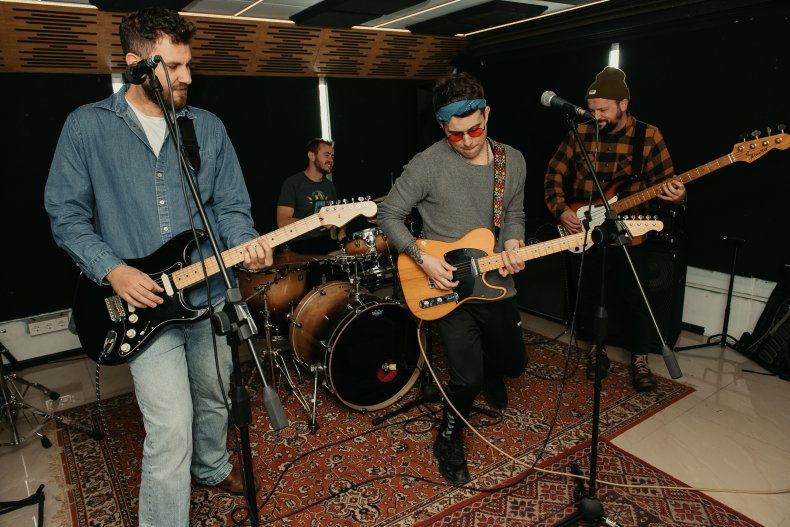 About six months after founding, we played our first show at Checkpoint. About 50 people came and we turned the evening into a wild party. The memorable night can be seen on YouTube in our music video "Buzz Riff", an original song we created about Kyiv. In the first verse I sing, "I'm a sucker for the chestnut streets."
We started playing shows and building momentum. Kyiv is primarily a techno-centric city with a small live music scene, so we were excited about the potential to make a real difference. Our biggest show – one we didn't know would be our last for a long time – took place on November 16, 2021 at an upscale new venue, Pepper's Club, in the up-and-coming Arsenalna district.
As we walked off the stage, my friend Ira ran towards me with a shocked expression on her face. "Guys, look! It's Zelensky!" "No way, can't be." Indeed, President Volodymyr Zelenskyy was there together with Kiev's boxer and Mayor Vitali Klitschko to watch a football match between the Ukrainian national team and Bosnia and Herzegovina. They were all relaxed, happy and laughing. Ukraine won.
We would all be stealing glances at the President's table. "Can you believe it, he let me take a selfie with him!" said a girl. "I also!" said another. And then a tall, broad-set Canadian friend of ours said, "His bodyguards wouldn't let me take a selfie with him for some reason." We all laughed.
For a moment I thought of trying to ask the President to take a picture together. Then I thought better of it. The President and the Mayor were among us, drinking beer and watching football. Not that different from the rest of us.
Exactly 100 days later, Russia invaded Ukraine and President Zelenskyy's face filled screens around the world. "I need ammo, not a ride," he said when the US offered him a chance to flee Ukraine after the Russian invasion. I'm sure most leaders around the world would have taken that ride. I mean how could you even stay? How could you fight the second largest army in the world, led by what I think is a madman?
"The Comedian Who Became President" wasn't a joke, after all. The man we saw months earlier leaving his hair down and having our friends—or at least most of them—take their picture with him—this man meant business. He spoke with conviction. Many feared that Kyiv would be captured in the first few days and the President of Ukraine would be captured and probably killed.
A few weeks before the war, Nate, David and I had moved to Tbilisi, Georgia. Our guitarist Alex stayed in Kyiv and couldn't leave the country due to martial law. We worked with a new guitarist and played several shows, but we all dreamed of returning to Kyiv. Tbilisi was wonderful but didn't feel like home for either of us.
And then, almost six months into the war, Nate, Dave, and I decided to return to Kyiv together. We kept hearing about our Ukrainian friends who fled in the early days of the war and how they were returning. The Instagram posts made it seem more or less safe, even funny. My parents and friends were shocked. "What?! You're going back to a war zone?"
As we approached the city by train—no functioning airports meant a 14-hour drive from the Polish border—we looked out the windows for signs of war. Everything seemed normal. It was one of the strangest feelings I've experienced. Now we are back in what feels like home to me. It is a country devastated by war, but everything still seems the same as when we left.
Our first showback was deeply meaningful. Our friends came out and brought some of their friends with them. It was the end of the short, hot summer. The sky outside was blue. I felt a bundle of emotions inside me. Old friends, our old songs, our old band. We were back! The war did not break us!
But everything has changed. The people of Kyiv are wild but have experienced the horrors of war that are still taking place across the country. When we were outside we would watch our friends go to work, go to the gym, go to restaurants, go out for drinks. But we could never understand how they really felt as they saw their country invaded, their fellow citizens mercilessly tortured and killed.
The air raid alarm sirens are still wailing every day. Sometimes it's hard to know how you're feeling. The foreigners who were here before the war are mostly gone. But it really feels like everyone in Ukraine is on the same page now. Before the war, it felt like people were focused on their own mundane non-problems. But now only the war counts. Support for Ukraine is the only thing that matters.
Life after the war is an absolute mystery. However, one thing is certain. If Ukraine wins, and I'm sure of that, there will be weeks of partying and partying in Kyiv, something that nobody has experienced before. And every single cheer, every single chant, every single song will be for the heroes who protected our dear Ukraine.
Goshawk will continue playing in Kyiv for the time being. We plan more shows and go out to support other Ukrainian cultural events. Kyiv is our home. Ukraine is our homeland. And the spirit of freedom is still very much alive in the air, on the streets, underground. I believe that Ukraine will win the war.
Daniel Hayes is a Paraguayan-American who grew up in Trinidad & Tobago. In 2016 he moved to Kyiv, where he works as a writing coach for Savvy L&D Solutions, a Ukrainian company. He is also a polyglot and is fluent in six languages.
All views expressed in this article are the author's own.
https://www.newsweek.com/american-kyiv-president-zelensky-surprise-encounter-1750397 "I'm an American in Kyiv, I had a surprising encounter with Zelenskyy"