"I'm raising a non-binary child"
It was 3am and I was in the middle of an late night meal with my newborn son who was born in 2020 when my partner told me our 12 year old was non-binary. My first reaction was confusion – at this point my main concern was making sure the baby would eat and get back to sleep. I was pretty sleep deprived at the time.
But the next morning I approached my eldest, London, and told them what their father had told me. The first thing I said was, "Why didn't you come and tell me yourself? You know you can tell me absolutely anything." To which they explained that I had been busy with their little brother. "None of that ever matters," I told them. "I always have all the time in the world for you."
Then we talked about it. I wanted to make sure I knew exactly what "non-binary" meant, that I wasn't confusing it with something else. London explained it well – that they don't feel one sex or the other, or that they sometimes feel one sex and sometimes the opposite sex.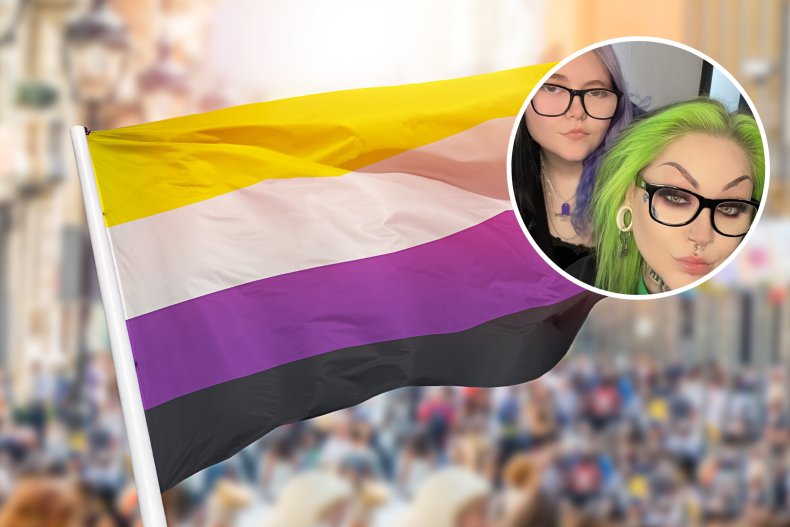 How London has changed since it first appeared
I asked London if they felt a lot better now that they came out and they said, "Yeah, definitely." It was something they had been trying to figure out for a long time. It started with the clothes. They spent a year hacking and changing their style and they never seemed happy with it. One minute they were asking for gym clothes and the next minute they wanted to wear a dress. They weren't too proud of their looks either – they said, 'I'm going to wear this. That's enough."
I don't like to guess too much, but I think they had struggled with the thought, "Do I feel like a girl or do I feel like a boy?" When London discovered they were non-binary — a term they said is now part of everyday conversation — they said they felt themselves for the first time. They said they felt so comfortable and content and it was amazing to hear that – that at their young age they had found who they are and could feel truly happy within themselves. That made me so happy and proud.
I've noticed a real difference in London. There used to be this insecurity and nervousness about certain aspects of their lives, whereas now they are so relaxed, so headstrong and exude confidence.
When London came out they really came into their own – they had their own style. They were really into anime, so in the beginning they had a lot of plaid skirts with anime t-shirts. Now, at age 14, they've transitioned to an oversized look—so lots of oversized joggers and oversized hoodies. But then they mix it up and maybe wear fishnet leggings with a corset top depending on how they're feeling that day. Whatever they wear, they absolutely rock it and look amazing. You can just see them thriving the way they were always meant to be and it's so beautiful to see.
How do I support my child?
I have supported London from day one. In that first conversation, I told them: I want to take this journey with you. I want to learn and explore everything and help you grow and reach your potential.
As part of this I asked London to pull me up every time I mispronounced their pronouns or their new name as it would help me learn faster. That was important to me: I didn't want to hurt London by saying the wrong things. I wanted to make sure I got there as soon as possible and now it just comes naturally.
About a year after London came out, I got the non-binary symbol tattooed on my arm. I've got lots of tattoos and a whole sleeve that's like a scrapbook for London, full of memories. I wanted the symbol to say to London, "I support you and who you are and everything you stand for." To let her know, "Mom has your back."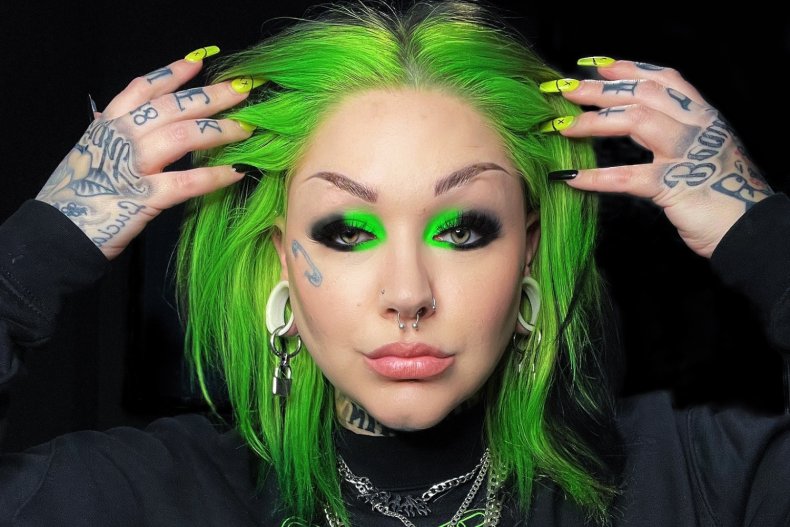 Her friends supported me, and the news was very well received in my circle as well. I have explained to everyone that this is how it is now and I will not tolerate anyone who intentionally uses false names or pronouns. It has to be respected by everyone and if there's someone who doesn't want to respect it, I won't put London around them.
I have some relatives who are much older and it was quite funny in a way when they were trying to remember the right things to say. Sometimes they get the pronouns wrong, but me and London can see they're doing their best. And London appreciates that very much.
Negative Comments
I tend to get comments on my TikTok saying "non-binary isn't real" or "there are only two genders". Obviously, I always knew the hate was out there, but I see so much more how evil the world can really be on this subject. I do not get it. You have to let people be themselves. No one harms anyone – I don't understand the great need to tear people down. London is so fortunate in itself and I believe that everyone should be who they are.
But I'm not too worried about London because they're very opinionated and strong-willed and see how I react to hate comments – meaning I don't react. London will see these comments with me and we usually laugh about them; When someone leaves a big paragraph, we're like, wow, maybe that person is almost 40 and they're so uneducated. What a sad little life. That doesn't get under our skin.
I also get tons of comments from people saying "I wish you were my mom" or "I wish my mom was that tolerant". These comments have brought me to tears on many occasions because I really cannot understand how a parent could not accept their child.
I've made many videos trying to educate parents to let them know I understand that it can feel like losing your child at first. But you are not. And if you just go on this journey with them, you will still see that they are still that amazing kid that you have been raising their whole life and all they do is become who they really want to be. It breaks my heart to see how many parents don't accept it and the harm they do to their child. I don't understand how someone could hurt their child like that.
I hope we get to a point in society where being non-binary is more accepted and normalized and not challenged as much. I'm sure we will get there one day and I hope to spread awareness that people don't have to be afraid of the unknown. But either way, I know London will continue to do amazing things. They will be fine.
Ebony Turner is a content creator on TikTok @inked_bone.
All views expressed in this article are the author's own.
As reported by Katie Russell, deputy editor of Newsweek's My Turn.
Do you have a unique experience or personal story to share? Email the My Turn team at myturn@newsweek.com
https://www.newsweek.com/parenting-nonbinary-child-tiktok-star-inked-bone-ebony-turner-1777174 "I'm raising a non-binary child"