Incredible drone video shows the scale of Argentina's World Cup celebrations
Argentina are a country on cloud nine after their team ended a 36-year wait to win the FIFA World Cup after Lionel Messi's inspired performance defeated France on penalties after the game ended 3-3 after extra time was.
Incredible drone footage captured the wild celebrations at the Obelisco de Buenos Aires in Plaza de la República as hundreds of thousands of Argentines took to the streets of the capital.
The video has gone viral as it was shared widely on social media with many posting their congratulations to Argentina after their dramatic victory in the soccer showpiece.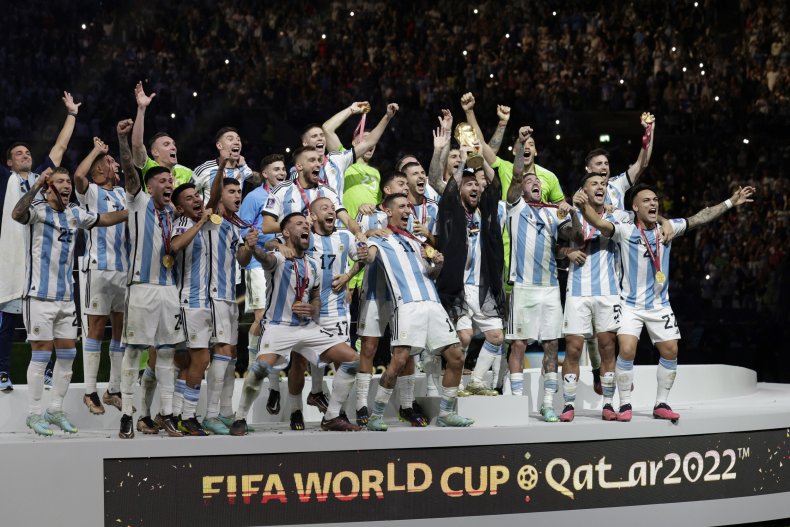 It was Messi's final World Cup game for his country and there was much jubilation as the acclaimed GOAT (the greatest of all time) realized his dream of lifting the legendary trophy and leading his country to World Cup glory in Qatar.
Drone pilot Ale Petra, an Argentinian filmmaker, captured the elation as he showed a bird's-eye view of the extent of the crowd in Buenos Aires, with people in national jerseys stretching in every direction as far as the eye could see.
Petra posted the video on Instagram along with the caption: "WE ARE WORLD CHAMPIONS! Leo Messi, you asked us to trust the team, so we trusted."
There was plenty of love for the world champions and the mesmerizing video in the comments, with one writing: "So happy for you guys! Well deserved 👏🏽. Absolutely love the shot🔥 @alepetra_"
Another added: "Wow! Argentines know how to party. Well done champions!"
Meanwhile, a user on Twitter commented: "No one even comes close to the Argentines, what a sight."
There were some who couldn't help but crack a joke at the expense of former President Donald Trump, with one writing, "That looks like the inauguration crowd Trump thought he had."
Ahead of the final, Messi's wife, Antonela Roccuzzo, shared a letter from her 10-year-old Thiago to his father as a message of encouragement ahead of leading Argentina to glory.
In the letter, the youngster quotes "Muchachos", the Argentinian song Messi and his teammates sang after defeating Croatia on Tuesday.
The letter, written in Spanish, reads: "I was born in Argentina, the country of Diego [Maradona] and Lionel.
"Guys now we're excited again, I want to win third place, I want to be world champion and we can see Diego from the sky with Don Diego and La Tota cheering on Lionel."
Do you have a tip about a sports story that news week should cover? Do you have a question about the World Cup? Let us know at entertainment@newsweek.com.
https://www.newsweek.com/incredible-drone-video-argentina-world-cup-celebrations-1768056 Incredible drone video shows the scale of Argentina's World Cup celebrations