Indeed, Russia may lose its territory amid the war catastrophe in Ukraine
A debate has reportedly erupted in NATO circles over the possibility that Ukraine could use the momentum in its fight against Russia and retake Crimea and the Donbass region.
Following Russia's withdrawal from the Kyiv region to focus on Donbass in eastern Ukraine, NATO expects a "temporary stalemate," said an unnamed official of the alliance.
But in comments also reported by Ukrainian media, the official told CNN: "I think [Ukraine] could [retake Crimea and the Donbas], Yes. Not now, not soon, but if they can keep up the fight I think so."
Discussion about the future of Crimea, which Russia annexed in 2014, was amplified by Kyiv on Monday. It jumped on a statement from Kremlin spokesman Dmitry Peskov, who said Moscow had "no territorial disputes" with Finland or Sweden, which are keen to join NATO.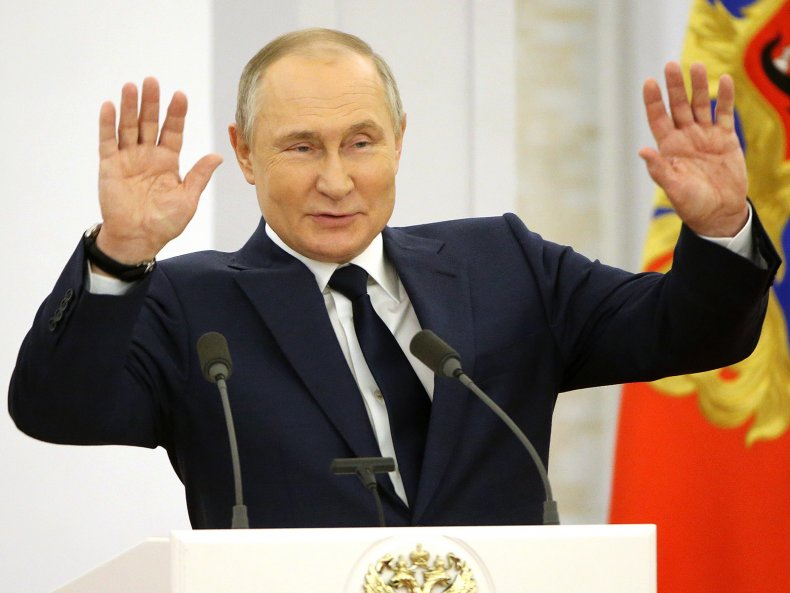 However, Peskov said that if Ukraine joined the bloc, Russia would have a "territorial dispute" with an Ally member.
Oleksiy Arestovych, an aide to Ukrainian President Volodymr Zelensky, told the local news outlet that this was a significant change in language Unian reports that it suggested that Russia "morally prepare the population for the surrender of the peninsula".
Arestovych said that Crimea was not previously considered a "territorial dispute" for Moscow and that its status as part of Russia, which the world community disputes, was secured by a "popular referendum".
He said either Peskov "spoke wrong" or he was "changing political vocabulary," meaning "change in political position." This could mean "a future peace agreement in which Crimea will be a 'territorial dispute'".
Despite Arestovych's optimism, Joshua Tucker, director of the NYU Jordan Center for the Advanced Study of Russia, said he doesn't expect Crimea to be part of any agreement to end the war.
"I would be shocked if Peskov indicated that Russia is ready to surrender to Ukrainian control of Crimea in peace talks," he said news week.
"From a Russian point of view, Crimea is not a territorial dispute with Ukraine – it is Russian territory," he said. "Rather, he meant the Donbass region."
But the US Ambassador to Ukraine Kristina Kvien was also optimistic about the chances of Ukraine regaining territory.
According to a translation, she told Ukrainskaya Pravda that given that Kiev's forces have driven back Russian troops from the capital and from Kharkiv, "the assumption that they will drive the Russians out of other occupied territories is not dispensable."
British Magazine The spectacler reported that some in the British security establishment believe that Ukrainian President Volodymr Zelenskyy should try to oust Russia from Crimea "not because the goal is realistic," but because it binds Russian forces and keeps them "in recovery." and rearmament." This came with the caveat that if Ukraine used Western-supplied equipment in Crimea, it would risk an escalation.
"We are now at a critical juncture where the Ukrainians must decide whether to bring Crimea back to the battlefield or be content with the victory they currently have against Russia," said Mai'a Cross, a politics professor from Northeastern University in Boston.
"I don't think Russia will voluntarily give up Crimea because it would be a huge blow and it would be very difficult for Putin to explain domestically," she said news week.
"There are a range of opinions among Western powers on how this should end, but Ukrainians will ultimately have the power to decide. I think they should act quickly and avoid the war dragging on."
Vladimir Putin's full-scale invasion of Ukraine enters its fourth month, with intelligence analysis painting a picture of a faltering Russian campaign.
On Wednesday, the US think tank Institute for the Study of War said Putin's forces would continue to "prioritize holding positions around the Russian border to prevent further Ukrainian advances north of Kharkiv." Kharkiv is the second largest city in Ukraine and is located in the Donbass.
On Thursday, Britain's Defense Ministry said senior Russian commanders who had performed poorly in the war had been sacked.
Senior Russian officials are trying to avoid blame for the stalled invasion, which will "further strain Russia's centralized model of command and control" and make it "difficult for Russia to regain the initiative," British defense officials said.
https://www.newsweek.com/russia-ukraine-kyiv-crimea-putin-zelensky-donbas-1708149 Indeed, Russia may lose its territory amid the war catastrophe in Ukraine