Internal House GOP memo shows red lines for McCarthy in Congressional spending battle
EXCLUSIVE: A large, influential bloc of Republicans in the House of Representatives is urging Speaker Kevin McCarthy to consider key conservative priorities in any short-term spending deal struck to avoid a government shutdown.
The 175-member Republican Study Committee (RSC), headed by Oklahoma Rep. Kevin Hern, on Monday sent lawmakers an internal memo urging them to oppose a "clean" spending policy, a so-called rolling resolution ( CR) that would extend last year's budget priorities.
"A 'clean' CR would only serve as a sequel [fiscal year] "The 2023 omnibus becomes a 'monstrosity,' expanding Pelosi's bloated spending levels and Biden's failed policies," reads the memo, obtained exclusively from Fox News Digital.
"As part of an effort to expeditiously establish a conservative House position on a CR, Members must decide what level of funding, the associated policy reforms, and the duration warrant passage of temporary funding."
RONNY JACKSON WARNS THAT MCCARTHY WILL "INEVITABLELY" LOSE JURISDICTION IF HE DOESN'T GIVE TO CONSERVATIVES ON SPENDING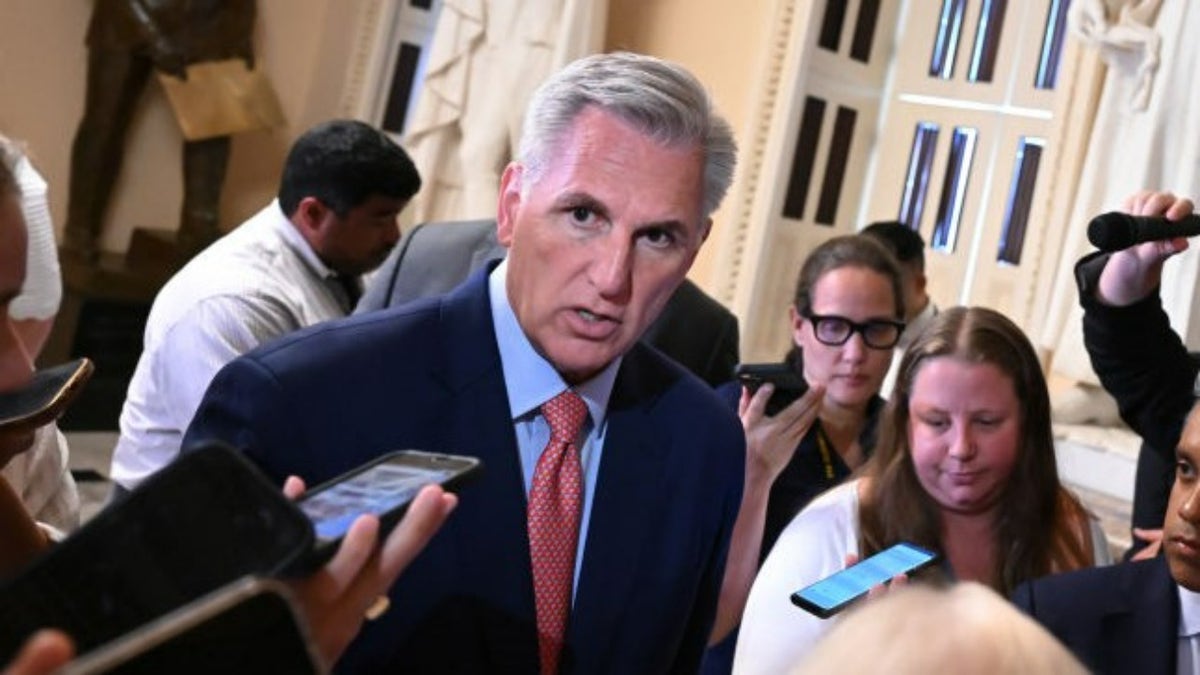 Outspoken members to the right of McCarthy's GOP conference in the House of Representatives have slammed calls for a CR, seeing them as an extension of a Democratic-controlled Congress' priorities encapsulated in a giant "omnibus" spending bill.
But House and Senate leaders on both sides have acknowledged that more time will be needed to cobble together 12 separate spending bills, as McCarthy promised, and have argued that a multi-week CR is needed to push the September 30 funding deadline to extend beyond .
The Republican in the House of Representatives says he opposes all of the government's temporary funding bills as the shutdown looms
In the memo sent to Republican lawmakers Monday, the RSC argued that the CR was not only an opportunity to pass conservative agenda items, but that passing a spending deal would put pressure on Democrats to move it forward — or jeopardize the economic impact.
"If the House of Representatives returns in September, Congress has just three weeks before discretionary state funding expires. Leaders in both the House and Senate have suggested that a continuing resolution (CR) would be required to prevent a shutdown," the memo said.
"While House Republicans should continue to push single-budget legislation that turns back time on Biden's failed policies and bloated discretionary budget, they could also act swiftly to establish a truly conservative House position on a CR."
In doing so, Republicans could seek to: (1) reiterate House support for pre-COVID spending levels by ensuring the CR is consistent with the overall spending limit contained in the House-passed Limit, Save, Grow Act; (2) ensure CR lasts by a date that takes the pressure of holiday closures out of the equation; and (3) demonstrate an unwavering commitment to fighting Biden's radical agenda by linking the CR to high-priority conservative politics."
TOP CONSERVATIVES LOOK FORWARD TO NEXT GOVERNMENT ISSUE SHOWDOWN, REVEALING DEMANDS TO HANG 'ABUSE OF POWER' BIDENS
The memo added that "the pressure of a shutdown would shift to Senate Democrats and President Biden."
It also urged Republican lawmakers to be wary of Biden's request for $40 billion in additional funding that would pool federal aid for disaster relief with aid to Ukraine and border security.
"Conservatives may also want to separate unrelated aspects of supplemental funding. For example, even conservatives who support funding for Ukraine still want to separate it from funding for the Disaster Relief Fund (DRF), which responds to natural disasters such as B. would provide assistance to affected Americans as in Hawaii, and a CR designed to prevent a shutdown," the RSC said. Additionally, conservatives might note that Biden's supplemental motion allegedly included funds to deal with the border crisis he created. Conservatives must recognize that providing more money without appropriate policy changes would merely support and encourage the illegal open-border policies of Biden and Mayorkas."
McCarthy reiterated the need for a CR in an interview on Fox Business's Mornings With Maria on Sunday and vowed not to force a vote that would directly tie the matter up with the holiday season. He also noted that if no agreement is reached by Sept. 30 and there is a threat of closure, House Republicans' investigative efforts against President Biden and his son Hunter could be hampered.
CLICK HERE TO GET THE FOX NEWS APP
"I don't think we will have enough time until September 30th to approve all the draft budgets. So I'd actually like a short-term CR just to strengthen our case," McCarthy said. "If we're able to pass our proposed budgets, we'll be in a stronger position to scrap them." [former Speaker Nancy Pelosi's] Policies that are currently enshrined in law — the wake-up call, the overspending, the lack of security of that border… make us energy self-sufficient, make our streets safer, and give our parents a say in their children's education."
The RSC memo follows a similar push by the far-right House Freedom Caucus, which also opposes a "clean" CR. They balk at repeating passage of the final debt ceiling agreement, which received more Democratic than Republican votes in both houses — even though Republicans also had a majority in the House of Representatives.