Iowa man sentenced to 50 years in prison after a satanic image containing the date of the woman's death and the coordinates of the location of her skull was found on a skewer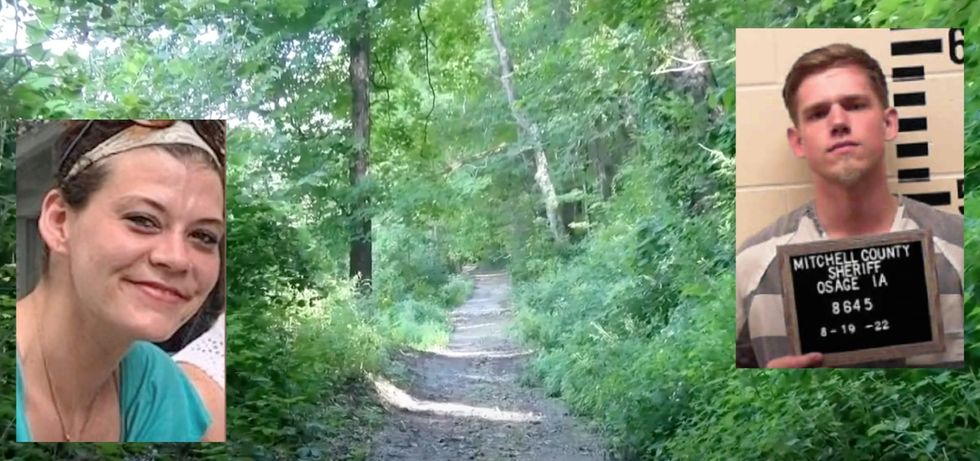 A 24 year old man was sentenced to 50 years in prison for the murder of a woman after investigators discovered a drawing containing satanic symbols that included the date of the murder and the coordinates of where her remains were found.
Angela Bradbury was last seen alive in April 2021 in Mitchell County, Iowa.
Three months later, a teenager was exploring the Cedar River Greenbelt Trail, which connects Osage to Mitchell, and found a human skull on a stick. Investigators found the remaining remains nearby. DNA testing determined the remains belonged to a woman, but it took until February 2022 for them to identify the victim as Bradbury.
Police were able to link her disappearance to Nathan Gilmore of Osage after a co-worker of Bradbury said they saw her leaving with a "younger man." Bradbury was scheduled to be arraigned in court the same day Gilmore was released on trespassing charges.
Police obtained records showing that Gilmore had communicated via Snapchat with a male associate of his ex-girlfriend's, referring to Bradbury's remains.
"You will look like the body found outside Mitchell," he wrote, according to the criminal complaint.
When investigators questioned Gilmore, he allegedly gave them contradictory statements before admitting that he picked her up but dropped her off several blocks away from the path.
Police then received GPS data from Facebook showing that Gilmore had been on the trail around the time they believed Bradbury was killed.
When they served a search warrant at his house, they found a satanic shrine with the image of a goat's head in the shape of a pentagram and blood splatters drawn on it. On the same image were the numbers associated with the date of Bradbury's death and the coordinates where her remains were discovered.
Gilmore's social media activity included references to Satanism and sexually explicit content, but was also linked to a story about the discovery of Bradbury's remains.
Additionally, prosecutors said Gilmore's home was just a five-minute drive from the trailhead where her remains were found.
Gilmore was originally charged with first-degree murder, but he was sentenced to 50 years in prison and ordered to pay $150,000 to the victim's family as part of a second-degree murder plea deal.
Neighbors said Gilmore was quiet and reserved. He had pet cats, but he would quickly destroy them, they added.
Find out more about the horrific murder here:
Bradbury casewww.youtube.com
Do you like Blaze News? Bypass the censorship, sign up for our newsletter and get stories like this delivered straight to your inbox. Login here!