Iranian footballer faces death penalty after protest allegations
An Iranian footballer faces the death penalty for allegedly taking part in nationwide women's rights protests.
In November, 26-year-old Amir Nasr-Azadani was arrested after taking part in recent Iranian protests and charged in connection with the death of an Islamic Revolutionary Guard commander The National News.
A state television station later aired footage of the player and two others making an allegedly coerced confession about the security guard's death. Nasr-Azadani reportedly took part in the protests briefly, chanting anti-government phrases with others.
Nasr-Azadani is charged with a crime known as moharebeh, which roughly translates to "enmity against God." It carries the death penalty as punishment and National News reported that two other people involved in the protests have already been executed on the same charges.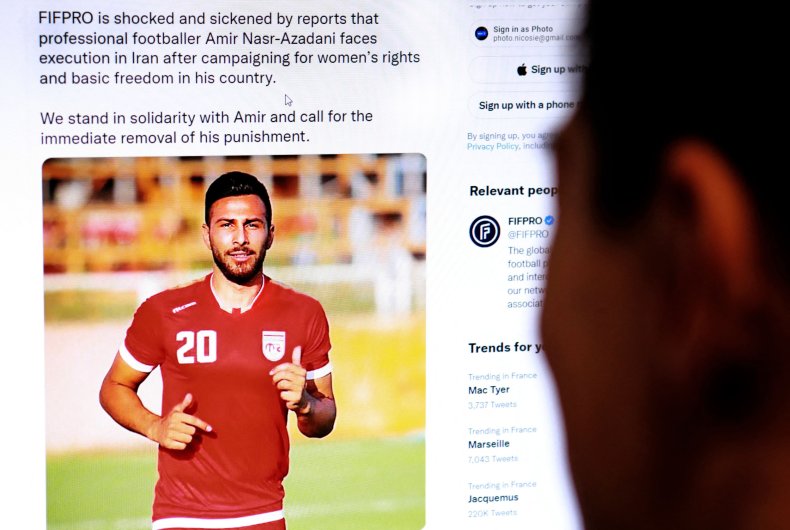 FIFPRO, the Netherlands-based international union for professional football players, spoke out against Nasr-Azadani's situation on Tuesday, standing in solidarity with him and calling for his charges to be dropped immediately.
"FIFPRO is shocked and disgusted by reports that professional footballer Amir Nasr-Azadani is being executed in Iran after campaigning for women's rights and fundamental freedoms in his country," the organization said in a tweet. "We stand in solidarity with Amir and call for his punishment to be lifted immediately."
Nationwide protests erupted in Iran following the September death of 22-year-old Mahsa Amini, allegedly suffered in the custody of Iran's "moral police". Amini was reportedly arrested during a visit to the capital, Tehran, for wearing a hijab that did not meet government standards.
In the protests that followed, women publicly burned their own hijabs and cut their hair in protest at the Iranian government's strict rules on women. According to that New York Timesthey mark the biggest protests in the country since the 2009 Green Revolution, after then-President Mahmoud Ahmadinejad was accused of rigging votes to win re-election.
So far, more than 300 protesters have reportedly been killed by security forces trying to quell the demonstrations. In a November letter, a majority of Iran's parliament called for severe punishment of protesters, with some chanting "death to the insurgents."
Nasr-Azadani played three seasons in the Persian Gulf Pro League from 2015 to 2018, spending the last two as a defender with Tractor Cultural Sports Economic Club. He previously played for Sepahan SC in his youth league career from 2012 to 2015.
news week reached out to Iranian officials for comment.
https://www.newsweek.com/iranian-soccer-player-faces-death-penalty-after-protest-accusation-1766816 Iranian footballer faces death penalty after protest allegations