Iranian state TV hacked as protests spread Rock Country in Tehran
Iran's state television was apparently hacked on Saturday, with a newscast interrupted by a protest against the country's leader.
The 9pm broadcast was hacked for about 15 seconds when footage of the country's Supreme Leader Ayatollah Ali Khamenei was shown.
A mask with a beard appeared on the screen, followed by an image of Khamenei surrounded by flames and photos of Mahsa Amini and three other women killed in the recent protests.
"The blood of our youth drips from your fingers," read a caption referring to Khamenei. The hack was attributed to a hacking group called Edalate Ali, which translates to Ali's Justice.
"At the request of our compatriots, we have fulfilled our promise and done the unthinkable to liberate Iran," the group wrote on Twitter.
"Wake up and take to the streets with us. We will continue our operations until the corrupt system is destroyed."
Protests have rocked Iran since Amini died on September 16. She died in the custody of Iran's feared morality police after being arrested for allegedly violating Iran's strict Islamic dress code for women.
The protests were met with a crackdown that left at least 185 people dead, including at least 19 children, in the unrest, according to Norway-based Iran Human Rights.
Videos on social media showed protests continued across Iran over the weekend, including in the capital Tehran.
According to the National Council of Resistance of Iran, a longtime opposition group, demonstrations took place in several districts of Tehran, at universities and in the city's bazaar on Saturday.
Vendors closed their shops and gathered in the streets, shouting "Death to the dictator," according to the group. A police cabin was set on fire, the group said.
Videos on social media showed protests also taking place at Amirkabir University and Azad University in Tehran.
Female students at Alzahra University in Tehran reportedly shouted "get out" as Iranian President Ebrahim Raisi visited her campus and condemned protesters.
According to videos posted to social media, they chanted "Raisi go away" and "mullahs must get lost" as the president visited their campus.
Footage circulating online showed protesters continuing to chant anti-government slogans in Tehran's streets as night fell on Saturday.
At least four people were killed in protests on Saturday, according to the Iranian human rights group Hengaw.
These included a man who was shot dead after honking at security forces stationed on the street in the city of Sanandaj, Hengaw said. Video circulating online appeared to show him slumped over the steering wheel of his vehicle as witnesses cried out for help.
news week has asked the Iranian Foreign Ministry for comment.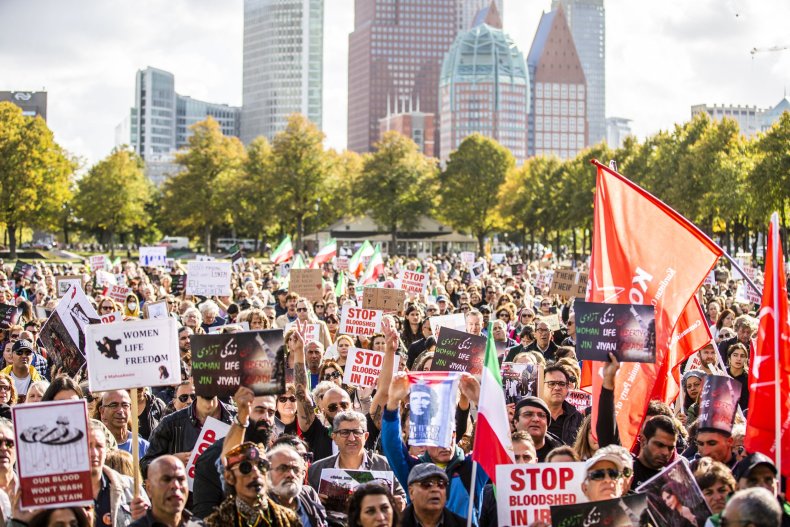 https://www.newsweek.com/iran-state-tv-hacked-protests-rock-country-tehran-mahsa-amini-1750162 Iranian state TV hacked as protests spread Rock Country in Tehran