Iranian women protest with harrowing banner
Three women waved their headscarves and spread a terrible message in one of the latest videos to go viral from Iran.
That Video Circulated by 1500 Tasvir, a government watchdog, showed three protesters standing on a bridge over a busy street in Isfahan, Iran. They were dressed all in black and wore masks covering their eyes. Together they unwrapped their headscarves and waved them in the air like triumphant flags. A woman threw her other hand in a peace sign.
"You're not afraid," explained one person who reposted the footage on Reddit.
Below the women hung a large banner with a graphic depicting Mahsa Amini, the 22-year-old woman who died after being arrested and allegedly beaten by Iran's morality police, who accused her of deviating from the country's strict Islamic dress code to be. Within hours of Amini's funeral, Iranian women and men took to the streets to protest her clerical leadership and the oppressive restrictions on her daily life.
The banner hung by the three women blared their message to social media viewers around the world. It read, "Next is one of us."
Negar Mottahedeh, professor of Iranian history and feminist studies at Duke University, said news week that the warning was tragically realistic.
"It's a pattern now every time a video goes viral," she said. "Anytime something goes viral, they're taken into custody and the next thing we know, their bodies are being returned to their families."
Hadis Najafi, a 20-year-old woman, became a symbol of the protests after a picture showed her with uncovered blonde hair facing police officers. Security forces killed her with six bullets to the chest.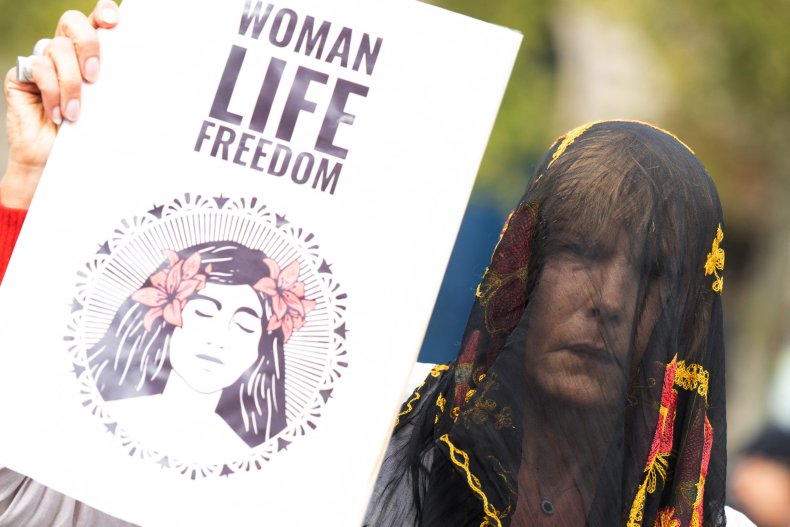 The government's crackdown on protests across Iran has been uncompromising. Amnesty International has reported at least 82 people killed, including children, while Iran Human Rights put the death toll at 133. On September 30, dubbed "Bloody Friday" by many Iranians, security forces killed at least 66 people and injured hundreds more with live ammunition, metal pellets and tear gas.
Mottahedeh said social media has been at the center of Iranian protests long before Twitter, Facebook and Instagram.
"[Ayatollah Ruhollah] Khomeini, the undisputed leader of the [1979] Iranian Revolution, taped his sermons," she said. "They would be played in mosques and on boomboxes carried by young men on sidewalks throughout urban and rural areas. So this is absolutely a form of social media. I mean talk about going viral."
The leadership of women in the country's courageous demonstrations is also not new, Mottahedeh said.
"Women have been at the forefront of most of the uprisings and protests I've studied since the 1840s," she said. "What's unique this time is the incredible support Iranian women are getting from women around the world."
https://www.newsweek.com/they-are-not-scared-iranian-women-protest-harrowing-banner-1749706 Iranian women protest with harrowing banner