Is it ever okay to say "Happy Memorial Day"? Americans are divided over sentiment
Today (May 30, 2022) is Memorial Day, a day honoring all those who gave their lives in service to their country.
While wishing someone a "Happy Memorial Day" may seem natural, Americans remain divided on whether it's an appropriate phrase to mark the national day of remembrance.
For many families who have lost loved ones, the day is a somber day and a time for reflection, not a joyful time as the sentiment might suggest.
What is Memorial Day?
Formerly known as Day of Decoration, the federal holiday's origins can be traced back to after the Civil War, when a group of Union Army veterans, the Grand Army of the Republic, called for a day to commemorate the lives of those who died defending their country.
It was traditionally observed on May 30 until Congress passed the Uniform Holiday Act in 1968.
Memorial Day is now observed on the last Monday in May and some have criticized the festive atmosphere the three-day weekend brings to the holiday, which is often marked with cookouts among friends and family and sales at major retailers.
Is it ever appropriate to say "Happy Memorial Day"?
Veterans groups have mixed opinions on whether it's disrespectful to use the phrase on the federal holiday.
The Code of Support Foundation (COSF), a US nonprofit organization that supports military service members, veterans and their families, urges Americans to remember the true meaning of Memorial Day and to "look for ways that… To honor our nation's heroes who died in the service of our great nation."
"Plan a visit to a military cemetery or war memorial, participate in local activities hosted by local veterans groups, or simply take a moment to learn more about those who serve our nation."
"Talk to your neighbors about how they want to celebrate the holiday, or talk to your kids about why, as a nation, we reserve a day each year to remember those who gave their lives defending our freedoms.
"Together we can reignite the true purpose of Memorial Day – never allow ourselves to forget the ultimate sacrifice made by our fallen heroes and their families."
COSF offered several alternatives to say on Memorial Day:
I wish you a meaningful memorial day.
I hope you enjoy your weekend and pause to remember its purpose.
Help remember those who served on this memorial day.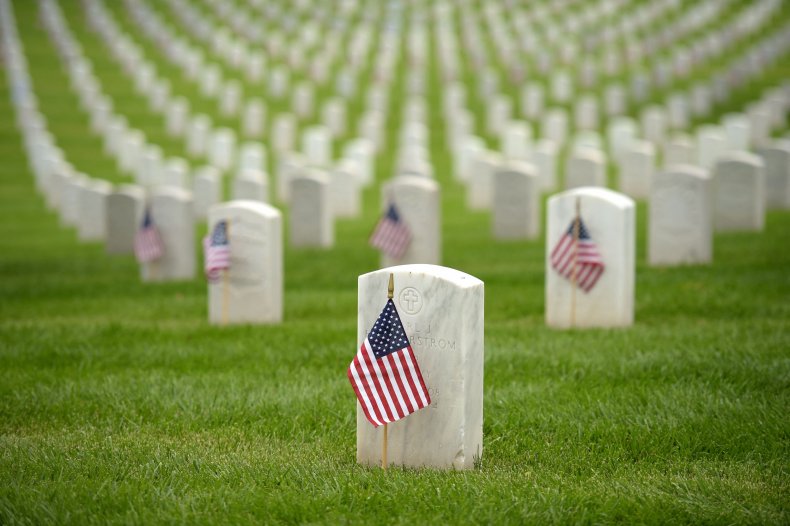 Speaking to TODAY Parents, Amelia Greene, whose father US Army Major General Harold Greene was killed in 2014 at a training facility in Kabul, Afghanistan, said Memorial Day was "really not happy for me."
"I got 'Happy Memorial Day' in promotional emails from brands and it's really heartbreaking to hear because it's a day to remember people who died in war," Greene said.
"Memorial Day is a day off, it's the beginning of summer, it's a time to celebrate, but for anyone who has lost a loved one to war, it's one of the worst days of the year, barring the day they were killed on," Greene said.
She added, "One of the most hurtful things to hear or see when you lose a parent is 'Happy Memorial Day.' It's something I've really struggled with since I lost my father."
In contrast, Flags of Valor, a veteran-owned company, suggested that Americans should be able to say "Happy Memorial Day," especially when it's "from a place of grateful joy for the lives we lead today." , comes that was rendered by the sacrifices of generations."
"Take time on Memorial Day to reflect on the men and women who gave their all for us. Find a way to commemorate this for you and your family," Flags of Valor said.
https://www.newsweek.com/it-ok-appropriate-say-happy-memorial-day-2022-1710048 Is it ever okay to say "Happy Memorial Day"? Americans are divided over sentiment