"Isolated" Putin has nowhere to go except Beijing
Russian President Vladimir Putin's visit to Beijing after months of isolation shows the Kremlin's growing dependence on China.
On Tuesday, Putin landed in Beijing, marking his first major international trip since the start of the war in Ukraine, aside from a visit to Minsk last year. Putin is in Beijing on October 17 and 18 to attend the Belt and Road Summit (BRI) and will meet with Chinese leader Xi Jinping tomorrow.
On March 17, the International Criminal Court (ICC) in The Hague issued an arrest warrant against Putin for war crimes related to "unlawful deportation and transfer of children." The arrest warrant is related to Putin's plans to travel outside Russia as he has avoided high-level summits there South Africa And India in the past months.
Experts believe that the isolated Putin will use the visit to Beijing as an opportunity to "meet with other like-minded leaders."
Theresa Fallon, founder and director of the Center for Russia-Europe-Asian Studies (CREAS) in Brussels, said Newsweek: "The ICC arrest warrant restricts Putin's travels, but he managed to meet in Vladivostok with Kim Jong-un, who was traveling by train. That signaled that Putin had other options, but let's face it, a visit to the leader of the 'hermit kingdom.'" also shows how isolated Putin is.
"The trip to Beijing for the BRI offers Putin the opportunity to meet with other like-minded leaders. Putin's isolation deepens his complicated relationship with Xi and also his dependence."
Putin was met at Beijing airport by Trade Minister Wang Wentao, where he was greeted with a red carpet.
Chinese social media was fixated on Putin's trip to Beijing as Russia remains China's most important ally. The hashtag "President Putin arrives in Beijing" was viewed over 220 million times on Weibo and was the number one trend. The search term "President Putin arrives in Beijing" was the number one trend on the popular Chinese search engine Baidu.
Even before he landed in Beijing, Putin began heaping praise on Xi in an interview with the China Media Group in Moscow.
"President Xi Jinping is a different type of person. He is a firm, calm, pragmatic and reliable partner," Putin said in his interview. "Russia highly appreciates China's proposals to end the Ukraine crisis."
Putin's remarks on China's position in the Ukraine war were broadcast by Phoenix Television, which did not appear in China Media Group's coverage of his interview in Moscow. On Tuesday, Putin's comments on China's position in Ukraine sparked a social media trend on Weibo with the hashtag: "Putin thanked China for thinking about how to put an end to Ukraine." Putin's comments were received positively by Chinese social media users.
Xi last met Putin in Moscow in March, when both announced a "new blueprint for a comprehensive strategic partnership between China and Russia" and provided very few details about what the new blueprint entails. Since the start of the war in Ukraine, Beijing no longer mentions the "borderless partnership" with Moscow, complicating bilateral relations.
Neil Thomas, a fellow in Chinese politics at the Asia Society Policy Institute's Center for China Analysis, believes Beijing sets the "diplomatic and economic terms of relations" with Russia.
"Putin's participation in the BRI forum demonstrates his close collaboration with Xi in promoting an international order that prioritizes development over democracy and supports the interests of authoritarian governments. But Putin's invasion of Ukraine by isolating the Russian economy from the West has taken Russia far." "We are more dependent on China, which is increasingly able to set the diplomatic and economic terms of the bilateral relationship," Thomas said Newsweek.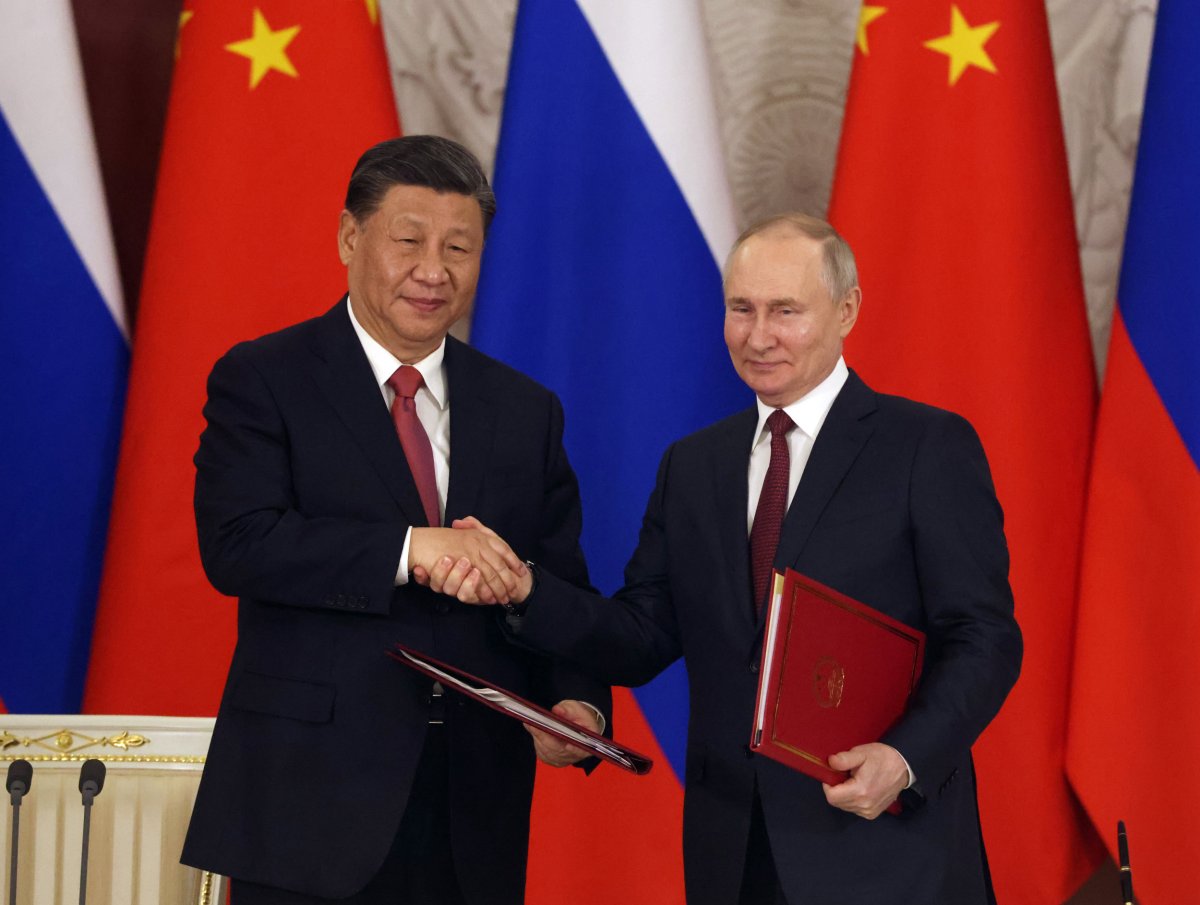 Fallon added that Xi was "shackled to Putin's bad decisions."
"Xi Jinping is tied to Putin's bad decisions and his war in Ukraine. This has damaged Xi's reputation, particularly in Europe, but Xi continues to deepen his partnership with Putin. "Putin is becoming increasingly dependent on the PRC to sell Russian energy and duality goods, but that comes at a high cost as Beijing negotiates for more Arctic access and advanced technology that the Kremlin has previously withheld," Fallon said Newsweek.
Fallon noted that there is a consensus in the positions of Russia and China on the Israeli-Palestinian conflict.
"Yet there is no light on their positions toward Israel," Fallon added.
With Putin at his side, Xi is likely to send a message to the United States and the West about the new world order that China and Russia favor.
"Xi's message to the world is that China is a champion of the global South, delivering what developing countries actually want, as opposed to the West supposedly telling other countries what is best and how they should run their governments," said Neil Thomas, fellow in Chinese politics at the Asia Society Policy Institute's Center for China Analysis, tells Newsweek.
Meanwhile, the focus of Xi's flagship infrastructure program, the Belt and Road Initiative, is changing.
"China is shifting the focus of the BRI from large construction projects to smaller and less risky projects that often contribute to the spread of Chinese technology," Thomas said Newsweek.
Observers will be closely watching statements from tomorrow's meeting between Xi and Putin to get a sense of the Kremlin's dependence on Beijing.