"I've lived in 20 countries for over four years"
Last September I ran out of pages in my passport. In the renewal office it was generously referred to as "beloved" because by then the cover had been almost entirely worn.
In the last four years alone, my passport and I have been to over 40 countries and I've lived in half of those places for more than a month. "Where to next?" has become a well-known question from my friends. Sometimes this is asked with a touch of envy, but more often than not people are just curious about where you'll go when you can go anywhere.
In the age of Covid and The Great Resignation, more people are mobile and working on the go than ever before. Working from home has become work from anywhere, and millions of Americans are quitting their jobs every month, often because they crave freedom — be it creative, professional, geographic, or a combination of the three.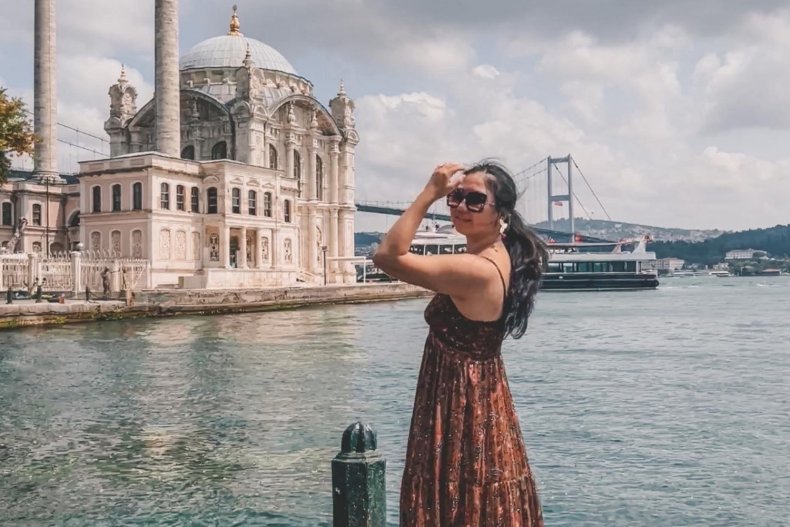 Take a one-way flight
I started my nomadic journey when I quit my job and booked a one-way flight from San Francisco to New Zealand that was on my bucket list. The plan was to buy a campervan and drive around for a year, maybe stopping for a few months to work at a winery or dairy farm.
I've worked on two farms in New Zealand where I've been provided food and shelter for four hours of volunteering per week. I have worked on a boysenberry farm and a permaculture farm. We also stayed at a dairy farm where we could watch the cows being milked by the machines in the mornings.
The idea of ​​waking up every day in a new backyard seemed so romantic, but after three months of sleeping, cooking, and washing dishes in the back of a used pickup truck, I was ready to live somewhere with standing room — and a bathroom of my own .
China, where my grandparents live, was an obvious choice for my next destination. Along with home-cooked meals and hanging out with friends and family, I got to know the venture capital scene in Asia, especially how fast everything moves.
Over the next three months, I expanded my network on LinkedIn, one of the few social media sites legal in China. I joined online communities, toured factories, and struck up conversations with everyone from a cooperating deskmate to the lady who painted my toenails.
In Asia, I wasn't a nomad, but a typical 25-year-old Chinese woman. I went to raves where everyone wore costumes themed to the Han Dynasty. I browsed popular Chinese reality TV, which seemed oddly familiar. I ordered my groceries through a local WeChat group driven by the neighborhood gossip, which happened to be my aunt.
Learning from different cultures
This was more than tourism; it was an education. You can read about life in another culture, but you can't really experience it if you don't. I vividly recall a hospital waiting room packed as a subway car at rush hour and grocery shopping while an automated pick-pack system whirred overhead.
Suddenly I was thinking a lot about what could be made locally and what could be exported to other places and the bucket list was ready. Gaining business insights became my reason for traveling.
So I traveled to Japan, just a short flight away but culturally a different world. My uncle told me that if I wanted to see China's future, I should go there. Japan has one of the oldest populations in the world and he thought maybe I could find solutions for China's aging society.
I left Japan without a miracle cure and made my way to Israel and Palestine. My inspiration was an incubator dinner in Shenzhen, China's tech hub, where I met a man leading the Chinese delegation to the Tel Aviv tech conference. Although many don't realize it, Tel Aviv is a major research center and also the most expensive city in the world. When he offered me a ticket, I knew I couldn't turn down the opportunity to understand how a country of less than 10 million people – not even 1 percent of China's population – has become a top incubator for tech startups on the planet whole world had become.
From there I went to Kenya, where a college friend's company led infrastructure investments for China's Belt and Road Initiative; then to Vietnam, one of the fastest growing and youngest economies in the world. The journey continued to Mumbai, New Delhi, Nairobi and Ghana.
In the four years since 2018 I have lived in 20 countries for over a month: Canada, New Zealand, Australia, China, USA, Japan, Vietnam, Cambodia, Indonesia, Malaysia, Singapore, Egypt, Greece, Croatia, Jordan, Israel, Kenya, Mexico, Colombia, Turkey and France.
Everywhere I've been, I've asked myself, "What is unique about this place that we can draw inspiration from?" The solutions my uncle was looking for eluded me, but questions created new questions and inspires me to keep looking.
The benefits of a nomadic lifestyle
People ask me if the digital nomadic life is lonely. While it can feel unattached, you meet too many people to ever feel alone. I now travel to places not to tick them off a list, but because I already know a local who told me to come and see something more interesting than the place before. I usually have a question that makes my heart race so fast that I have to get to the bottom of it.
I also represent a new trend. Rather than stopping by for a week or less, travelers like me stay in a country for one to three months to experience life there as a local. This helps me experience culture on a deeper level, learn from others how to live differently, make the most unexpected discoveries and stay as long as the place brings me joy.
Staying in Nairobi for a month surprised me with the best Chinese food outside of China and the best mobile payment system outside of WeChat. Living in Mexico City blessed me with the time to learn salsa. I learned to surf in Honolulu; in Madrid to relax at the pace of Spanish life. I book my next plane ticket based on the randomness of what I learn, the people I meet, and the new questions I have about the world.
A question I am often asked by strangers on the internet and also by my own grandmother is how can I afford to live a nomadic life. I tell them it depends on your skills, your bank account, the trade-offs you're willing to make between money and freedom, and whether you've kept your current job. For example, back in New Zealand I worked as a picker on a boysenberry farm. Friends have worked in restaurants or picked up informal gigs to fund their travels.
When I read about executives like Marc Benioff, Lord Dyson and Elon Musk criticizing office expats like me, I'm no longer irritated. Maybe my fellow nomads and I miss out on building relationships in the office, but we're learning other skills. We may not find all the answers, but we discover the right questions.
Ivy Xu is the founder of Prequel, an innovative life skills company.
All views expressed in this article are the author's own.
Do you have a unique experience or personal story to share? Email the My Turn team at myturn@newsweek.com
https://www.newsweek.com/digital-nomad-travel-solo-how-work-abroad-1771481 "I've lived in 20 countries for over four years"