"I've never made a racist comment"
New York Congresswoman Elise Stefanik said she never made a "racist comment" when asked if she rejected the racist conspiracy theory that appeared to motivate the shooter in the Buffalo supermarket massacre.
In the days since the deadly mass shooting that killed 10 people in her home state, Stefanik, the third-ranking Republican in the House of Representatives, has come under scrutiny for Facebook campaign ads that critics say are linked to the "Great Replacement Theory." " to play.
The ideology reportedly espoused by the suspected gunman in Saturday's attack, which primarily targeted black people, claims that immigrants and people of color are "replacing" and disempowering white Americans.
Stefanik's Facebook ads, which led to a scathing editorial in her hometown newspaper, accused "radical Democrats" of planning what she called a "PERMANENT ELECTION RUN" and said their plan to "grant amnesty to 11 MILLION illegal immigrants will overthrow our current constituency and create a lasting liberal majority in Washington."
Democrats and even some Republicans have criticized Stefanik and other members of the Republican Party, saying they encouraged the rhetoric that led to the Buffalo shooting.
On Monday, CNN correspondent Manu Raj met with Stefanik and asked for her response to the criticism.
"I condemn racism," she said told him. "The disagreement on immigration is that I support a safe border, while Democrats have advisory bodies. I am not in favor of illegals being able to vote."
When asked by Raj if she dismisses the replacement theory, Stefanik said, "I have never made a racist comment."
That exchange came after Illinois Senator Dick Durbin called out elected officials who "take the chance to be introduced [Tucker] Carlson's show and echoes of his white racist babble, his dark gospel of fear, hatred and racism."
"We don't have to look far to find these elected officials," Durbin, the chair of the Senate Judiciary Committee, said in a speech in the Senate. "The third-ranking Republican in the House of Representatives claimed in an upcoming campaign that Democrat immigration policies would cite 'overthrowing our current electorate,'" he said. "What will it take for the Republican Party to finally condemn his hatred once and for all?"
Wyoming GOP Congresswoman Liz Cheney, who was ousted from her leadership post last year and replaced by Stefanik, also called on Republican leaders "to abandon and reject these views and those who hold them."
In a tweet, she said: "The GOP leadership of the House of Representatives has enabled white nationalism, white supremacy and anti-Semitism. History has taught us that what begins with words ends far worse."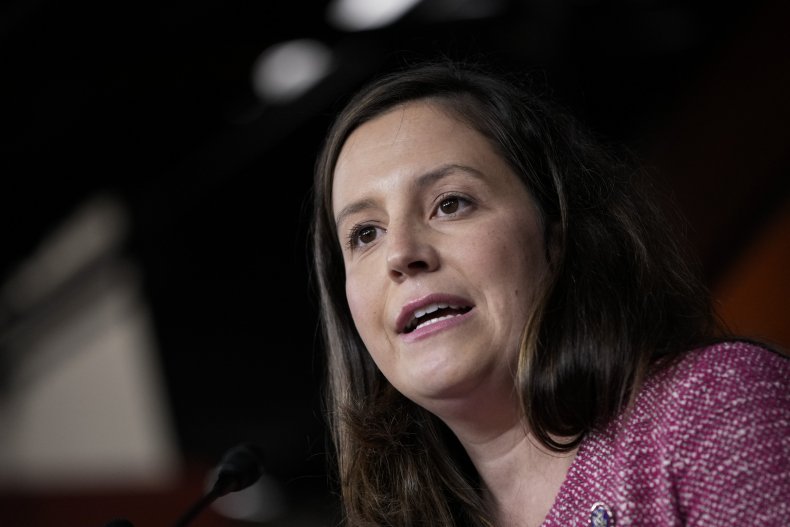 On Monday, Stefanik's team released statements previously sent to news weekwho is attacking the media for their coverage of the New York congresswoman amid the recent shooting.
"Any suggestion or attempt to blame the congresswoman for the heinous shootings in Buffalo is a new sickening low for the left, their Never Trump allies and the fawning stenographers in the media," said Alex DeGrasse, Stefanik's senior advisor .
"Despite disgusting and false reporting, Congresswoman Stefanik has never taken a racist position or made a racist statement. She is against a mass amnesty for illegal immigrants and Joe Biden's wide open border."
In her statement, Stefanik said, "Our nation is heartbroken and saddened to hear the tragic news of the horrific loss of life in Buffalo, NY. As a New Yorker, my prayers are for the entire congregation and their loved ones."
Stefanik's team has been contacted for further comments.
https://www.newsweek.com/elise-stefanik-replacement-theory-never-made-racist-comment-1707274 "I've never made a racist comment"