Jim Jordan Is Taunted With "Subpoena Evasion" Watch
When Democratic Rep. Eric Swalwell called Republican Congressman Jim Jordan, he prominently displayed a timer that read "Jordan Subpoena Evasion."
Swalwell criticized Jordan on Wednesday for failing to comply with his subpoena from the now-dissolved House committee investigating the Jan. 6 siege of the U.S. Capitol. A report released in December accused Jordan of being a "major player" in efforts to overturn the results of the 2020 presidential election, adding that the Ohio representative received a subpoena but failed to attend his scheduled one last year Statements appeared on May 27th and June 11th. Jordan, a loyal ally of former President Donald Trump, was subpoenaed in December 2021.
Newsweek emailed representatives for Jordan and Swalwell on Wednesday evening seeking comment.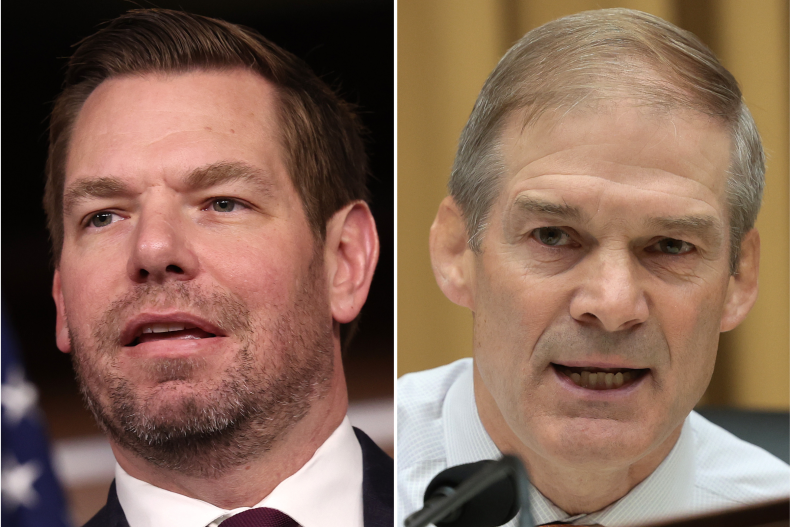 The California Democrat rebuked Jordan during Wednesday's meeting of the House Judiciary Committee, which Jordan chairs, after Republicans suggested Attorney General Merrick Garland was in contempt of Congress. The committee held a hearing on the alleged "weaponization" of the federal government under President Joe Biden's administration, with Garland testifying.
During the hearing, GOP Representative Thomas Massie accused Garland of contempt of Congress by not commenting on the investigation into Hunter Biden, the president's son.
Swalwell quickly hit back, calling the Kentucky Republican's allegations "pretty rich" before confronting Jordan.
"The guy leaving the hearing room right now, Mr. Jordan, has been evading his subpoena for about 500 days," Swalwell said, with what appeared to be two tablets in front of him. One screen displayed the words: "Jordan Subpoena Evasion," while a second tablet displayed a clock counting the days, hours, minutes and seconds since Jordan refused to comply with his subpoena to testify before Congress about the attack on the to testify at the Capitol.
"When we talk about contempt of Congress, we should be honest," Swalwell said. "Are you serious that Jim Jordan, a witness to one of the greatest crimes ever committed in America… refuses to help this country and we are lectured about complying with subpoenas and contempt of Congress? Jim Jordan won't even comply with a lawful subpoena. Are you kidding me? Are you kidding me? There is no credibility on this site."
As Swalwell spoke, the C-SPAN camera zoomed in on Jordan, who was smiling and laughing along with other committee members. The Republican appeared to ignore Swalwell's pointed comments.