Jim Jordan Speech for Kevin McCarthy Backfires
Rep. Jim Jordan campaigned for colleague Kevin McCarthy in response to Republican chaos over who should be the next House Speaker, but Jordan's speech did little to sway the 19 House Republicans, who remained firmly opposed to McCarthy.
On the first day of the new Congress, the House GOP conference fell into disarray as members failed to unite behind a leader – a worrying sign for Republicans already facing a slim majority in the chamber.
On Tuesday, McCarthy suffered a rare defeat, not once but three times, when he failed to secure the required 218 votes to be elected speaker of the House of Representatives. His failure to get his caucus in line was the first time in a century that a speaker was not chosen on a first ballot.
Before a second vote, Jordan – who had voted for McCarthy in the first vote – stood up to nominate McCarthy and told his peers McCarthy was "the right man to lead us".
Jordan told House Republicans in a speech that the differences between members of the GOP conference "pale in comparison to the differences between Republicans and Democrats" and urged them to "crowd behind McCarthy."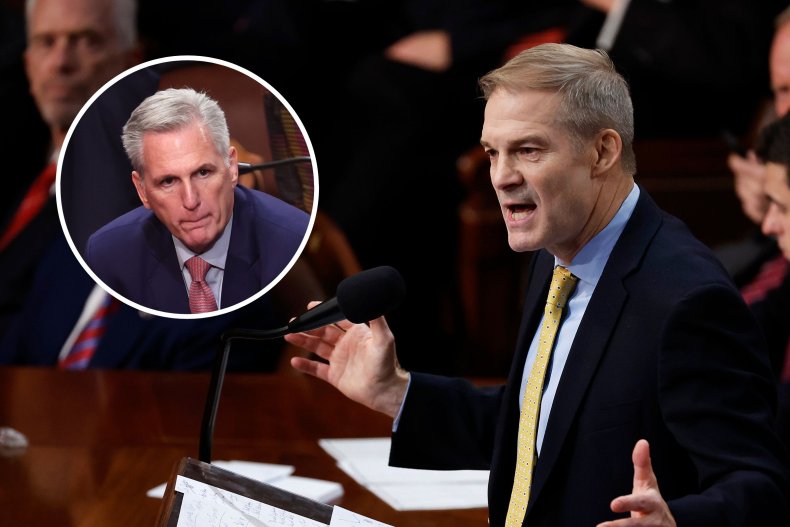 In appealing to his GOP peers, Jordan said that while he and McCarthy "didn't always agree on everything," he always admired McCarthy's "struggle."
"We owe it to you — the American people, the good people of this great country — to come forward and elect a speaker," Jordan said Tuesday from the floor.
Of the 19 Republicans who voted against McCarthy in the first ballot, six voted for Jordan, which did not formally run for speaker.
But Jordan's efforts to win votes for McCarthy not only prevented his peers from chiding McCarthy a second time, but seemed to backfire on the congressman when he inadvertently got those dissenters to vote for him instead.
In the second ballot, the same 19 House Republicans still voted against McCarthy. But this time they all voted for Jordan instead.
Jordan then received another vote in a third ballot after Rep. Byron Donalds switched his vote from McCarthy to Jordan in a stunning move that caused a stir on both sides of the aisle.
In a speech nominating Jordan — shortly after Jordan delivered his own impassioned speech for McCarthy, Rep. Matt Gaetz praised Jordan for "delivering a speech with more vision than we've ever heard from the alternative."
"Jim Jordan is humble – maybe very humble today," Gaetz said. "Perhaps the right person for the job of Speaker of the House is not someone who wants it so badly. Perhaps the right person for the job of Speaker of the House isn't someone who's been selling shares of himself for more than a decade to get it."
"Every one of my fellow Republicans knows that the person who can lead … who has the skill and the talent and the will is Jim Jordan," Gaetz added. "I nominate him and I vote for him."
Update 1/3/23 4:50 PM ET: This story has been updated to reflect the third ballot.
https://www.newsweek.com/jim-jordan-speech-kevin-mccarthy-backfires-house-speaker-vote-1771050 Jim Jordan Speech for Kevin McCarthy Backfires