Jimmy Kimmel's attempt at a vasectomy goes unpleasantly wrong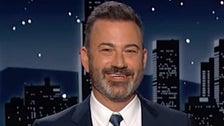 Jimmy Kimmel tried to use his free time from the writers' strike to get a vasectomy.
But things didn't quite go as planned, as he told fellow late-night hosts Stephen Colbert, Jimmy Fallon, Seth Meyers and John Oliver in their "Strike Force Five"Podcast.
He made the appointment and shaved his testicles in preparation.
"It's complicated and a little scary," he said. "There's nothing smooth down there. It's like shaving gum."
Kimmel visited the doctor, got checked out – and then was told that the actual procedure would require a second appointment.
The day was already not going as planned.
But then things took a strange turn when Kimmel's Uber driver heard him talking about his vasectomy plans and instead suggested another option: "semen retention."
This left the other hosts perplexed.
"Did he have some glasses in the front seat?" Colbert wondered.
"Is it like holding back a sneeze?" Fallon asked.
"Honestly, I think he learned this on one of those podcasts that these young people listen to," Kimmel said.
He added that the driver claimed semen retention allowed him to "express" his desires.
"Then he said that one of his wishes was to meet me in the Uber and that it somehow manifested itself," Kimmel said. "We had a very long drive home."
"I think you may have accidentally clicked on the box in the Uber app to say 'Please talk to me about semen retention,'" Oliver said. "This is either a one-star ride or a five-star ride. And I think it could be both."
Listen to Kimmel explain what happened to support her unemployed employees in the podcast below: