Joe Biden and Donald Trump agree that democracy is under threat
Both President Joe Biden and former President Donald Trump agree that democracy is under threat in the US, but they have very different reasons for believing so.
Biden and Trump have issued sharp warnings about the state of American democracy, with the president calling his predecessor a threat to the country during a prime-time speech Thursday night.
In contrast, Trump has targeted the Justice Department and the FBI to back his warning that democracy is being undermined following an Aug. 8 raid on his Mar-a-Lago residence as part of an investigation into the handling of classified documents .
"America has never suffered this kind of ABUSE in law enforcement!" Trump wrote on this Truth Social platform Aug. 14.
"For the FBI to raid the home of the 45th President of the United States or any other President is utterly outrageous and unthinkable. This incursion was a covert attack on democracy (our republic!) and was both unannounced and at a time when the President wasn't even there," he said.
The former president said the raid was "for political, not legal, reasons, and our whole country is angry, hurt and very embarrassed by it".
Trump has implied that the FBI search of his home was politically motivated, implicitly blaming the Biden administration for assaulting him.
The former president's attorneys have also suggested in court filings that the DOJ's actions may be related to the fact that Trump remains the first choice for the Republican presidential nomination in 2024.
However, President Biden's concerns about the future of US democracy are centered on Trump's actions and the actions of what the President has repeatedly dubbed "MAGA." [Make America Great Again] Republican."
Biden was steadfast in his criticism of Trump in a major speech Thursday night, warning that MAGA Republicans pose a threat to American democracy.
"Donald Trump and the MAGA Republicans represent an extremism that threatens the very foundations of our republic," Biden said.
The president also addressed persistent false claims that the 2020 presidential election was "stolen" by Trump, saying MAGA Republicans "refuse to accept the results of a free election." And they're working in state after state as I speak. Give partisans and cronies the power to decide elections in America, and empower refusers to undermine democracy itself.
Trump and Biden both believe democracy is in jeopardy, and a majority of Americans agree.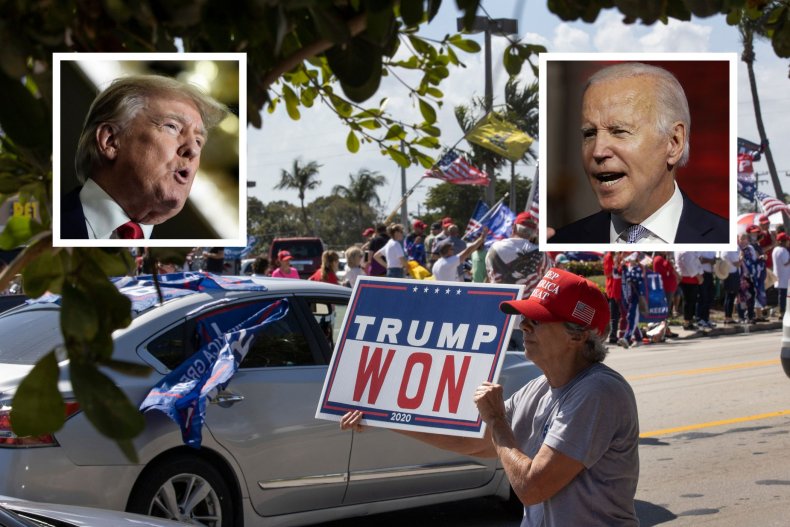 A recent Quinnipiac University poll found that 67 percent of Americans believe democracy is at risk of collapsing, compared to 29 percent who didn't.
This belief was bipartisan, with 69 percent of Democrats and Republicans saying they believe democracy is in danger, as well as 66 percent of independents.
Biden and Trump have addressed an issue that is of great concern to Americans, but they also seem to blame each other for the problem and could face each other again in the 2024 presidential election.
The president has tried to frame the midterm elections as a battle for the "soul of the nation," while it could also be a referendum on Trump, who has backed a slew of Republican candidates who are repeating his rhetoric about voter fraud.
It remains to be seen whether either man can take any action that will reassure Americans about the health of democracy in the US, but bipartisan concerns about the state of the republic are expected to linger.
news week has reached out to the White House and former President Trump's office for comment.
https://www.newsweek.com/joe-biden-donald-trump-both-agree-democracy-under-threat-1739613 Joe Biden and Donald Trump agree that democracy is under threat