Joe Biden, emboldened by Russia's failures, becomes aggressive towards China
President Joe Biden's comments Monday about the US "obligation" to defend Taiwan militarily if the island is attacked by China appear to represent a more aggressive approach than previous presidents.
While Biden said the US policy of so-called "strategic ambiguity" towards Taiwan has not changed, his comments are his strongest warning yet to China that the US would defend Taiwan if it were attacked.
Biden may feel emboldened to take a harder line against China after the strategic failure of the Russian invasion of neighboring Ukraine, where Russian forces failed to capture the capital Kyiv in the first phase of the war and subsequently fell back.
The president directly linked the question of a hypothetical Chinese attack on Taiwan to the Russia-Ukraine conflict when answering a question on Taiwan's defense on Monday.
Biden told reporters in Tokyo that China is "already flirting with the danger by flying so close and all the maneuvers it's doing," referring to Chinese encroachments on Taiwan's airspace.
He said US responsibility for defending Taiwan was "even stronger" after the Russian invasion.
"That's the commitment we made," said the President.
Biden added that a Chinese invasion of Taiwan "would dislocate the entire region and represent another action similar to that in Ukraine."
China considers Taiwan part of its sovereign territory, and the US has a one-China policy that recognizes only one Chinese government – the one based in Beijing.
"America is committed to a one-China policy, but that doesn't mean China has the authority to take Taiwan by force," Biden said Monday.
Taiwan's government is diplomatically isolated and most of the world's nations do not have formal diplomatic ties with the island, including the United States
Chinese President Xi Jinping previously said Taiwan's "reunification" with China was inevitable and did not rule out the use of force.
The US has long maintained a policy of strategic ambiguity towards Taiwan, not publicly committing to defending the island from a Chinese attack, but also not saying the US would not intervene.
This chart from Statista shows Chinese incursions into Taiwanese airspace over the past year.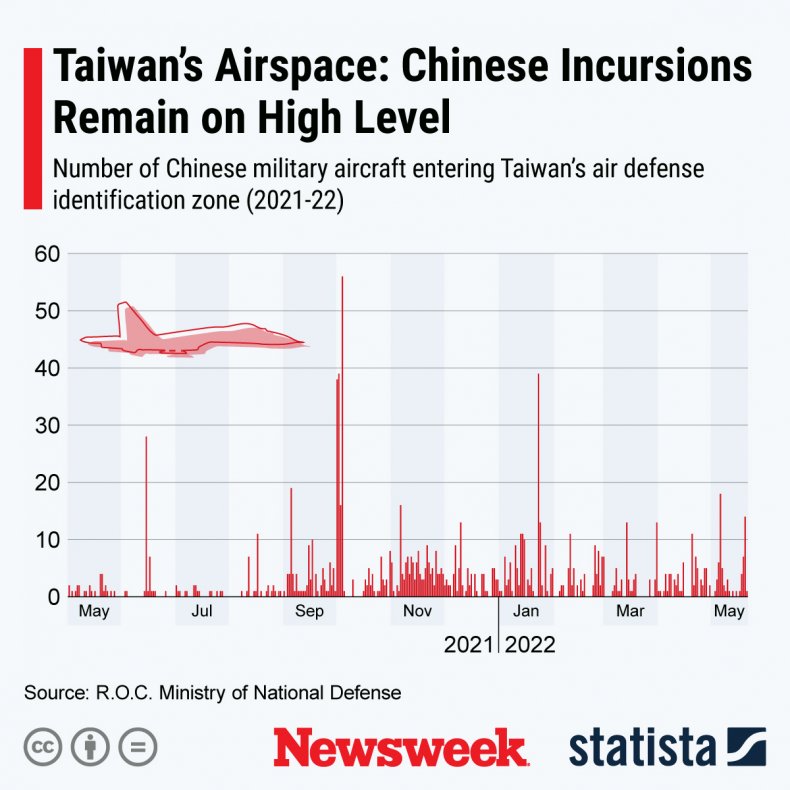 Washington also sells Taiwanese government weapons under the terms of the Taiwan Relations Act. This legislation requires the US to provide Taiwan with means of self-defense.
Biden has previously caused controversy over similar comments about Taiwan. In August 2021, the president told ABC News that "we would react" if a NATO country were attacked, adding: "the same goes for Japan, the same for South Korea, the same for Taiwan."
In October, during a televised town hall event, Biden was asked if the US would defend Taiwan if China attacked and replied, "Yes, we are committed to it."
On both occasions, the White House seemed to struggle to explain that Biden's comments indicated no change in policy. On Monday, Biden prefaced his comments by saying that US policy "hasn't changed."
The president's recent comments come amid a string of apparent Russian failures in Ukraine, as the US and its Western allies have provided military and humanitarian assistance to the Ukrainian government. Biden recently approved another aid package worth nearly $40 billion.
President Vladimir Putin's regime has been hit by crippling sanctions since Russia launched what it dubbed a "military special operation" on Feb. 24, while Russian forces pulled out of Ukraine's city of Kharkiv, the country's second-largest city .
Biden may feel his strategy of providing aid to Ukraine has been successful while a traditional geopolitical adversary has suffered diplomatic isolation and a potentially humiliating military defeat.
Similar tactics could come into play in the event of a Chinese attack on Taiwan.
However, the president said on Monday that he believes a Chinese invasion of the island "won't happen, it won't be attempted" and would depend on "how strong the world is clear that these kinds of measures will work in the long run." Disapproval."
news week has asked the White House for comment.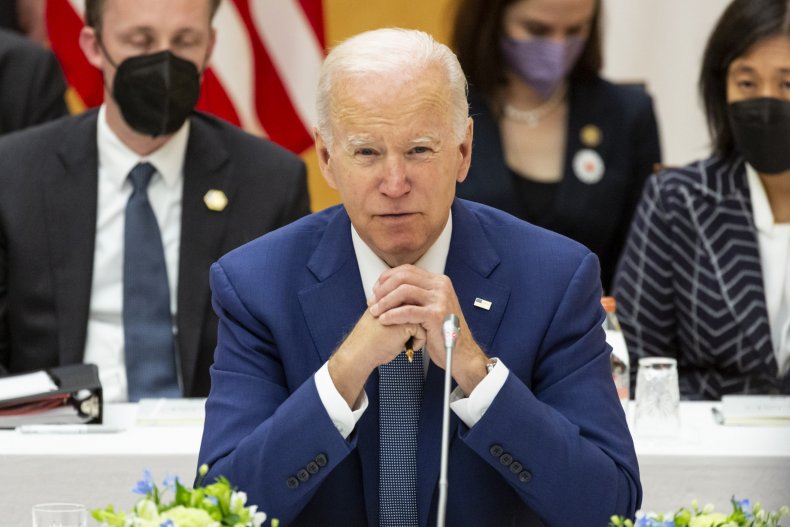 https://www.newsweek.com/joe-biden-emboldened-russia-failures-gets-aggressive-china-taiwan-1709450 Joe Biden, emboldened by Russia's failures, becomes aggressive towards China