John Cena's Best Performances, Ranked
Many wrestlers have tried to have a film career, but only a few have succeeded. John Cena is one of a trio of former WWE stars who have found success on the big screen after hanging up his boots. Of course, it didn't hurt that he was the most recognizable face in the sport, but his skill set on the mat gave him the credentials he needed to make a name for himself as an actor. He's not a one-trick pony behind the camera, either. The actor has range.
Indeed, Cena can do it all, from fast cars to comedy to kids' movies. He has successfully redefined his career in a way that not many people get to. His acting career and blockbuster success have only just begun too, as he has more films on the way. Most recently, Cena can be seen reprising his The Suicide Squad Peacemaker role in HBO's latest series Peacemaker, which has been renewed for a season 2. While we wait for more news on the series, here's a look at John Cena's best performances, ranked.
Updated on September 7th, 2023 by Robin Reynolds: This article has been updated with additional content to keep the discussion fresh and relevant with even more information and new entries.
15
The Marine (2006)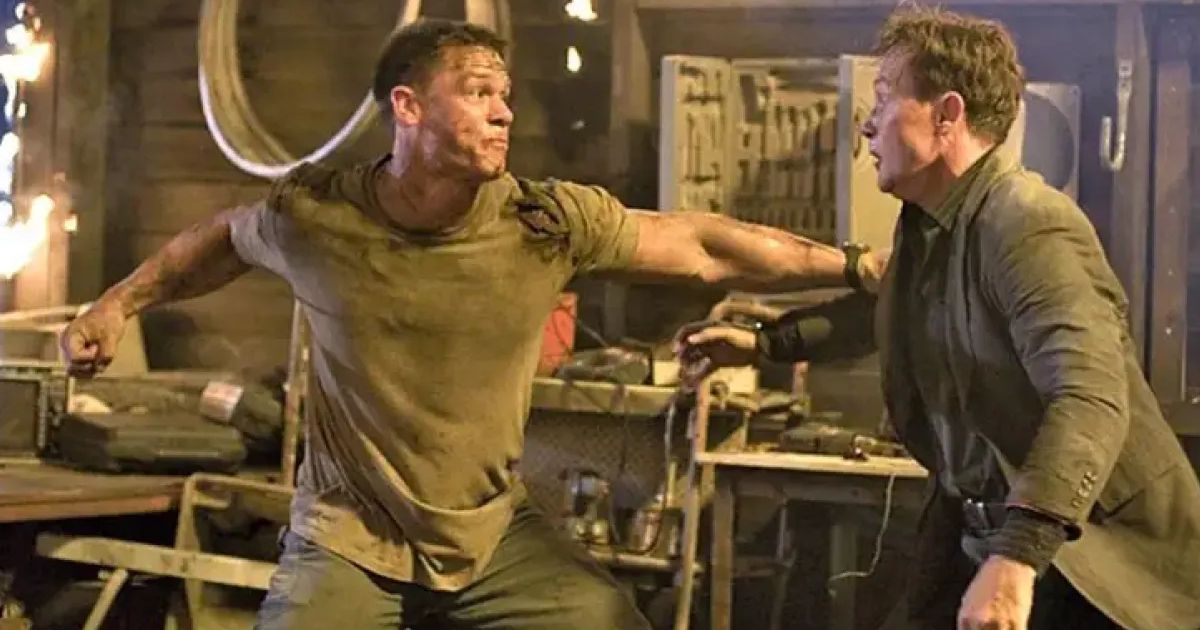 The 2006 action film, The Marine stars John Cena in his very first feature film as John Triton, a recently discharged United States marine who goes after some jewel thieves who have kidnapped his wife, Kate (Kelly Carlson).
Review aggregator website Rotten Tomatoes census notes the film is "overblown in every possible way, The Marine is either so bad it's good or just really, really bad," showcasing a critics rating of 17% positive and an audience rating of 60% positive. Despite the criticism and although the film only grossed $22 million on a $15 million budget, and was considered a box office failure, the storyline is great and worth watching at least once, especially for John Cena fans.
14
12 Rounds (2009)
One of John Cena's older films, 12 Rounds, which was released in 2009, tells the story of a police officer named Danny Fisher (Cena) who ends up losing an arms dealer in a sting alongside the FBI. The arms dealer, Miles Jackson (Aidan Gillen), gets away and ends up targeting Fisher and his wife Molly (Ashley Scott), whom Jackson kidnaps.
Danny goes on an action-packed quest to save the life of his love and the innocent people who get wrapped up in the drama, while ultimately bringing down the one who got away. Despite critics' dislike and judgment of the movie, Variety writer Rob Nelson said, "The film is heavy on stunts but light on plausibility, humor, surprise, visual ingenuity or psychological depth." A sequel, 12 Rounds: Reloaded, with wrestler/actor Randy Orton was released in 2013.
13
Teenage Mutant Ninja Turtles: Mutant Mayhem (2023)
In the animated Teenage Mutant Ninja Turtles: Mutant Mayhem, John Cena voices the character of Rocksteady, a mutant rhinoceros who is a member of Superfly's gang. His character is unique and funny within the film making it one of Cena's best performances to date.
Alongside an amazing voice cast consisting of talented actors such as Seth Rogen, Paul Rudd, Ice Cube, and Jackie Chan, Cena helped to make this movie one of the best Teenage Mutant Ninja Turtle Films so far. The movie, which was released in 2023, has seen a great deal of success, particularly within the TMNT franchise's fan base, making $10.2 million upon opening in theaters.
12
Barbie (2023)
In the recently released Barbie film by director Greta Gerwig, John Cena makes a brief cameo as Mermaid Ken. This hilarious appearance in what has become one of the most popular films of 2023 is an iconic move for the wrestler-turned-actor. The movie, which stars Margot Robbie and Ryan Gosling, broke records at the box office worldwide, earning more than $1.38 billion.
Cena told Entertainment Weekly before the film's release "I think it's going to be a movie that evokes conversation and I think it's going to be beautifully visually appealing. I think the audience will walk away with a mixed bag of opinions, which I think is the greatest form of entertainment. When you have one universal feel about a project, it's not like that's bad, but when people can get into a fiery debate about something, I think that's good."
11
Legendary (2010)
The 2010 film, Legendary, tells the story of a bookish teenager Cal Chetley (Devon Graye), who joins his school's wrestling team to bring his estranged family together after they have struggled for 10 years. In one of his more serious performances, John Cena portrays Mike Chetley, Cal's older brother whom the family doesn't speak too much anymore.
Mike ends up secretly coaching Cal in wrestling and over time the family learns that they are stronger together than apart. Although the film was considered poorly made by critics and did not do all that well at the box office, earning $200,393 in total, it is still one of Cena's best performances.
Related: John Cena Would Love to Return for Fast 10
10
Sisters (2015)
John Cena didn't have a lot of screen time in this 2015 film, but he made the most of what he was given. The film Sisters sees Cena play a weed dealer named Pazuzu, after the demon from The Exorcist.
His hilarious expressionless performance was a stand-out amongst other comedy masters such as Amy Poehler, Tina Fey, and John Leguizamo. This role was only a sample of his comedic timing, which would be on display in the years to come. If a career in professional wrestling taught him anything, it's how to make the most of the time given to him.
9
The Wall (2017)
John Cena starred along with Aaron Taylor-Johnson in this under-the-radar war movie. The Wall is a bottle movie that focuses on the two actors playing marines at the close of the Iraq War. When sniper Staff Sergeant Shane Matthews (Cena) and his spotter Sergeant Allen Isaac (Taylor-Johnson) are sent to investigate a pipeline construction site, they discover that the location is a trap for an enemy sniper of near-mythical status.
Separated by a wall and pinned down, Isaac speaks with their assailant while the injured Matthews tries to eliminate the enemy before others can fall into the trap as well. This film is unique because it's set in a single location with complete ambiguity as to where the sniper will attack from, packing in the tension in a nail-biting story.
8
Trainwreck (2015)
Trainwreck was a huge hit when it was released in 2015, and yet again, John Cena was featured in a hilarious standout performance with only a limited amount of screen time. When this film was released, he was nowhere near considered an actor. This and his role in Sisters were nothing more than appearances if anything.
However, this one appearance put him on the map, and he only played the brief sexually confused fling of a woman (Amy Schumer) who can't commit. The film saw him get a bit more raunchy than anyone would have expected, but his short time in this Judd Apatow flick launched his acting career — and he wasn't even the main character.
7
F9: The Fast Saga (2021)
John Cena captured a pivotal role in Fast and Furious's ninth installment as Dominic and Mia Toretto's (Vin Diesel and Jordana Brewster, respectively) estranged brother Jakob. In this film, Cena's character is a master thief and assassin and teams with the returning Cipher (Charlize Theron) for more of the Fast saga's trademark chaos and ridiculousness.
While F9may not be the franchise's best film, Cena shines in his role and fits in effortlessly with the rest of the ensemble cast. It's not an easy task to be inserted into a series with a loyal fan base like this one has, but the wrestler does so with ease. With his escape and reconciliation with Dom at the end of the film, Cena went on to resume his role in Fast X, which was released to the theaters on May 19, 2023.
6
Blockers (2018)
John Cena's first starring comedy role in Blockers sees him playing a strict suburban father trying to stop his teenage daughter from losing her virginity. This surprise hit sees him star alongside Ike Barinholtz and Leslie Mann. This 2018 comedy could have gone off the rails, but the comedic trio was able to take the film from ridiculously hilarious to sweet instantly.
As the father trying to maintain his daughter's innocence, it's he, as well as his wife and friend, who ultimately ends up learning the important lessons. Through all the insanity, Mitch is a father who's scared of watching his daughter become an adult, a theme any parent can relate to.
Related: Here's What Makes John Cena Perfect For Superhero Movies
5
Vacation Friends (2021)
This movie sees John Cena play an over-the-top party animal with his love interest as they get way too attached to a soon-to-be-married couple in what may be Cena's strangest role to date. There are not a lot of laugh-out-loud moments in this film as Cena carries most of the film's comedy, but he is once again the stand-out performer.
Despite the film being panned by critics, it's another showing of Cena in his element. Lil Rel Howery's character proves to be a good foil for the over-enthusiastic Ron. Still, perhaps the two actors would have had better chemistry in a better film. Nevertheless, Vacation Friendsis an easy watch and a fair addition to Cena's comedic resume. A sequel recently debuted as well, highlighting the success of the original but not replicating it.
4
Bumblebee (2018)
Bumblebee (2018) was the sequel/reboot that the Transformers franchise desperately needed, and John Cena made a great addition. Set in the 1980s, Agent Jack Burns (Cena) goes on the hunt for Bumblebee after he presumes the Autobot to be an enemy when he and his team are attacked by pursuing Decepticons.
He later realizes his mistake and turns into an ally for the robot. Cena passes for a law enforcement agent easily, thanks to his large authoritative size, and walks with a presence that seems authentic for his character. The film was also a breath of fresh air for him as he had previously done a lot of comedies and the turn into action films helped make him one of cinema's biggest action stars.
3
Ferdinand (2017)
John Cena had never headlined a big-budget film on his own before this 2017 animated feature. He plays Ferdinand, the titular bull. Despite the aggressive nature that other bulls are perceived to have, Ferdinand is pacifist, which becomes a bit of a problem when he is made to step into a bullfighting ring.
This light-hearted film was a hit with kids, and it makes sense that the actor would want to voice the character as he was always an inspiration to children in the ring. It only makes sense that he would choose a role for the audience that loved him most.
2
Tour de Pharmacy (2017)
Around the time this HBO mockumentary was released, John Cena started to dip his toes into the world of acting. This satirical film was chock-full of crazy characters played by notable actors and a surprising appearance from disgraced cyclist Lance Armstrong. Cena played an Austrian cyclist who very clearly stood out from the rest of the competition.
His character was perhaps the most eccentric of the bunch, which is saying something seeing as everyone was playing very over-the-top parody characters. Each of the cyclists in this film competes in the 1982 Tour de France with a secret to hide. The film is funnier in hindsight and wasn't as liked by fans as critics, but it's a standout film in Cena's resume.
1
Peacemaker (2022)
This may be one of the most recent in John Cena's acting credits, but it sits right at the top of the list in his best performances. What was an unknown character in DC lore has now taken over the world. Peacemaker proved to be more complicated than what we had seen in The Suicide Squad in 2021. The anti-hero is saved from prison and death and is tasked with preventing an invasion of alien butterfly-like creatures from controlling the minds of innocent people.
The series expands on what fans saw in The Suicide Squad and combines Cena's greatest role types — action hero and comedic genius — and under the guidance of James Gunn, the series was made with the recipe for success. The hit series will be back for a second season, and fans are speculating how much the character of Peacemakerwill change now that he may or may not start to be haunted by visions of his father.