Johnny Depp hugs Camille Vasquez and pats head after closing arguments
Camille Vasquez spoke to the jury in the Johnny Depp vs Amber Heard libel trial for the last time on Friday afternoon in a counter-argument before sitting down and hugging Depp.
In this rollercoaster ride of a lawsuit that saw Depp sue his ex-wife Heard for $50 million for slandering him in a 2018 comment, Vasquez has risen to something of a celebrity and garnered a notable following online as she represented Deppen in court.
Depp has developed a friendly relationship with several of his attorneys, including Vasquez, and clips of Depp hugging or joking with Vasquez or co-attorney Benjamin Chew have gone viral several times in the past six weeks.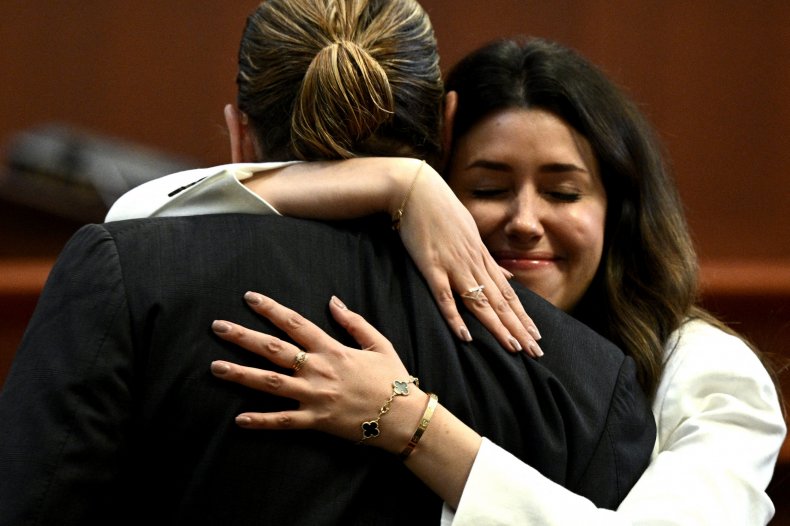 According to reporter Sierra Gillespie in a tweetVasquez ended the final counterargument by telling the jury, "While you ponder, ask yourself why Mr. Depp would do this to himself, reveal every embarrassing detail of his life on national television. If he was guilty of anything anything that Miss Heard accuses him, we beg you, we beseech you to render judgment [for] Mr. Depp.
"We ask that you clarify that he is not the abuser she described and that she is not the heroic survivor she portrayed," Vasquez said.
After thanking the judges, she returned to her seat next to Depp, who quickly put his arm around her and then gave her a small pat on the head.
This is an evolving story and will be updated as more information becomes available.
https://www.newsweek.com/johnny-depp-camille-vasquez-hug-head-pat-after-closing-arguments-1711041 Johnny Depp hugs Camille Vasquez and pats head after closing arguments