Johnny Depp's grin after Kate Moss testimony wowed social media
Johnny Depp appeared to grin at his former girlfriend after she testified at his ex-wife Amber Heard's defamation trial on Wednesday, and his smile received a notable reaction from many on social media.
Heard is being sued by Depp for $50 million for defamation in relation to an opinion piece she wrote in 2018 in which she alleged — without naming Depp — that she was a victim of domestic violence.
The actress mentioned supermodel Kate Moss on the witness stand when she claimed a rumor that Depp pushed Moss down a flight of stairs during their relationship 20 years ago.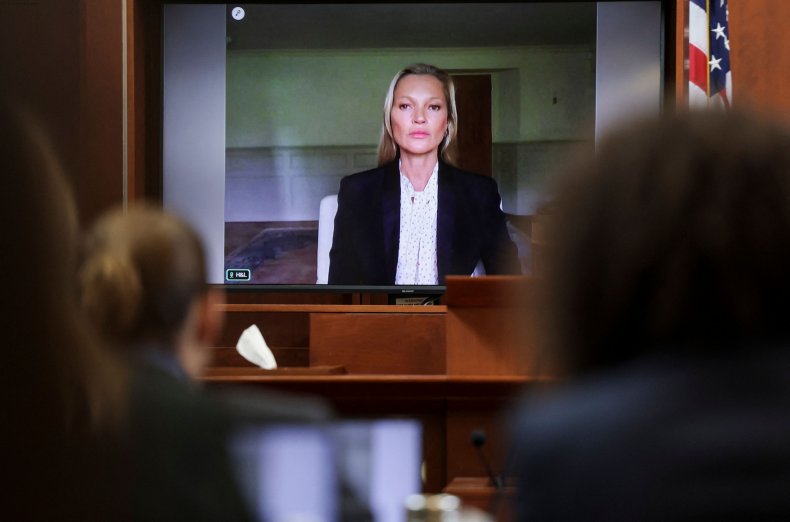 Due to the mention, Moss was asked to testify to discuss the rumor and the model was quick to deny she was ever pushed down the stairs by Depp.
After her very brief statement, which came via video, Depp appeared to be smiling at the screen.
Many on social media enjoyed his reaction and praised Moss for debunking the rumor first brought forward by Heard during Depp's 2020 defamation trial The sun Newspaper he sued after the newspaper called him a "wife beater".
Reacting to Depp with a smile, one Twitter user wrote: "Johnny Depp showed genuine emotion after seeing Kate Moss testify for him. He couldn't stop staring at the screen as her testimony finished. He might actually have been crying; It's difficult to say. Wow. just wow Thank you Kate Moss. Thank you thank you thank you."
This is breaking news and will be updated as more information becomes available.
https://www.newsweek.com/johnny-depps-grin-after-kate-moss-testimony-delights-social-media-1710087 Johnny Depp's grin after Kate Moss testimony wowed social media