Joy as a Labradoodle dances to "Happy" with family on hind legs
A Labradoodle standing on its hind legs to dance with its family delights the internet.
In a video posted to TikTok on Oct. 10 by user @phoebelabradoogle, the clever dog can be seen shaking his butt and jumping around happily with his owner and dad.
The moves of the party pup named Phoebe were viewed 4.7 million times in just 24 hours.
Can Dogs Really Dance?
Scientifically, dogs cannot dance. According to a 2009 article published in Current Biology, dancing is defined as "synchronizing to a beat." The only creatures that have proven they can move to the beat of the music are humans and a parrot named Snowball, the study's feathered star.
Snowball was dropped off at an Indiana animal shelter by a family who were concerned he wasn't getting enough attention. However, it was quickly discovered that the parrot had a unique ability. Every time he heard the Backstreet Boys' track "Everybody," he danced and amazed the workers.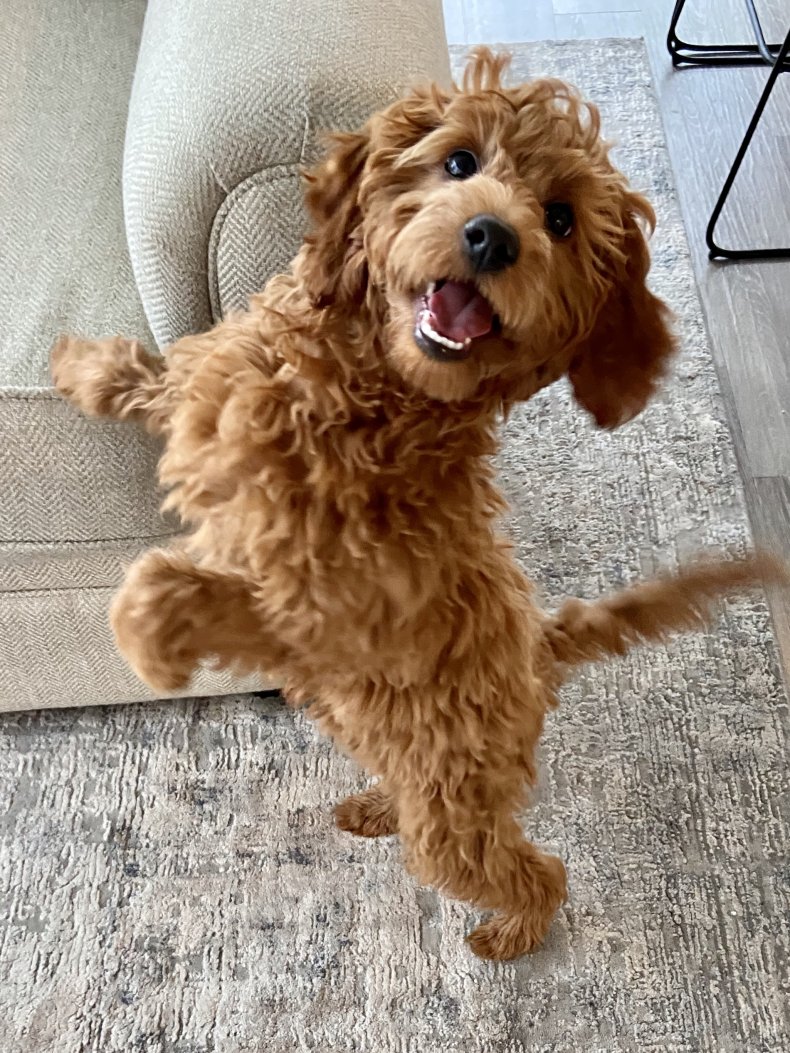 News of his parlor trick reached scientists at the Neurosciences Institute in La Jolla, California, who put the bird's movements to the test. They filmed Snowball's reaction to sped up and slowed down versions of the track and found that he danced to the beat 25 percent of the time. Although he missed the beat most of the time, the researchers determined that this was enough to classify Snowball as a dancer and gave him points for effort.
They may not have a sense of rhythm, but dogs still love to "dance" with their owners. Dogs can be trained to perform moves just like any other trick, with PetMD describing dancing as "the perfect bonding activity" for pets and their owners. If you improve your pooch's skills enough, he can win competitions with his routines.
'dancing queen'
In the video, Phoebe is gently pulled to her feet by her owner before dancing with them to rapper Pharrell Williams' 2013 hit "Happy." She wags her tail enthusiastically as she hops around on her hind legs while adoringly gazing at her owner.
TikTok users couldn't get enough of the Labradoodle's moves, with user Rocky describing them as "absolutely adorable".
"A dancing queen," said Audrey Fan.
"The widdle hoppy hops," TEFLmom wrote along with several heart-eyed and crying emojis.
Jodi McGregor called Phoebe "the cutest live teddy bear" she had ever seen, while MykoMushroom described the clip as "BEST DANCE PARTY EVER."
Phoebe isn't the only dog ​​whose moves have wowed the internet. Earlier this year, a dog that interrupted her family's attempt at the TikTok challenge "My Name Is" had hysterical viewers, while a Labrador performing the "funky cha cha" was viewed thousands of times.
news week @phoebelabradoogle asked for a comment.
Do you have funny and adorable videos or pictures of your pet that you want to share? Send them to life@newsweek.com with some details about your best friend and they could appear in our Pet of the Week lineup.
https://www.newsweek.com/joy-labradoodle-dances-happy-family-hind-legs-1750827 Joy as a Labradoodle dances to "Happy" with family on hind legs