Kamala Harris tears up 'extremist so-called leaders' over abortion, election lies
Vice President Kamala Harris delivered a speech on Saturday criticizing Republicans' "extremist so-called leaders" ahead of this year's midterm elections.
In her speech, delivered at a Democratic National Committee (DNC) meeting, Harris criticized Republicans' stance on abortion and "big lies" about the 2020 election.
Their comments came just over a week after President Joe Biden delivered a speech in Philadelphia and blasted former President Donald Trump and "MAGA Republicans," saying they represent "an extremism that threatens the very foundations of our republic." Biden's speech was praised by Democrats but harshly criticized by Republicans. The President later clarified his comments after receiving backlash.
In her speech, the vice president said Biden made it clear last week that "the threats we face as a nation are great."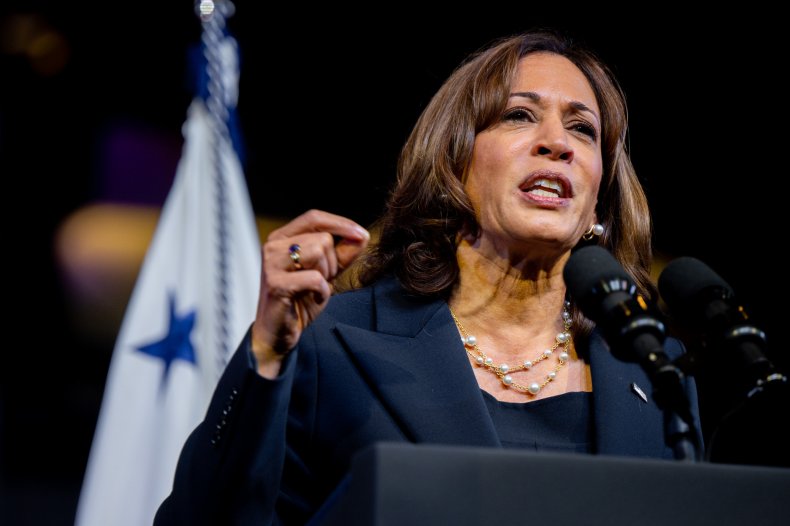 And we have to tell the truth about that. And so today, as we come together, we all affirm that we oppose extremist so-called leaders dismantling our democracy," Harris said.
She added that "extremist so-called leaders are trumpeting the rhetoric of liberty while restricting liberties and systematically trying to take them away," before mentioning the Supreme Court decision, which was overturned Roe v. Calf, and revoked abortion rights for women in June.
"And now these extremist so-called leaders are passing legislation to criminalize healthcare providers and punish women. They believe government should make personal choices for women," Harris said. "These extremist so-called leaders are saying we should take this issue back to voters in the States. Well, that's not ironic, because some of the same people are the ones who are passing laws that intentionally make it different for people in these states to vote."
The vice president also criticized Republican candidates running for secretary of state across the country and denying the results of the 2020 presidential election.
"While big lies are being perpetrated, watch the foreign ministers' races. In fact, in 11 states right now… Republican candidates for Secretary of State are denying the results of the 2020 election. Just think of the very people who are doing this. t Trust Wahlen want to be responsible for running them," she said.
news week has reached out to the Republican National Committee (RNC) for comment.
In another speech on Labor Day, Biden again targeted "MAGA Republicans"
"One of the things that's clear to me is that this new group, led by a former president, a former defeated president, put us in a situation where we're either going to be looking forward or we're going to be looking back," the president said . "And it is clear in which direction [Trump] want to look. It is clear which way the new MAGA Republicans are going. They are extreme."
Biden added: "Democracy is really at stake. You cannot be a democracy if you support violence if you don't like the outcome of an election. You can't call yourself a democracy if you actually don't. Count the votes people have legitimately cast and count that as you are. You cannot be a democracy or call yourself one if you keep doing what you are doing.
https://www.newsweek.com/kamala-harris-rips-extremist-so-called-leaders-abortion-election-lies-1741802 Kamala Harris tears up 'extremist so-called leaders' over abortion, election lies