Kardashian-Jenner Billboard Stuns LA Residents: "Which one is that?"
A Los Angeles resident was left very confused after stopping at a traffic light when he saw a Kylie Jenner billboard.
The makeup mogul owns the commercial at the intersection of La Cinega and Santa Monica Boulevard in West Hollywood, which she uses to promote her businesses, including her hugely popular Kylie Cosmetics.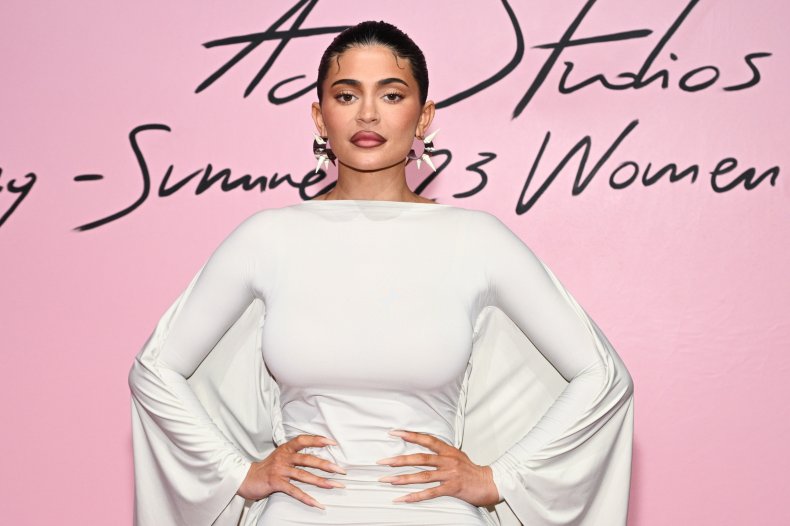 In September, the 25-year-old reality star was promoting a new line in her makeup range, so the billboard featured an image of a woman with dark glasses and a simple caption that read "09.14," along with the Kylie Cosmetics website .
A TikTok creator noticed the billboard and was confused by the woman in the photo, who resembled one of the Kardashian/Jenner women, but it wasn't entirely clear who.
"If you live in Los Angeles you might know that Kylie Jenner owns a billboard… she's had it for years and I usually drive by and don't pay attention to it," TikToker @semlerrr began.
"But today I noticed, because who is that?"
The TikToker couldn't figure out if the woman was Jenner's mother, Kris Jenner, 66, or her older sisters, Kim and Khloe Kardashian, 41 and 38.
"At first I was like, 'Obviously that's Kris,' but then I was stopped at a red light and I looked closer and I was like, 'No, that's Kim,'" the TikToker said.
"And then I was like, 'No, that's Khloe doing a Kris Deep fake, but then it's on the Khloe billboard.'
The creator ended by poking fun at the greatness of the Kardashian/Jenner clan. "Who is this? Is this new? Isn't that one of them? I am stressed."
Almost 2,000 TikTok users have shared their thoughts in the comments, and many have come up with some fun options.
"BABE WAKE UP A NEW KARDASHIAN JUST DROPPED," Holly wrote, while Tiffany Eva Rachel Ferguson commented, "It's Karla Kardashian."
Elyza Halpern recalled the Marvel Cinematic Universe. "It's Metaverse Kris," they wrote.
The woman on the billboard was actually Kris Jenner, who was launching her own line under the Kylie Cosmetics brand.
Jenner took over Kylie Cosmetics on Mother's Day to launch her Kris collection, which she described as "hacking" the beauty company.
The products borrowed from her role as the relentless "mother" of her children who made their fortunes from their success, and the products were adorned with her image.
One picture of her even included the number "10%" on her sunglasses, a callback to an ongoing joke about the mother's fee she receives from her famous family.
Some of the products in the range include a mini lip collection, a pressed powder face palette, an eyeshadow palette and a lipstick with a matching lip liner.
Kylie Jenner bought the West Hollywood billboard in 2019 to wish the father of her two children, Travis Scott, 31, a happy birthday.
She commissioned the custom billboard to celebrate Scott's 29th birthday on April 30, and it featured a photo of her with her daughter Stormi and a larger image of the toddler.
"Happy birthday, daddy. Love Mom and Stormi XO," the billboard read.
Jenner and Scott welcomed their second child in February 2022. They originally named their newborn son Wolf, but said a month later that they planned to change his name.
The couple are yet to reveal the boy's new name, with Jenner saying she doesn't want to go public just in case they change their minds again.
"I'm not going to announce it yet because God forbid I change it again," she told her mother on Season 20, Episode 14 of the family reality show. The Kardashians.
"It hasn't been legally changed yet. Travis changes it a few more times and he'll call [him that name] for the day."
Jenner added, "I thought we'd only think of it when we saw him, and it didn't, and 24 hours before we had to register him, Khloe was like, 'What about Wolf?' and I liked the 'WW' so we just put Wolf Webster in the moment and right after I signed the birth certificate I was like, 'What did I just do?'"
news week has reached out to Kylie and Kris Jenner for comment.
https://www.newsweek.com/kylie-jenner-billboard-kardashian-tiktok-khloe-kris-1749758 Kardashian-Jenner Billboard Stuns LA Residents: "Which one is that?"