Kari Lake accuses Republicans of 'stealing' elections
Kari Lake on Monday blamed the political establishment for her loss in Arizona's gubernatorial election, saying both Democrats and Republicans "stole" the election from her.
Lake ran on the Republican Party ticket and was endorsed by former President Donald Trump. After losing the November race in Arizona to Democrat Katie Hobbs by more than 17,000 votes, Lake refused to back down and instead legally challenged the results.
Lake disputed the results in Maricopa County, where voters reportedly faced technical difficulties on election day, and asked the court to either declare her the winner or rerun the county election. In late December, Maricopa County Superior Court Judge Peter Thompson threw out Lake's case, ordering her to pay Hobbs approximately $33,000 in legal fees.
Despite the legal backlash, Lake has vowed to continue fighting the election results even after Hobbs was sworn in Monday.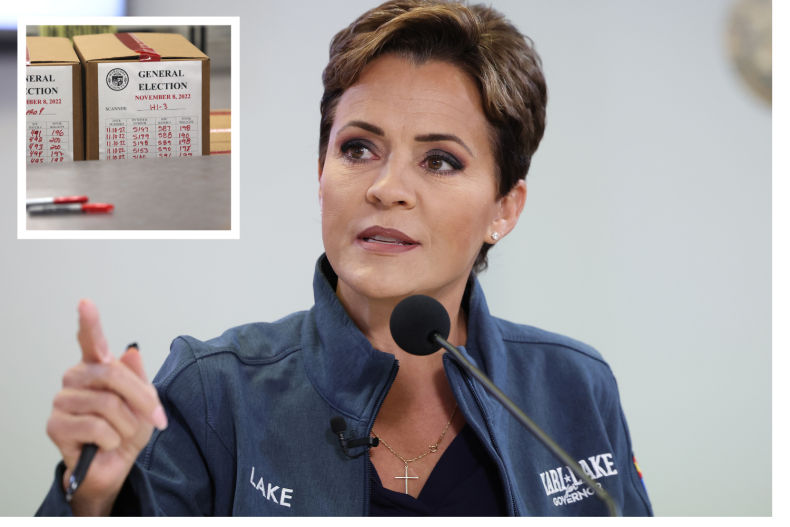 "The varsity party stole the Arizona election – D's & R's," Lake tweetedreferring to Democrats and Republicans hours after Hobbs took the oath of office.
Lake continued, "The political elite despise We The People and cannot accept the fact that they work FOR us. They want us to give up this most important fight and go back to sleep. WE WILL NOT STOP."
The term "varsity party" used by Lake was described by Politico in 2017 as a "populist catchphrase" referring to a concept of an "establishment cabal" composed of Democrats and Republicans conspiring against then-President Donald Trump .
While the term has become popular among supporters of Trump's MAGA movement in recent years, Politico wrote that the first use of "uniparty" can be traced back to the 1940s, before it was used by supporters of Green Party candidate Ralph Nader during the presidential election was picked up in 2000 .
Lake's persistent and unproven allegations of voter fraud weren't the only topic of her Monday messages. Posts on her Twitter campaign account – the "Kari Lake War Room" – also caused offense as Hobbs appeared to laugh briefly during her oath of office.
"During her swearing-in ceremony, @katiehobbs laughed and giggled throughout the process, which was meant to be a dignified process, and refused to say she supported our constitution," read one tweet. "Everyone enjoy your banana republic. And pray that a brave judge will put an end to this charade."
"This is one of the darkest moments in Arizona history. An illegitimate 'governor' laughing in the face of our Constitution," according to another campaign report by Lake message said. "We will expose this scam for the world to see. justice is coming."
news week asked Lake for comment.
https://www.newsweek.com/kari-lake-blames-republicans-stealing-arizona-governor-election-1771051 Kari Lake accuses Republicans of 'stealing' elections