Kari Lake is showing no signs of slowing down
Katie Hobbs was sworn in as Arizona's 24th governor on Monday. Despite what many would see as a natural end to a gubernatorial election, her Republican opponent, Kari Lake, continues to claim that the election was stolen from her.
Lake is now appealing to the state Supreme Court to take up the matter and has made media appearances and social media posts in recent days suggesting she has no interest in giving up the fight.
However, both Republican officials and pundits believe that while Lake may not have realized it, there is very little chance of Arizona's election being overturned.
Arizona's gubernatorial election was one of several polls in November's midterm elections in which a Trump-backed populist candidate lost to his Democratic rival. When all the votes were tallied, Hobbs had 50.3 percent of the vote versus Lake's 49.7 percent — a difference of nearly 18,000 ballots.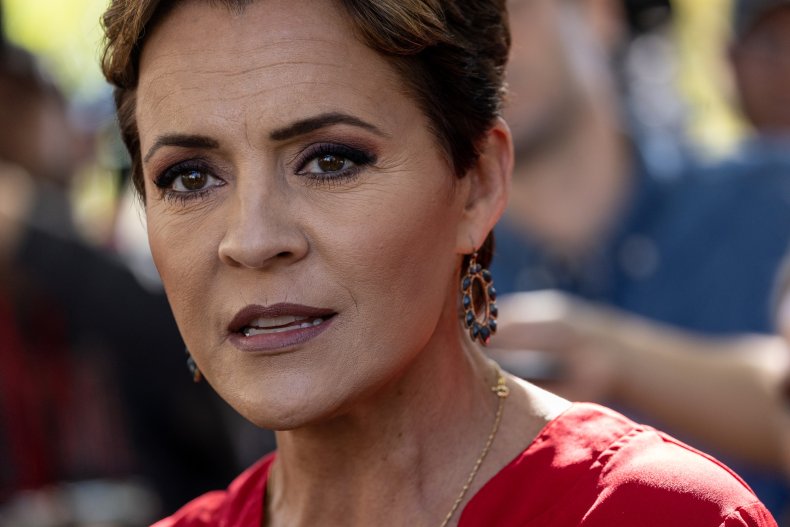 Lake has refused to budge, and even after Hobbs' inauguration ceremony on Jan. 2, he continued to claim the election was "botched" and "rigged."
in one tweet yesterday she claimed the "Uniparty" – a far-right buzzword suggesting that both major parties are somehow in cahoots – "stole the Arizona election".
"The political elite despise We The People and can't stand them working FOR us," the former news anchor tweeted. "They want us to give up this most important fight and go back to sleep. WE WILL NOT STOP."
That same day, Lake called Real America's Voice and said, "Right now [Katie] Hobbs was improperly elected and this needs to be resolved as soon as possible. This case will eventually make it to the Arizona Supreme Court no matter what. So there's really no point in waiting to take this to the Supreme Court. We think they should just grant us that request."
According to an excerpt Lake retweeted, her appeal to the Supreme Court stated: "A clear majority of voters no longer trust the results of the Arizona election. A functioning republic cannot last long under these circumstances."
This could be a less-than-veiled reference to the record of Arizona's 2020 presidential election, which also faced allegations of voter fraud from local Republicans, which Hobbs defended as then-Arizona Secretary of State. A GOP-funded audit in 2021 found no evidence of fraud.
"To the best of my knowledge, no real evidence of cheating has been found, so I don't think she has a very good chance of tipping anything at this point," said Dr. Colin Provost, a senior lecturer in US politics at College London, said of Lake's offer. "Things are not looking too good for them on that front."
Reference to the Midterm candidates "who campaigned for vote refusal and voter fraud [who] did so poorly in the elections," he said news week: "In my opinion [Lake's] is trying to tap into a segment of the Arizona electorate that is angry and dissatisfied with politics and believes in conspiracy theories and believes in voter fraud, believes it is there, but it seems she may be a little too late at this point.
"Maybe this vote will sail away," he added.
It seems Lake's optimism about her own chances, even after the governor's seat is warm again, is not shared by her own party officials.
"It happened in Arizona," Chuck Coughlin, the state's GOP adviser, told The Hill on Dec. 30. filing a case, but then some of what she's said in the media and posts and just the deterioration of Arizona's institutions — I think that's going to really hurt her out here, and I don't really think she's capable of one Future has terms of their own voting space here in Arizona."
At a "Revote" rally by Lake supporters outside the State Capitol building in Arizona last month, about 30 people turned up and led to a confrontation when a man arrived with a Confederate flag.
Provost downplayed the notion that Lake's non-election rhetoric could lead to a January 6-style uprising.
"The midterm election showed that a lot of people seem a little tired of Trump's narrative about stolen elections," he said. "It still has an audience and the existing protesters are a testament to that, but I would be surprised if the number of protesters increased significantly and I think that's what you would need for it to become violent in the first place. "
news week reached out to Gov. Katie Hobbs for comment.
https://www.newsweek.com/kari-lake-governor-election-arizona-katie-hobbs-republican-1771317 Kari Lake is showing no signs of slowing down