Kari Lake is to blame for the election loss, Ronna McDaniel suggests
Amid the heat that the Republican National Committee (RNC) needs a leadership change after the GOP's lackluster performance in November's midterm elections, RNC Chairwoman Ronna McDaniel said it was the actions of some candidates that won Republicans the election this year have tasted.
In a Tuesday appearance on Newsmax, McDaniel said the disappointing midterms were the result of attacks by Republicans on Republicans.
"Republicans cannibalize each other," McDaniel said. "The venom and hate in our party when we factional … Republicans say I don't like this Republican so much that I'd rather let the Democrat win, and that's a lost recipe."
She then cited Arizona as an example, implying that Kari Lake, the state's former Republican nominee for gubernatorial governor, had discouraged some Republicans with her rhetoric and discouraged them from voting.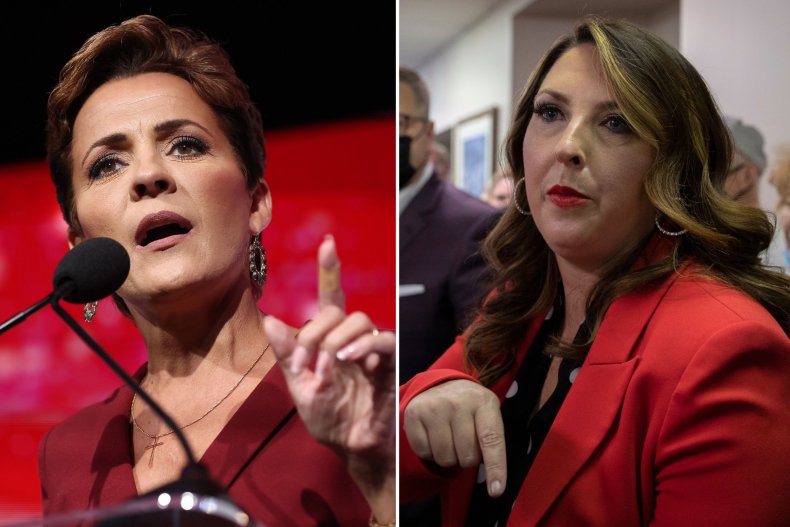 "With the two candidates for gubernatorial government, one would not support the other. They had a contestant who said, 'If you are one [John] McCain voters, get out of my rallies,' and then the McCain voters said, 'Yeah, I'm not going to vote for you,'" McDaniel said. "We can't do that."
In the last few weeks before Election Day, Lake asked the crowd at one of her campaign events, "We don't have McCain Republicans here, do we?"
"Well, get the hell out!" Lake said before saying further, "Arizona has delivered some losers, hasn't it?" as she criticized the Republican Party for once being "McCain's party."
McDaniel also criticized Lake, who is one of the most vocal supporters of former President Donald Trump's 2020 voter fraud allegations, for raising doubts about early voting and mail-in ballots. She implied that misinformation about elections would ultimately harm the Republican Party.
"We have people in our ecosystem who say, 'Only vote on election day.' That doesn't work," said the RNC chairman. "If [the Democrats] bank votes for a month, we must bank votes for a month."
In response, Lakes spokesman Ross Trumble said news week on Friday: "This election is not over yet."
Lake lost to Democrat Katie Hobbs, Arizona Secretary of State, by more than 17,000 votes but is currently awaiting a decision from a Maricopa County Superior Court judge on two lawsuits challenging the results of the election. The two-day trial ended on Thursday.
Though Lake cost Republicans a governorship that the party had held for more than a decade, other GOP candidates in Arizona defeated their Democratic opponents. In November, Republicans won six of the nine seats in the state House of Representatives.
Also on Tuesday, McDaniel said the ticket splitting was the result of bad news from individual candidates.
"Why did the Republicans go to a state like Arizona where the best voter in the state is a Republican?" she asked. "You voted for it [GOP State Treasurer] Kimberly Yee, but they didn't vote for other Republicans on the ticket."
Despite urging McDaniel to leave the RNC after the midterms, she has insisted she has broad support among members who "actually know what the RNC does," which doesn't include picking GOP candidates for office .
"We don't select the candidates. We don't make messages for the campaigns. These are consultants and pollsters," she said.
McDaniel, who is running for the presidency in the 2024 presidential election, is being challenged by RNC member Harmeet Dhillon and MyPillow CEO Mike Lindell – both of whom Lake has called "great" candidates to succeed McDaniel.
"I wish we could elect TWO Chairmen for the RNC. We have GREAT candidates in both Harmeet Dhillon and Mike Lindell," Lake tweeted Dec. 13. "President Trump saved the Republican Party – it's time for the GOP leadership to stand up and fight for US!"
Update 12/23/22 3:02 PM ET This story has been updated with a comment from Trumble.
https://www.newsweek.com/kari-lake-blame-losing-election-ronna-mcdaniel-suggests-1769420 Kari Lake is to blame for the election loss, Ronna McDaniel suggests