Kari Lake refuses to back down, insists it's 'not about me'
Kari Lake has vowed to continue her legal battles against the Arizona election process after a judge sanctioned her attorneys over a "baseless" lawsuit.
Republican Lake, which lost its midterm gubernatorial election to Democrat Katie Hobbs, filed a lawsuit in April along with hopeful Secretary of State Mark Finchem demanding that Maricopa and Pima counties use only paper ballots during the November midterm election .
U.S. District Judge John Tuchi previously dismissed the lawsuit in August, but in a Thursday ruling, he sanctioned Republican attorneys and ordered them to pay court costs to deter those who plan to file "similar baseless lawsuits" in the future.
Appears at Steve Bannon war room Podcast after the verdict, Lake said she will "keep fighting for the people of Arizona" despite the setback.
"This isn't about me. I've been saying this all along, I'm just a voter, but Arizona is very close to my heart. It's not fun to be in the middle of it," Lake said.
"But we have no other choice. I have no choice but to stand up and fight for the people of Arizona now. If I don't, who will?"
Since losing her race, Lake has repeatedly attacked Maricopa County officials, raising the possibility of a fraudulent election over a delayed vote count.
On election day, Maricopa County polling centers had their polling machines malfunction and uncounted ballots were collected and officially counted at a later date.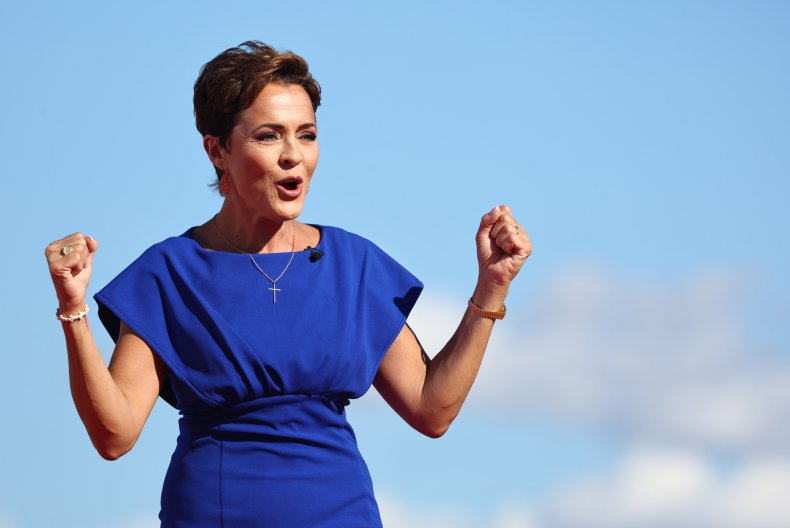 Discussing how Tuchi sanctioned her attorneys over the voting machine lawsuit, she accused the system of being "one big dirty swamp" working against Republicans.
"We need to get up right now," she added. "If we let our holy voice be taken away from us with these shoddy, seedy elections – I think they're almost fake elections – then we're gone as a country. I don't know what choice we have but to stand up and fight now. And that's why I'm doing this."
In his Thursday sanctions order, Tuchi noted that while Lake and Finchem sought "massive, perhaps unprecedented" federal judicial intervention to alter Arizona's electoral system ahead of the midterm elections, they never had any "factual basis or legal theory that." even remotely managed to do justice to this burden."
In a statement, Maricopa County Elections Official Bill Gates said there had been many examples in recent years of attorneys "trying to arm the court for political purposes" in order to "undermine" free and fair elections.
"It's wrong, it's unethical, and these attorneys must be held accountable if we are to protect our democratic republic," Gates said.
"The sanctions against the lawyers who brought the dubious Lake vs. Hobbs case are a win for the rule of law."
news week has reached out to the Maricopa County Board of Directors for comment.
https://www.newsweek.com/kari-lake-refuses-back-down-arizona-election-1764395 Kari Lake refuses to back down, insists it's 'not about me'