Kari Lake reveals what she learned about herself in 2022: 'The right thing'
Republican gubernatorial candidate Kari Lake revealed what she "found out about herself in 2022" during a New Year's Eve appearance on Steve Bannon's War Room podcast.
Lake continues to claim she was the rightful winner of Arizona's November gubernatorial election, although her appeal was thrown out of court last month.
Democrat Katie Hobbs is now Arizona's governor-elect after beating Lake by more than 17,000 votes.
During his podcast, Bannon, who briefly served as Donald Trump's chief White House strategist between January and August 2017, asked his guest, "What did Kari Lake find out about herself in 2022?"
She replied: "When I left my job in 2021, I truly gave my life 100 percent to God for the first time. Not just 100 percent in bad times or 95 percent, I really said God I know I'm doing the right thing, I know I have to do this, and I'm putting my life in your hands."
Lake worked as a host at a Phoenix television station KSAZ TVwhich she left in 2021 just before announcing her candidacy for governor.
The GOP contestant continued, "And now, with what has happened since November 8th, with this absolute attack on our sacred voice, I have learned that my faith has become even stronger and as difficult as the times and I want to leave your listeners with hope these are not impossible times.
"I really believe that with God we will overcome all the evil that faces us, all this corruption and we will be able to take back this country."
On Tuesday, after a two-day trial, a Maricopa County judge dismissed Lake's allegations of election misconduct and confirmed Hobbs as the election winner.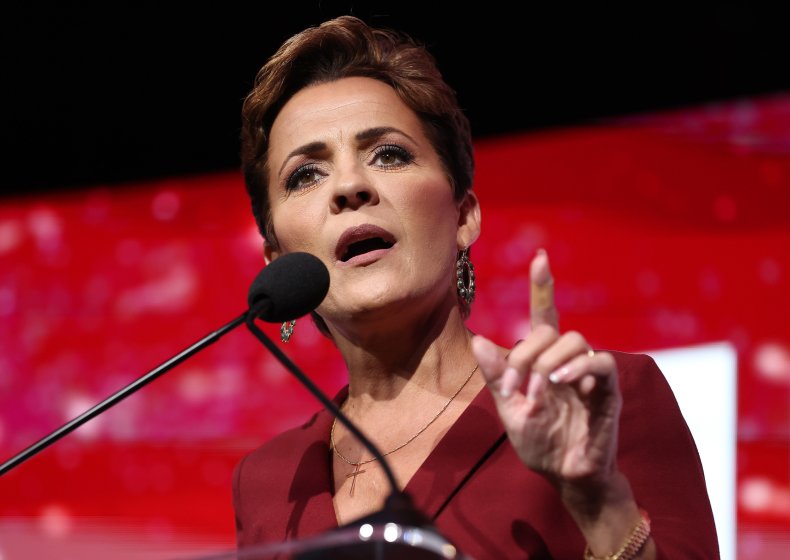 Maricopa County Chief Justice Peter Thompson said "every single witness" refuted Lake's allegations of voter fraud and ordered her to pay Hobbs' attorneys' fees.
In response, Lake has filed a petition to refer the case to the Arizona Supreme Court.
During an appearance on The Larry Elder Show on Epoch TV, Lake insisted she would have been "graceful" if she thought she had fairly lost her election.
She commented, "Someone said, 'Oh just be graceful, you lost.' No, we didn't lose. If I had lost I would be graceful. But I don't walk away when I'm the victim of a crime.
"It's not just me. The people of Arizona have been victims of a stolen election."
Endorsed by Donald Trump ahead of his election, Lake backs the former president's discredited claim that he actually won the 2020 presidential election.
Trump's fraud allegations have been repeatedly dismissed in court and by independent and even Republican-leaning legal experts.
news week has reached out to Kari Lake for comment.
https://www.newsweek.com/kari-lake-reveals-what-she-learned-about-herself-2022-right-thing-1770630 Kari Lake reveals what she learned about herself in 2022: 'The right thing'